The crypto industry has been experiencing volatility lately. Several assets have been encountering more losses as opposed to gains. Cardano [ADA] belonged to the former for quite some time. However, in a new turn of events, the altcoin was seen surging. At press time, ADA was trading for $0.2828 with a 5.38% daily surge. This comes after a rough week as the altcoin dipped by 24%.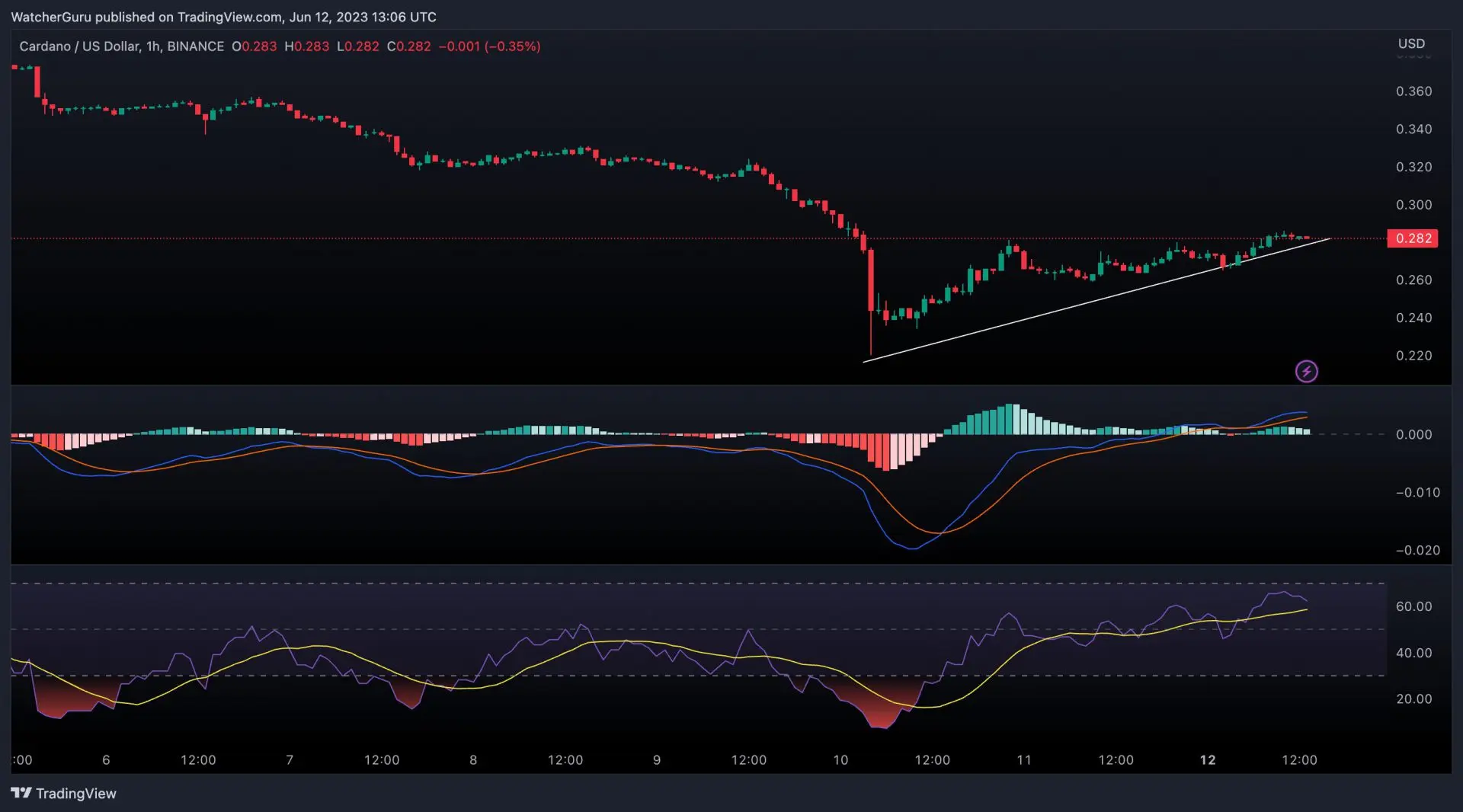 The one-hour price chart of ADA was filled with bullish notions. Earlier today, the MACD line slowly overtook the signal line further forming a bullish crossover. In addition, the Relative Strength Index [RSI] revealed that buyers were back in the ADA market. As seen in the chart, the asset endured extensive selling throughout the weekend. This trend saw a major turn.
Furthermore, ADA has gained significant attention and popularity, as it emerged as one of the top trending searches on LunarCrush. The asset's recent upswing has captured the interest of many within the crypto community and beyond.
Here's what prompted ADA's upswing
The recent surge in Cardano's price may be attributed to the recent statements made by Input Output Global and Charles Hoskinson. Cardano became entangled in a lawsuit initiated by the Securities and Exchange Commission [SEC], leading to Robinhood's decision to delist Cardano, along with Solana [SOL] and Polygon [MATIC]. The SEC deemed these assets as securities. The SEC's stance on ADA was challenged and refuted by Charles Hoskinson and IOHK, which may have contributed to the asset reversing its downward trajectory.
Despite the divisions that often exist within the crypto community due to various networks, there has been a growing sense of unity in the fight against the SEC. In a remarkable twist, Charles Hoskinson has taken the initiative to seek reconciliation with the XRP community, further signaling a willingness to come together for a common cause.