Cardano, a renowned Proof-of-Stake (PoS) Layer-1 smart contract network, has witnessed significant growth and diversification in the second quarter of 2023. A recent report from Messari highlights some of the key performances and growth of the network in Q2 2023.
In the recent quarter, the Cardano ecosystem experienced a remarkable 49% quarter-over-quarter increase in dapp transactions. Minswap, an automated market maker, stood out as the most popular dapp, even outpacing leading NFT marketplaces in transaction volume.
Financially, while ADA, Cardano's native asset, saw a 26.9% QoQ decline, it still managed to achieve a 12% year-to-date increase. Furthermore, the Cardano Treasury's balance grew by 8.5% to 1.30 billion ADA during Q2, showcasing the network's financial resilience.
Also read: Shiba Inu (SHIB): Exploring Drivers of 20% Price Explosion
Cardano shows impressive progress in Q2
On the innovation front, Cardano's multichain solutions, namely the Hydra Head and the Milkomeda C1 sidechain, have shown significant progress. These solutions are poised to cater to the increasing demands from the DeFi and gaming sectors.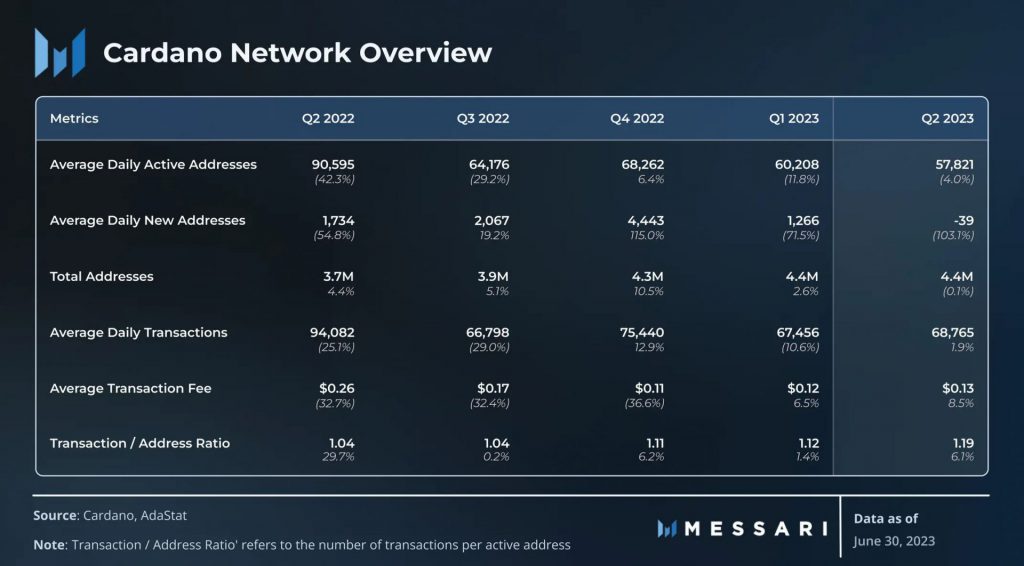 The network's dedication to decentralization is evident in its ongoing community discussions around pivotal staking variables, such as the K parameter and the minimum pool fee. Looking ahead, Cardano is setting its sights on a multichain future, emphasizing the enhancement of user experience and the facilitation of sophisticated application development.
Also read: Ripple: Crypto Lawyer Explains Factors Behind XRP's Price Performance
Cardano's Q2 2023 performance underscores its commitment to innovation, growth, and community engagement. Despite the SEC's recent accusation of ADA as a security, ADA managed to score a notable performance in Q2.