Launches, upgrades, updates, etc. keep happening on a daily basis, but not all are usually awaited. 29 June has, however, been marked on crypto community members' calendars as the launch date of Cardano's Vasil hardfork already. With a little over a month to go, the countdown has already begun.
The testnet is, however, set to launch by early June itself. The said upgrade is set to improve Cardano's smart contract capabilities. Alongside, the network's overall stability and connectivity are also set to bolster up.
Cardano's development activity ramps up, but network activity stoops
As illustrated below, Cardano's development activity had taken a hit at the beginning of March. It dropped down to local lows and then remained flat for the most part of April. However. with the hardfork preparations going on in full swing, the network's development activity has noted a decent incline lately.


However, most other on-chain metrics continue to paint a bleak picture. The number of daily transactions taking place on Cardano, for instance, dipped below 100k, last week indicating sluggish network activity.
Alongside, the number of active addresses continues to maintain its downtrend. In fact, the same witnessed a steep decline and shrunk from 155.8k to 72.96k in just the past 11 days.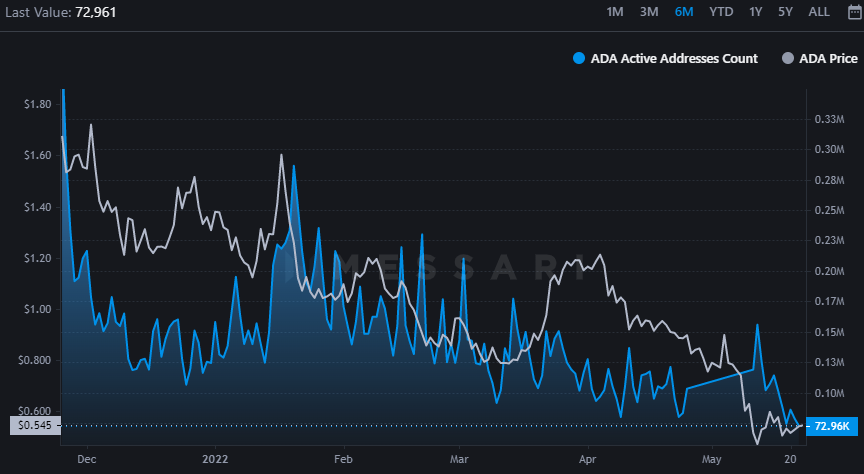 What to expect from the price?
Well, not-so-healthy development activity usually coincides with diminishing prices. And, it is a known fact that ADA's price usually doesn't overtly react to the network's development-related activity. For instance, when the previous hardfork took place in September, ADA's price was expected to escalate. Nonetheless, the token didn't deliver.
In fact, several other notable network-related upgrades and launches have taken place since then, but ADA has hardly reacted. So, single-handedly, expecting Cardano to climb up on the back of the Vasil hardfork development seems to be over-ambitious, given its past behavior.
What about the staking factor?
As a matter of fact, Cardano is one of the few tokens that community members stake in bulk. Per the conventional rule, staking requires HODLers to lock in their HODLings for a specified period. One of the many motives for blocking a part of the circulating supply by staking is to push up the price.
At press time, close to 71.5% of ADA's supply was staked. In fact, other than Solana and BNB, no other top coin's staked percentage was higher. Nevertheless, the same has had no impact on the price.
So, despite the limited positives, expecting an out-of-the-blue trend reversal for ADA at this stage doesn't seem to be feasible.