Cardano (ADA) is making a notable impact in the cryptocurrency sphere. Data from blockchain transactions reveals a resurgence of previously dormant coins and substantial accumulation by prominent ADA investors. This recent surge in activity has led to a price rally, driving ADA's value to $0.30. It further represents a 2.3% increase within the last 24 hours. This positive performance of Cardano has been amplified by the recent bullish trend in the wider cryptocurrency market, resulting in an impressive 18.30% gain over the past month.
According to data provided by Santiment, Cardano recently achieved a significant milestone in terms of the activity of dormant coins. Earlier this week, the network observed the highest movement of older wallets holding ADA since April 2022. This uptick in movement suggests a renewed interest in ADA, with previously inactive coins re-entering circulation. It signifies a shift in the network's dynamics and a resurgence of activity.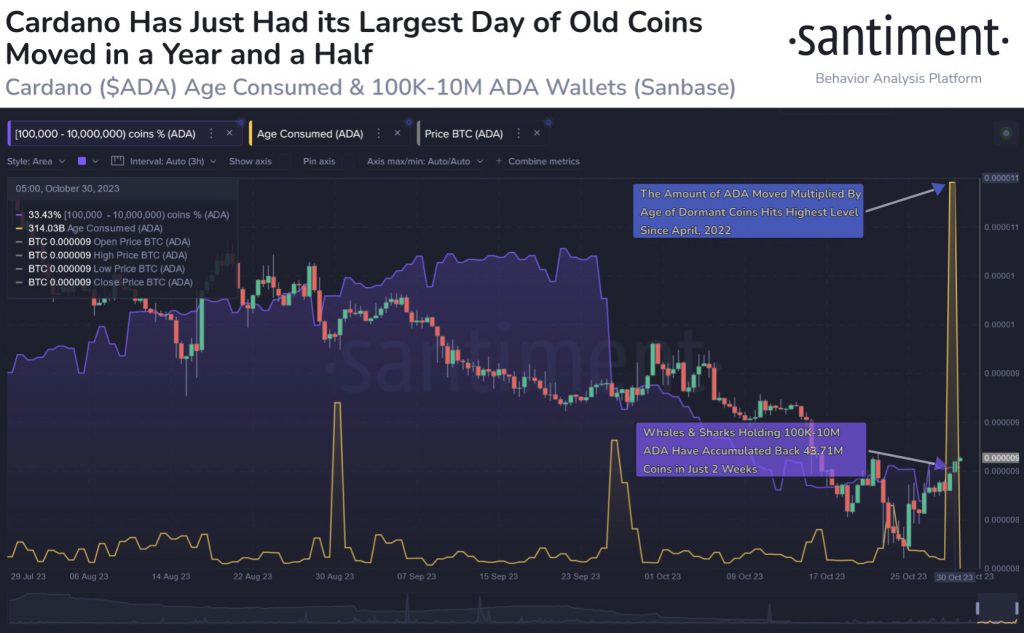 Notably, a noteworthy development accompanies this resurgence – the accumulation of ADA by influential investors, often referred to as "whales" and "sharks." Investors holding ADA within the range of 100,000 to 10 million tokens have amassed an impressive $48 million in just two weeks. These substantial moves by these influential investor groups have been a driving force behind the recent price rally.
Also Read: Cardano Price Prediction: Here's When ADA Could Hit $1
Cardano's Q3 performance
Cardano's resurgence isn't limited to price movements alone. The Q3 2023 State of Cardano report highlights several key indicators that demonstrate the network's growth and stability. A standout metric is the remarkable increase in the value of stablecoins within the Cardano ecosystem. There was 16% growth from the previous quarter and a remarkable 461% increase for the year as a whole.
ADA faced a 9.5% decline in price quarter-over-quarter (QoQ), in line with the broader cryptocurrency market trend. However, the network's staking yield remained steady. The nominal staking yield for ADA delegators remained at 3.3%, and the real yield was 3.34%. Notably, Cardano's transaction fee experienced a reduction. The average transaction fees (measured in USD) decreased from $0.13 to $0.10 QoQ, potentially making it a more attractive option for users.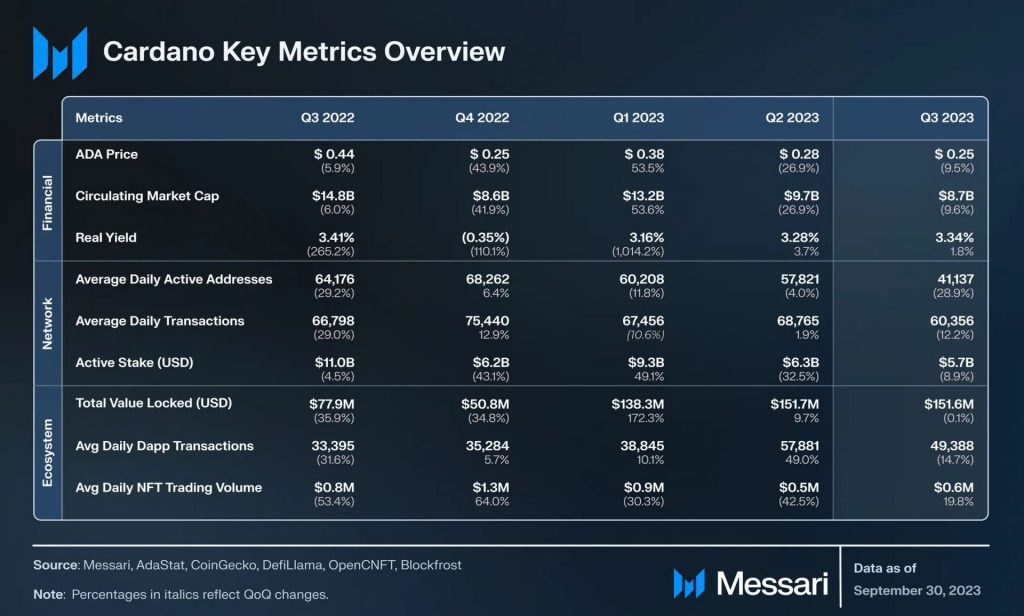 Cardano's network performance metrics exhibited some fluctuations. Daily active addresses dipped by 28.9% QoQ, but the transaction/active address ratio increased by 23.4% QoQ. This suggests that despite the decrease in active addresses, the network's power users remained highly engaged.
In conclusion, Cardano's recent resurgence, characterized by the activation of dormant coins and the accumulation of ADA by influential investors, along with the positive indicators from the Q3 2023 State of Cardano report, all point to a network that continues to evolve and make substantial progress in the cryptocurrency landscape. With ADA's recent price rally and the ongoing expansion of its ecosystem, Cardano is reaffirming its position as a prominent player in the blockchain space, poised for sustained growth and ongoing innovation.
Also Read: Cardano (ADA) Price Prediction For November 2023