The crypto-verse has witnessed several bankruptcy filings over the last couple of weeks. As the community witnesses things unraveling with these firms, they remain apprehensive about their funds. However, the 1.7 million registered users of Celsius were reportedly urged to give up the crypto that they had deposited into their Earn and Borrow accounts. Following this, the bankrupt crypto firm is free to employ the users' crypto as they please.
A streak of bankruptcy claims starting from Three Arrows Capital brought about distress to the crypto community. Celsius seemed to work swiftly as its first bankruptcy hearing occurred on Monday. One of the things highlighted in the hearing was the transfer of the title of cryptocurrencies from retail users to the firm.
Celsius has been represented by Kirkland law firm and was led by Pat Nash. He noted that the transfer of title took place according to the firm's Terms of Service [ToS]. This included,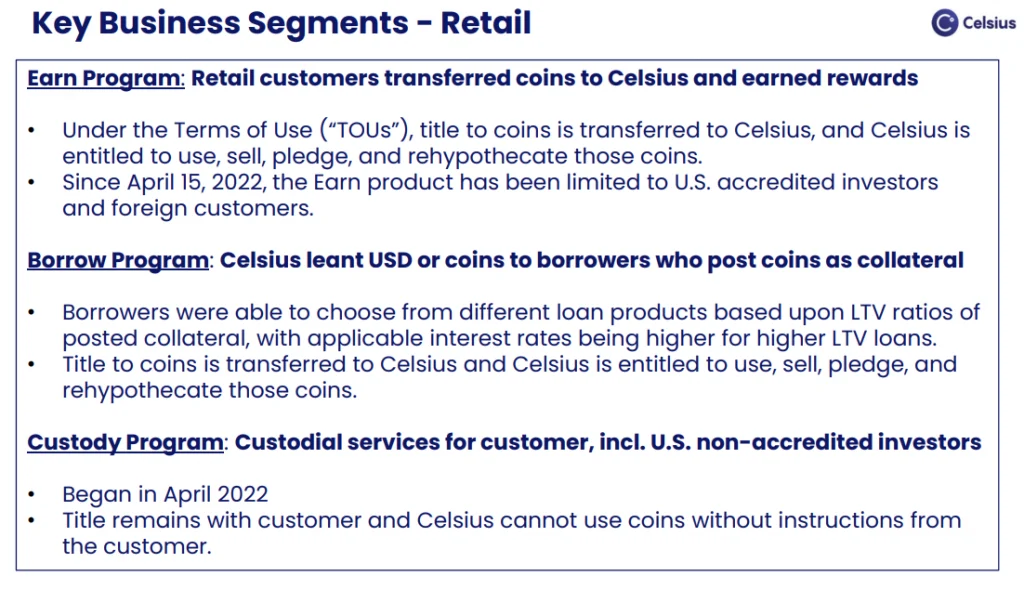 It seems like Celsius was banking on the ongoing crypto winter. The lawyer representing the firm stated that this wasn't liquidation, and he also noted that a recovery plan would soon be executed. Kadhim Shubber, a reporter from Financial Times, shed light on the same.
It seems like the firm intends to pay back its customers once the market heads towards recovery.
Celsius' Custody accounts out of the picture?
ToS of Celsius allows the firm to "use, sell, pledge, and rehypothecate those coins" from Earn and Borrow accounts. However, accessing Custody accounts without the authority of its users would be a task. As per the ToS, the firm is prohibited from using crypto in Custody accounts.
Furthermore, it should be noted that the Custody program was started in April 2022 and was reserved for non-accredited US investors.
In addition to this, another piece of information came to light. Celsius reportedly suggested it could sell off all the Bitcoin [BTC] that it mines to clear its debts. However, these assets would be sold through its subsidiary mining operation.