In recent weeks, Chainlink [LINK] has been generating significant attention. It has outperformed several other cryptocurrencies and consistently ranked as the top gainer over the past few weeks. Throughout the month, the coin had been trading within a narrow range. It has been fluctuating between $7.194 and $7.786. However, during the last week, LINK's price exhibited substantial volatility, resulting in a remarkable 12% surge in just one day. This further signified a strong bullish sentiment in the market. Furthermore, the price has soared by more than 42% within a week, positioning it as the best-performing cryptocurrency of the week. After this recent price jump, LINK reached a yearly high of $11.037.
At present, LINK is trading at $10.48, reflecting a 12.5% daily price upswing. It's important to highlight that in addition to the price increase, the network has seen a notable uptick in whale transactions, unique interacting addresses, and trading volume. These metrics have reached their highest levels in the past three months, marking a significant achievement for the network.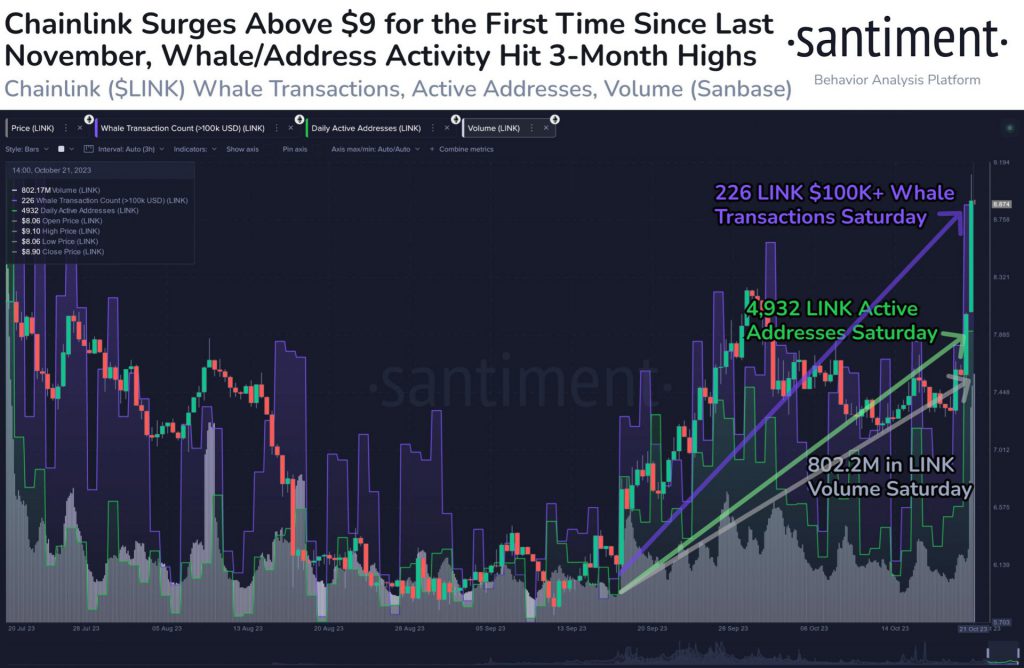 The key question, however, is: what is driving this rally, and can it be sustained over time?
LINK whales take the front stage
The recent surge in Chainlink's price has captured the attention of the community, prompting a detailed investigation by LookOnChain, an analytical platform specializing in cryptocurrencies. LookOnChain's analysis highlighted the involvement of Korean exchanges Bithumb and Upbit, which collectively acquired a substantial 945,000 LINK tokens. This was valued at approximately $9 million. Their activities played a pivotal role in influencing LINK's price, with Bithumb's actions being particularly noteworthy.
However, the situation underwent a swift transformation as Bithumb ceased its accumulation of LINK and transferred out 220,000 LINK tokens, equivalent to about $2.05 million. This move coincided with a noticeable drop in LINK's price from its peak, underscoring the significant influence of exchange activities on the cryptocurrency's market dynamics.
A closer examination of LINK's holders unveiled the participation of numerous influential whale addresses within the LINK market. Some of these addresses had been accumulating LINK since February and began selling their holdings in October. Others had amassed substantial quantities of LINK from Binance, with their accumulation commencing in September.
One standout whale, represented by 38 addresses, had procured 1.25 million LINK tokens at an average price of $7.58. These holdings translated into substantial profits, given the current market conditions. However, investors were advised to exercise caution, especially when whales decide to offload LINK in pursuit of profits.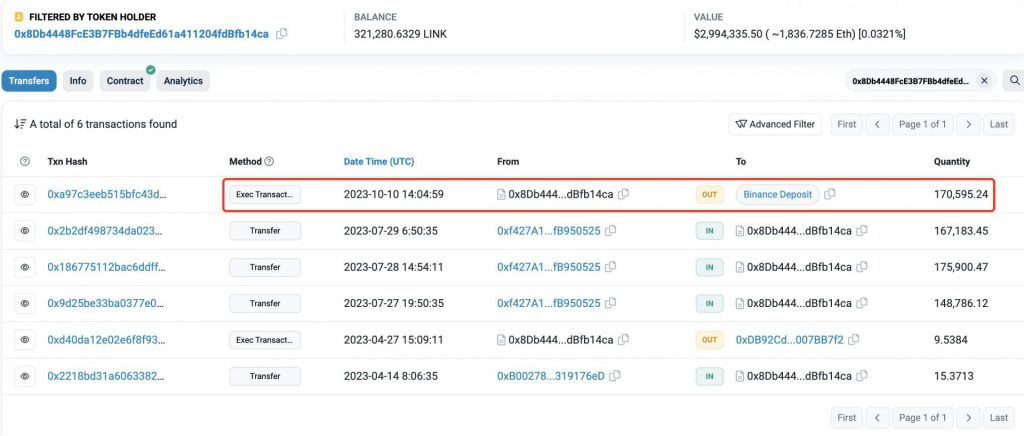 Adding a twist to the story, SmartMoney, an entity known for capitalizing on Chainlink's price fluctuations, entered the fray. One wallet, in particular, capitalized on the opportunity to short LINK by selling 38,381 LINK tokens at $9. Subsequently, they borrowed 38,747 LINK tokens from Aave to sell at $9.5. This move further contributed to the intricate dynamics of LINK's recent price movements.
Also Read: Chainlink [LINK] Price Prediction: October End 2023
Chainlink: New staking platform to further propel LINK's price?
Chainlink is preparing to roll out a highly anticipated update in the form of Chainlink Staking v0.2 later this year. The fresh staking platform is set to introduce a range of innovative elements to enrich the Chainlink ecosystem.
The debut of Chainlink Staking v0.2 signifies a noteworthy progression in the evolution of Chainlink's staking ecosystem. This release is poised to grant users a broader array of choices, bolstered security, and an overall more adaptable and versatile experience. It will be captivating to observe the reception of these features and their impact not only within the Chainlink community but also across the wider blockchain sphere.
Also Read: 7 Chainlink Integrations Take Place on Ethereum, Base, Polygon