Although most altcoins have had a negative week of trade, losses in Chainlink were far greater than its immediate counterparts. The para-chain operator was the biggest weekly loser among the top 25 coins, down by 27%. On the chart, LINK lost an important support area and was vulnerable to another correction moving forward. However, an Ethereum whale has done offered LINK a lifeboat and it remains to see whether bulls can capitalize on the same. LINK traded at $12.9, up by 1.3% over the last 24 hours at the time of writing.
Chainlink Daily Chart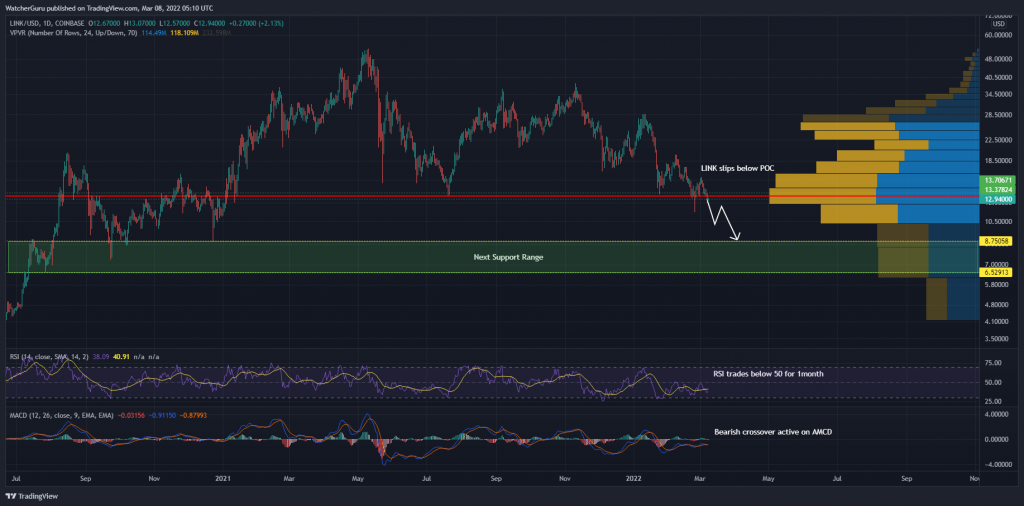 Chainlink's price was deep waters after closing below a demand region of $13.7-13.4 for the first time since January 2021. The daily indicators amplified the bearish state of the market as well. The RSI has traded below 50 for more than a month now as sellers were the more dominant force. A bearish crossover on the MACD even indicated that LINK's woes were set to continue until the price tags strong support.
The Visible Range profile, which identifies where investors place their trades, was used to identify the next ideal defense available for LINK. As per the tool, LINK was trading below the Point of Control (the strongest area of support/resistance) after closing below $13.3. However, near-term support was available till $11.4 and bears were not out of the woods just yet.
Additionally, an Ethereum whale grabbed the opportunity to buy Chainlink at a discounted level. Data from Whalestats showed that a top Ethereum wallet purchased $4.56 Million worth of LINK tokens during the down-market. However, it was doubtful whether the purchase could trigger the sentiment of retail traders. Further data revealed that the purchase may have been a one-off case, with Chainlink not featuring among the top 10 holdings or among most purchased tokens.
Price Strategy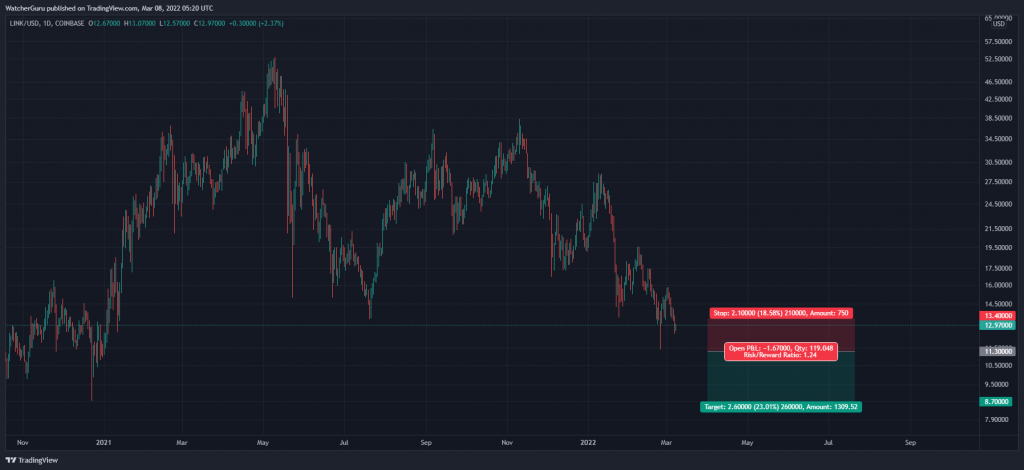 Considering the market data, Chainlink was under the heavy influence of bears and a single whale purchase may not be enough to lift its price from the doldrums. With that in mind, shorting is a more reasonable call at the moment. Investors can short LINK at $11.3 and exit their trade at $$8.7. Stop-loss should be tightly placed at $13.4. The trade setup carried a 1.24 risk/reward ratio.