From a technical perspective, the crypto market is still in its bearish phase. While most major coins have been peeling off value, one particular token has been defying the broader trend and climbing up the price and rankings ladder. Occupying the #38th position on CMC's rankings chart, Chiliz has been appreciated by more than 11% over the past 24 hours.
Over the past month, the alt has been able to pull off a 150% rally when zoomed out and viewed. Resultantly, its recovery on the mid-term frame has turned out to be parabolic, and CHZ is on-track to reattain its local peak of $0.33 that it had created in April.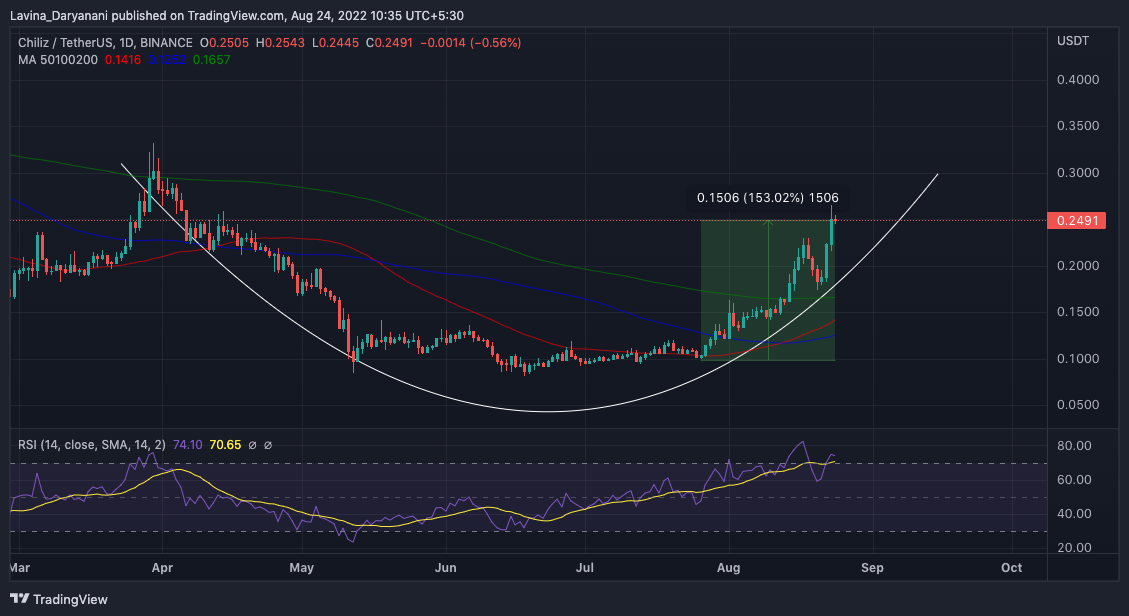 Why the rally?
There are a couple of factors because the token has been rallying. Chiliz's official Twitter handle has been teasing its followers about different phases of its Scoville testnet experiments. Last week, the fifth phase, Pequin, was addressed, while this week, the focus seems to be on the sixth phase, Malagueta. Per Chiliz's roadmap, the former phase focuses on the CHZ cross-chain bridge, while the latter's nucleus is the Fan Token cross-chain bridge.
Phase 7 would mark the migration to 2.0, and the launch of the mainnet is scheduled to take place in Q3 or Q4 this year. Furthermore, Chiliz CEO Alexandre Dreyfus recently took Twitter to emphasize that the network doesn't intend to rely on Ethereum standards like ERC-20 and ERC-721 forever. Per the executive, Chiliz can scale and "bring some innovation" on top of fungible token formats.
Participants flock into the Chiliz market en masse
Data analytics platform Santiment brought to light that whale activity for Chiliz has spiked of late. As illustrated below, whale transactions are currently at their highest since March. Transactions could either correspond to the buy or sell side, and if the former is the case, then participants usually expect additional gains. However, per Santiment, even if whales are profit-taking, CHZ's rally "could continue."
Apart from whales, even derivative traders were seen jumping into the Chiliz market. As depicted below, CHZ's futures open interest was hovering in the $30 million to $40 million bracket at the beginning of the month. However, it is on the verge of breaking past the $200 million threshold.
A rising OI during price uptrend phases usually means that the ongoing trend is getting stronger, for participants are deploying more capital into the market. So, if the same continues and market participants keep placing long bets on CHZ, then we'd likely witness a 2.0 version of the rally.
However, a pullback can be expected if there's a sentiment change and short traders start asserting their dominance.