Over the past few days, there have been speculations going on that Coinbase could shut shop in Japan. Clearing the air, Nana Murugesan, Vice President for Business Development and International told Bloomberg last week that the exchange decided to wind down "the majority" of its operations in the East Asian country.
He additionally revealed that employees were sacked as "most roles" were eliminated. Murugesan did not specify how many Japanese employees were impacted by the said move. However, he asserted that a small number of them were retained to cater to the safety and security of customer assets.
On Wednesday, Coinbase officially announced via a blog post that it was "halting" operations in Japan. Reasoning out why, the announcement noted,
"Due to market conditions, our company has made the difficult decision to halt operations in Japan and to conduct a complete review of our business in the country."
Murugesan, along with Coinbase Japan's GM Nao Kitazawa, asserted that the entity is "committed" to making the transition "as smooth as possible" for its customers.
Coinbase customers can withdraw assets until mid-February
Japan is currently in the midst of loosening its cryptocurrency rules. Towards the end of last year, the government revealed that cryptocurrency exchanges will be able to list tokens without pre-screening. Alongside, the circulation ban on stablecoins like Tether and USD Coin is expected to be reversed this year. Nevertheless, cryptocurrency companies have been flocking out of the country.
Last month, Kraken announced that it will wind up its operations in Japan. The decision was a part of the exchange's efforts to "prioritize resources and investments" in those areas that aligned with its strategy.
Coinbase announced that customers can withdraw their assets at their earliest convenience. All Japanese customers will have until Feb. 16 to withdraw their fiat and cryptocurrency holdings from the exchange. Parallelly, the fiat deposit functionality will be removed on Jan. 20.
COIN shares have been on a steady incline of late. Over the past week, they've appreciated by around 43%. During the pre-market hours on Tuesday, however, they were trading 1.63% lower, bringing to light the change in investor sentiment.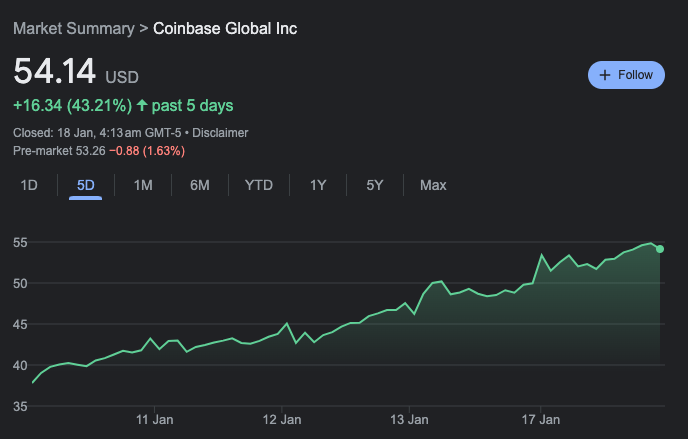 Also Read: Ark Invest Buys Coinbase Shares Worth $1.45M: COIN Up 22%