Companies have been releasing their first-quarter reports one after the other. Earlier this week, MicroStrategy revealed its earnings, while others like Coinbase and Block announced their financial results today.
Crypto exchange Coinbase's Q1 revenue stood at $773 million. According to analysts polled by FactSet, this figure was higher than estimates of $655 million. In fact, the latest number also marks a rise from Q4's revenue of $629 million.
The top U.S. crypto exchange disclosed a quarterly loss of $79 million, making it its fifth straight quarterly loss. However, it noted an adjusted loss of only $0.34 per share. On the other hand, analysts had projected a loss of $1.45 per share. The current number also marks a sharp drop from the loss of $1.98 per share registered a year back.
Even though Coinbase surprised analysts by projecting better-than-expected results, it slightly lagged behind on the trading volume front. The same stood at $145 billion, lower than analyst estimates of $147.7 million. For context, trading volume amounted to around $146 billion in Q4 2022.
Also Read: Coinbase Sues SEC, Seeking Regulatory Clarity For Crypto
COIN jumps in price
Coinbase shares closed 1.51% higher at $49.22 on Thursday, May 4. During the after-market hours, they were up by 9.1% and were priced at $53.70. This comes as a slight relief for bulls, for COIN had been in the midst of a downtrend since mid-April. If the momentum continues building from here on, then advancement to $65-$66 can be expected in the coming days.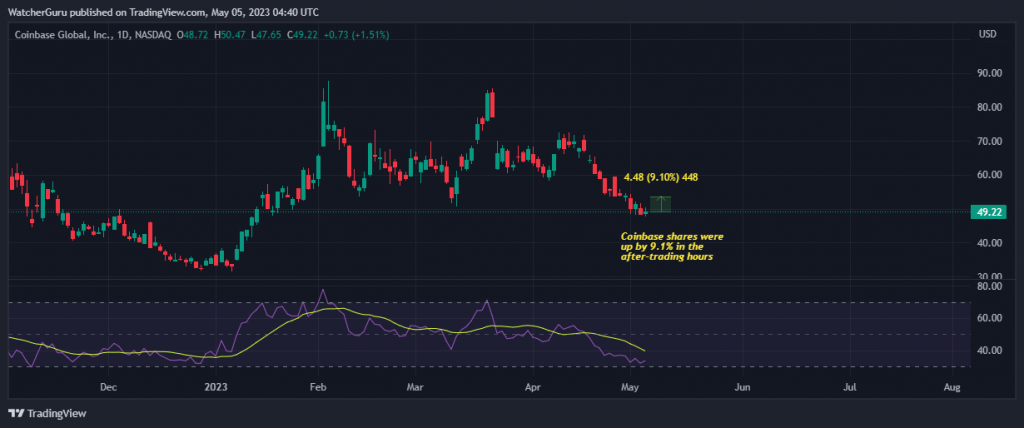 A day before the results were announced, Cathie Wood's ARK Invest scooped up shares in three batches of 1.63k, 1.34k, and 15.25k for the ARKW, ARKF, and ARKK funds. Thus, the latest incline registered has proven to be fruitful for ARK.

Also Read: Coinbase Sees 'Smart Money' Worth $8.6 Million Flow Into its Ecosystem