Despite being accused of violating securities laws in the U.S., Coinbase's stock price continues to grow. The U.S. SEC launched a lawsuit against the company in early June for the alleged sale of unregistered securities. However, since the lawsuit, Coinbase's (COIN) shares have increased in value by more than 50%.
Data indicated that the price of COIN shares increased by 51% in just a few days. The stock's price went from about $52 on June 6 to $78.7 on July 7. Moreover, the stock has also increased by over 133% during the previous six months, with an approximate 50% increase from year to year.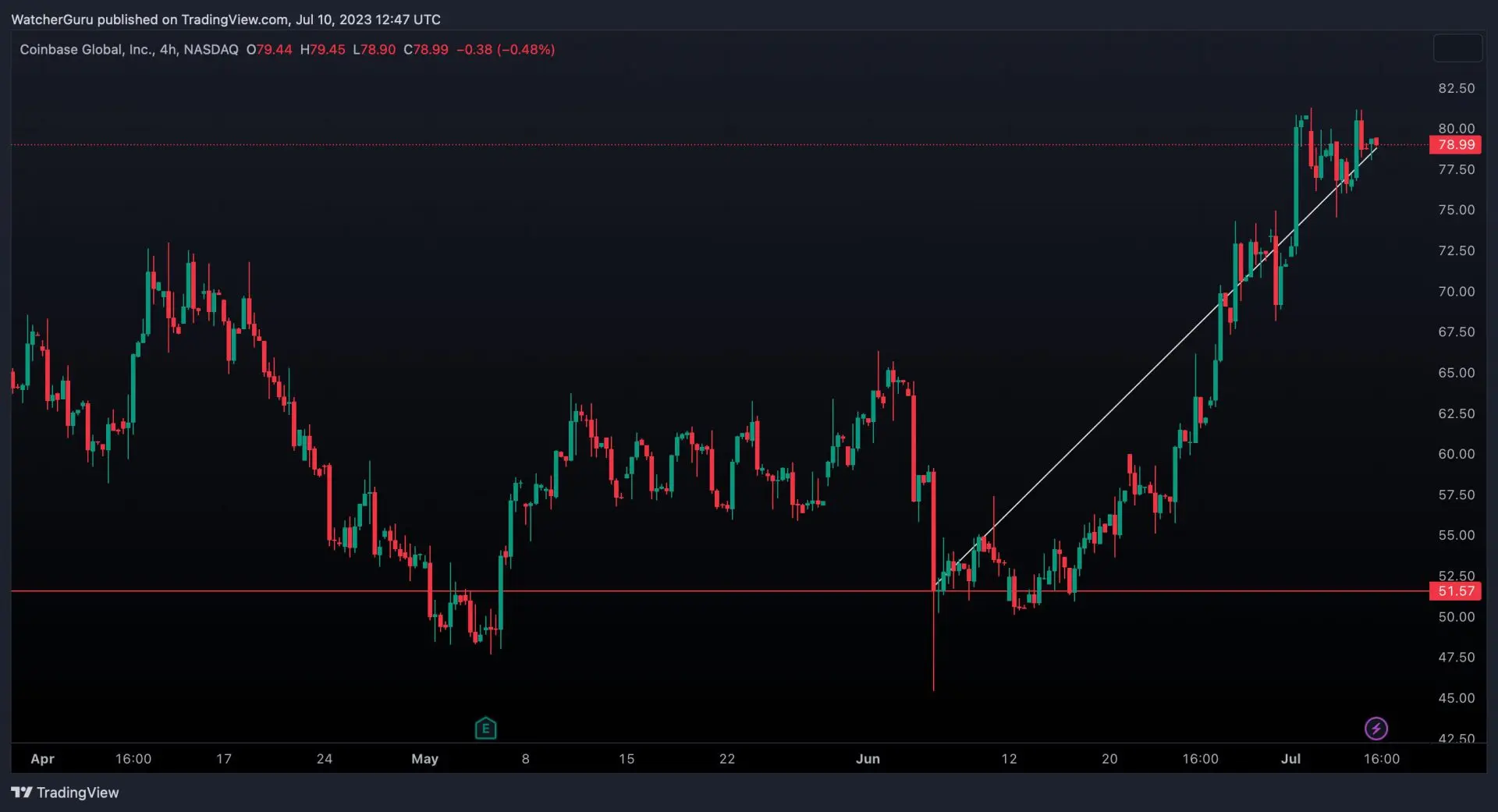 Coinbase's shares were recently downgraded from "overweight" to "neutral" by financial goal Piper Sandler. The firm also reduced its forecast from $65 to $60. Not only that, Cathie Wood's ARK Invest, which was once very bullish on COIN, has decided to stay away from the asset for the time being. However, the share's performance is going against what these institutes assumed. According to analyst Patrick Moley, Piper Sandler's downgrading of COIN was also influenced by a lack of regulatory clarity. 
Also Read: Piper Sandler Downplays Coinbase Stock, Expects 25% Decline
Furthermore, even Coinbase executives have been seen selling COIN stocks. Senior Coinbase executives sold a total of 88,058 COIN equities on July 6 for a combined total of nearly $6.9 million. CEO Brian Armstrong is also included among the names of executives who have sold COIN stocks.
Why are Coinbase shares going up despite the lawsuit?
The recent positive sentiment in the crypto market is attributed to BlackRock's filing of a spot Bitcoin ETF (exchange-traded fund). Moreover, the world's largest asset manager has teamed up with Nasdaq and Coinbase to file the ETF. Coinbase's participation may have played a hand in its stock price going up.
Also Read: BlackRock Includes Coinbase SSA in Spot Bitcoin ETF Refiling
Moreover, it is also possible that many investors believe that the SEC will lose its lawsuit against the exchange. The SEC is currently in a legal battle against many industry heavyweights, such as Ripple and Binance. Many are of the opinion that the SEC will not be victorious in its crusade against the crypto industry. At press time, COIN was trading at $78.72.