The median hold time for Shiba Inu (SHIB) on the popular crypto exchange Coinbase has reached 250 days. The median hold time is the number of days investors keep their assets on the exchange before selling them or moving them to an external wallet.
Moreover, the median hold time for Shiba Inu (SHIB) on Coinbase is longer than that for other popular crypto assets such as Bitcoin (BTC) and Ethereum (ETH). According to the exchange, a higher median hold time points towards an "accumulation trend." On the other hand, a short hold time "indicates increased movement of tokens." Furthermore, SHIB happens to be the 11th most popular crypto on Coinbase.
Shiba Inu's popularity in Hong Kong
SHIB is one of the most popular cryptocurrencies in the world. The token has increased by nearly 27% since January this year. SHIB's popularity is further proven by its increased trading on Hong Kong's CoinEX exchange. SHIB is currently the fourth most traded token on the platform, accounting for 2.01% of trades. The asset is only bested by Bitcoin (BTC), which accounts for a whopping 48.3%, Ethereum (ETH) with 8.67%, and Dogecoin (DOGE) with 2.54%.
Users on the Hong Kong-based exchange traded a staggering $752,013 ($752.01K) worth of SHIB in a single day, according to data from CoinMarketCap.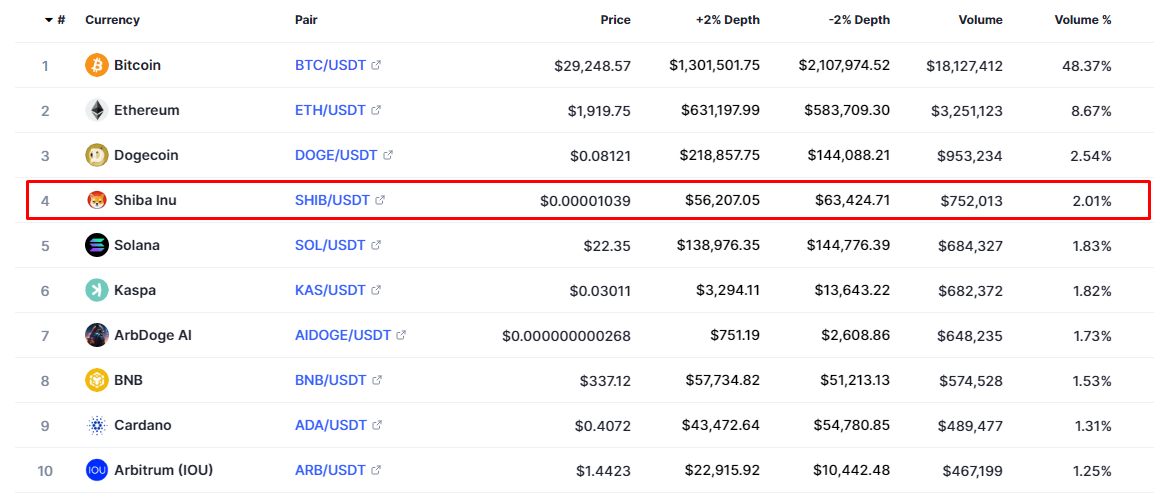 It is interesting to note that SHIB and DOGE are very closely matched in terms of trade percentage. Both projects are usually pitted as rivals, and both seem to garner an almost equal amount of popularity. Nonetheless, SHIB's price does not share the same sentiment. The asset is down by 1.4% in the last 24 hours. Moreover, SHIB is down by a whopping 88.08% from its all-time high of $0.00008616. At press time, Shiba Inu (SHIB) was trading at $0.00001027, down by 0.9% in the last hour.