This year, a stablecoin generated significant attention in the cryptocurrency space, despite the presence of well-established assets like Tether [USDT]. TrueUSD [TUSD] gained popularity, particularly after striking a deal with Binance. However, in a recent development, the network disclosed modifications in its operations and administration.
TrueUSD made an announcement via Twitter today, informing that Techteryx, an Asia-based consortium, will take over complete management of all offshore operations and services associated with TrueUSD. It should be noted that the process of transitioning ownership and management of TrueUSD began in December 2020. This was when TrueCoin, LLC, a subsidiary of Archblock, Inc., transferred the business ownership of TrueUSD to Techteryx. After acquiring the rights to TrueUSD from stablecoin operator Archblock, the firm based in the British Virgin Islands persisted in using Archblock to manage the project on its behalf.
This decision was driven by Techteryx's extensive global network and substantial resources. These are anticipated to facilitate the stablecoin's growth and enable its expansion into new markets. Now, Techteryx will have to take on an array of responsibilities. This encompasses various tasks such as overseeing minting and redemptions, managing customer onboarding and compliance procedures, as well as supervising fiat reserve management, and maintaining relationships with banks and fiduciary entities.
Also Read: Binance Announces Expansion of Zero-Fee Trading to Include TrueUSD
Does TrueUSD come with risks?
TUSD has demonstrated remarkable growth with a market capitalization of $2.84 billion. Nevertheless, a recent report from research firm Kaiko suggested that TrueUSD may be presenting a significant risk. The trading volume of TUSD, recently faced scrutiny due to the collapse of banking partner Prime Trust and disruptions in reserve reporting. Despite this, it experienced a substantial surge, growing from less than 1% to 19% in just three months.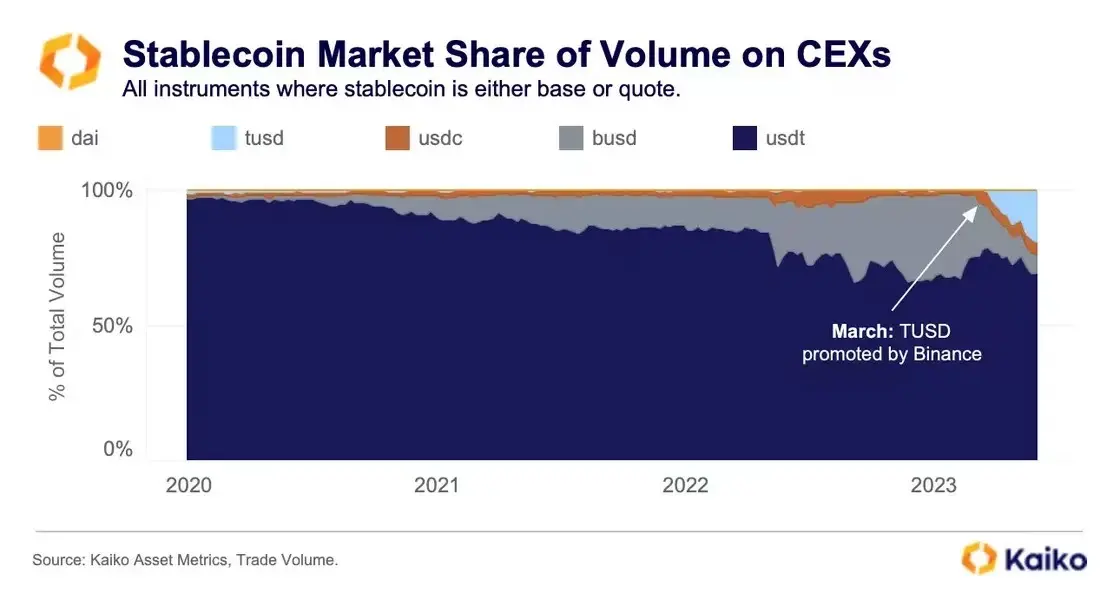 While the network noted that it has no exposure to Prime Trust, Clara Medalie, head of research at Kaiko, said,
"Crypto markets are highly dependent on centralized stablecoins that often lack transparency around reserves. While Circle has made huge efforts to improve USDC transparency (and even Tether has made some efforts over the past year), the relatively unknown TUSD is today posing the biggest risk, offering the least information about its reserves or corporate structure."
Also Read: JPMorgan Predicts Crypto Market Downtrend to Persist Until Stablecoins Halt 'Shrinking'