Crazy Bunny is a cryptocurrency project that aims to fund animal charities and organizations working for animal protection. For every token sold, a portion of the amount goes towards charity. Although the project is relatively new, it has garnered the attention of the crypto community and animal rights and protection groups.
The team believes that technology can be used for the greater good of all living things. They believe that it is our responsibility "to do something truly beneficial for our planet and all of its inhabitants."
Crazy Bunny tokenomics
The project team employs a deflationary strategy with a finite supply of tokens. The project has a total supply of 10 septillion tokens (10,000,000,000,000,000,000,000,000). However, half of the supply has already been burned. Therefore, only 50% of the total supply is still in circulation.
The project boasts 27.16% liquidity locked and 70.8% liquidity burn. Moreover, there is a 9% tax on selling and buying. 2% goes to backflow, 2% goes to marketing, 2% goes to buybacks, and 3% goes toward philanthropy. The same breakdown applies to both buy and sell taxes.
Crazy Bunny aims to outperform popular crypto projects such as Shiba Inu (SHIB). The project aims to remove all zeros from its value and surpass SHIB's historical records.
Non-fungible tokens
Crazy Bunny is also launching NFT (non-fungible token) stacking, allowing users to generate additional revenue. The team has chosen a rabbit as their NFT character because we are currently in the year of the rabbit. The project also has plans to open its own NFT marketplace. Furthermore, a portion of the revenue from NFTs will also go towards animal protection and charity.
Crazy Bunny roadmap
The project has a well-laid-out plan for the rest of the year. The team has almost completed its goals for Q2 2023, with NFT creation being the only one left. In Q3 2023, the team aims to reach 10,000 telegram members and 20,000 token holders. Moreover, they plan on launching NFT staking.
By Q4, the team aims to reach 50,000 token holders while also being listed on multiple exchanges. The protocol is also planning to launch its CrazyBunny SWAP platform by the end of the year.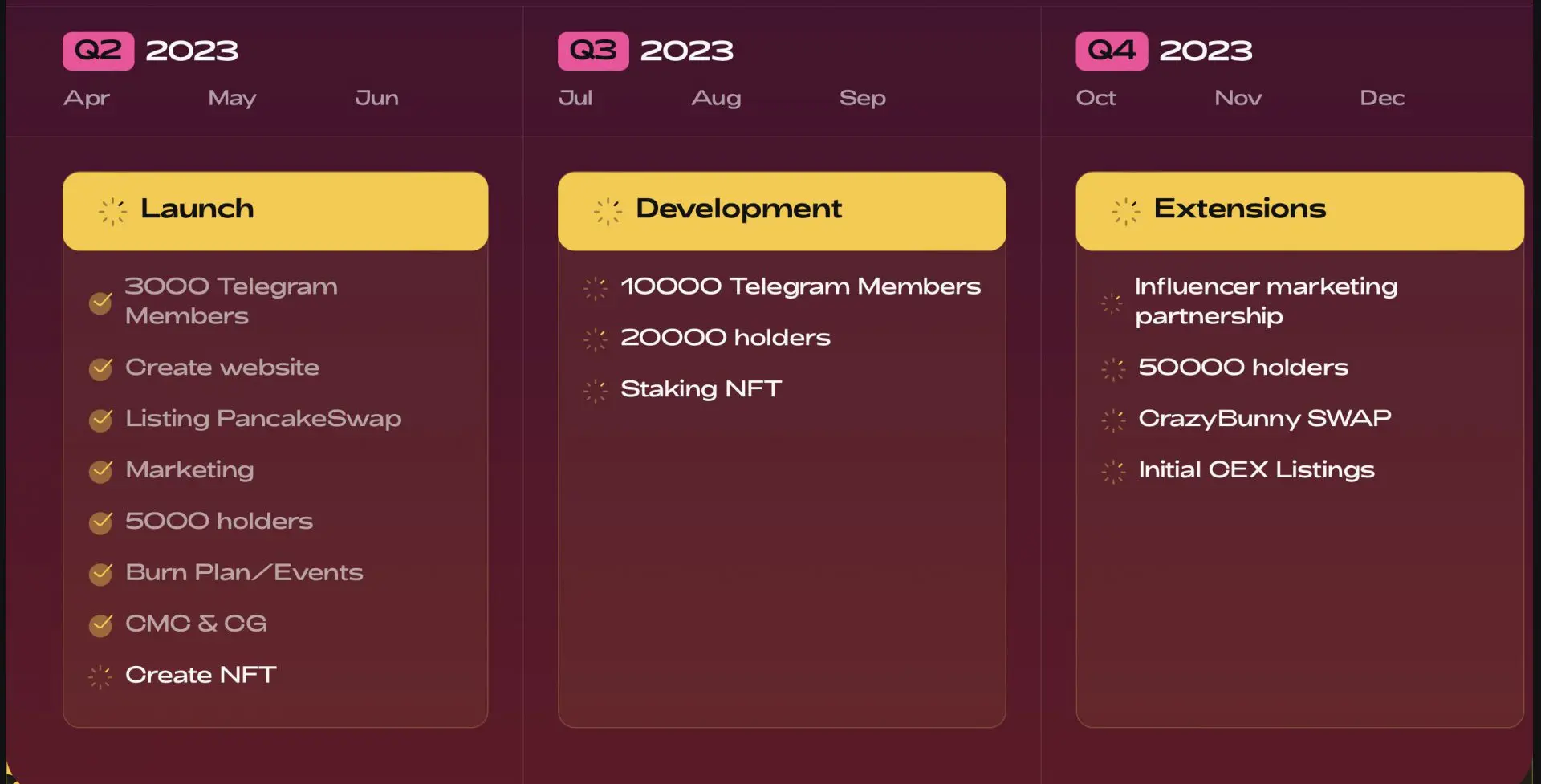 One of the drawbacks of charity is figuring out if the funds are received by the correct recipient. However, the use of blockchain technology has allowed this issue to be put to rest. Blockchain technology provides high security and transaction transparency. The project is using this technology to its best advantage.
CrazyBunny cares as much about helping animals who can't defend themselves as it does about making profitable investments. Although there are several charitable purposes within the crypto realm, there are very few that cater to animal rights and protection. With environmental issues taking center stage in global affairs, it seems like the right time for a crypto project that listens to and caters to animal protection.
To know more about Crazy Bunny, please visit their official website, Twitter, or join their Telegram and Telegram News.
DISCLAIMER: THIS IS A SPONSORED ARTICLE