2022's crypto winter was quite harsh. A host of companies from the industry collapsed one after the other. This deteriorated investors' sentiment and ended up putting pressure on the price of the assets. A recent report from the Federal Reserve Bank of Chicago put things into perspective and revealed the role that institutions, or large account holders, played in the crypto bank runs. Specifically, the report noted,
"While the platforms had many retail clients, the runs were spearheaded by customers with large holdings, some of which were sophisticated institutional customers." 
Consider Celsius' case for instance. Every group provided Celsius with about $1.9 to $2.0 billion worth of funding before June 9, 2022. The report underlined that the owners of large-sized accounts, i.e. with over $500,000 in investments, were "the fastest to withdraw." Moreover, they ended up withdrawing "proportionately more" of their funding. The report added,
"In fact, during this run, 35% of all withdrawals at Celsius were by owners of accounts with more than $1 million in investments, according to our estimates."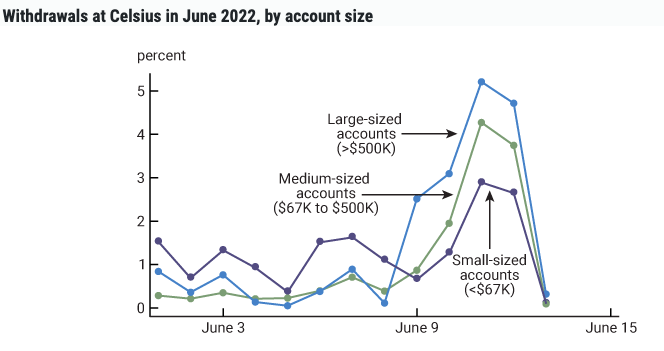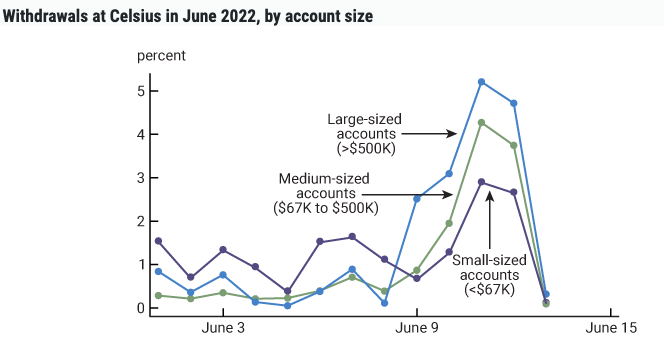 Also Read: U.S. DOJ is Targeting Crypto Exchanges, Mixers: Official
Other Characteristics of 2022's Crypto Bank Runs
The Chicago Fed's research took into account the bankruptcy filings to determine the outflows of customer funds from a host of companies like Celsius, Voyager Digital, FTX, BlockFi, and Genesis. The largest crypto bank run was registered by FTX. As tabulated below, it noted an outflow of 36.7% in just a period of five days from Nov. 6-11, 2022. In fact, the report went on to highlight,
"In one of the most severe episodes, customers withdrew a quarter of their investments from the platform FTX in just one day, according to our analysis of data from its bankruptcy filing."
Customers, in all, withdrew roughly $13 billion in total from the mentioned companies.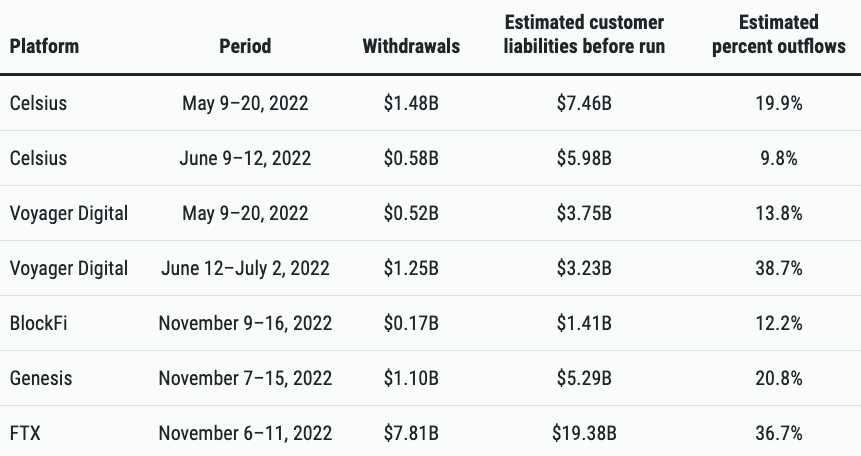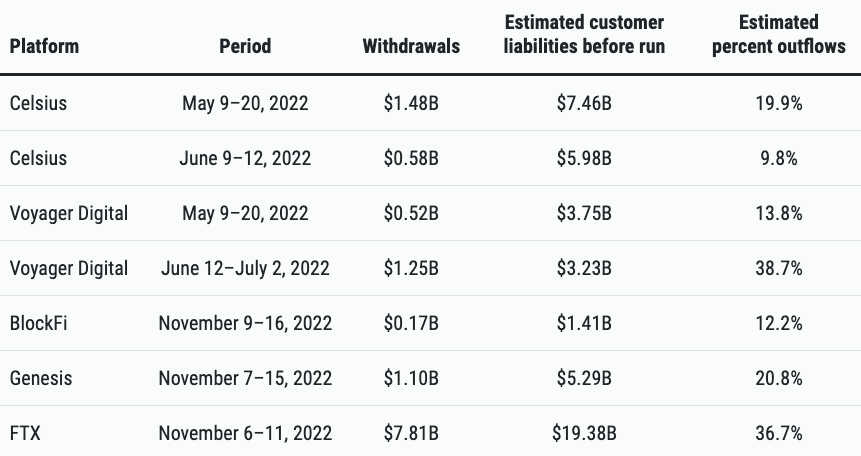 The report also emphasized that customers of these crypto-asset platforms did not have access to protection like deposit insurance. Interestingly, all the runs were "purely electronic," with customers withdrawing funds through apps or web portals. The report additionally pointed out that "efforts to generate high returns caused these platforms to hold insufficient liquidity buffers." All the crypto bank runs managed to make consumers more aware. Elaborating on the same, the Chicago Fed's report concluded by stating,
"This turmoil has made consumers and investors more aware of the risks of crypto-asset investment opportunities than they may have been in 2021 amid the excitement of an asset class experiencing rapid price appreciation."