On Thursday, April 27, Crypto.com unveiled its partnership with technology conglomerate Samsung. Via the tie-up, the most recent Crypto.com app update, Version 3.158.1, will be featured on Samsung Galaxy Z Fold devices. According to the official statement, the advanced app features will foster "increased productivity" and "multitasking." That will ultimately deliver "enhanced trading and analysis capabilities." Kris Marszalek, the co-founder and CEO of Crypto.com took to Twitter to exclaim,
"Proud and excited to be working with Samsung to drive global crypto adoption together."
Also read: Shiba Inu's BONE Bags a Listing on Crypto.com
Crypto.com's CRO Spikes
With this partnership, Crypto.com becomes the first crypto platform to deliver a "tailored experience" for Galaxy Z Fold devices. Users will have additional tools and resources immediately available on one single screen. This means they will be able to compare a range of tokens simultaneously, more easily than on any other mobile device. Commenting on the latest collaboration, Eric Anziani, President and Chief Operating Officer of Crypto.com said,
"This collaboration with Samsung will allow users to experience our app like never before. Together, Samsung and Crypto.com have optimized the Crypto.com App for the large screen experience, taking advantage of the foldable form factor, to bring a more productive way of using the app for the trading and analysis of cryptocurrencies."
The exchange's native token CRO noted a sharp spike today. In fact, it went on to create a multi-week high at $0.835, a level last seen in February. However, there was a pullback right after. Nevertheless, CRO was trading in green at $0.0750 at press time, after registering a 5% incline on the daily.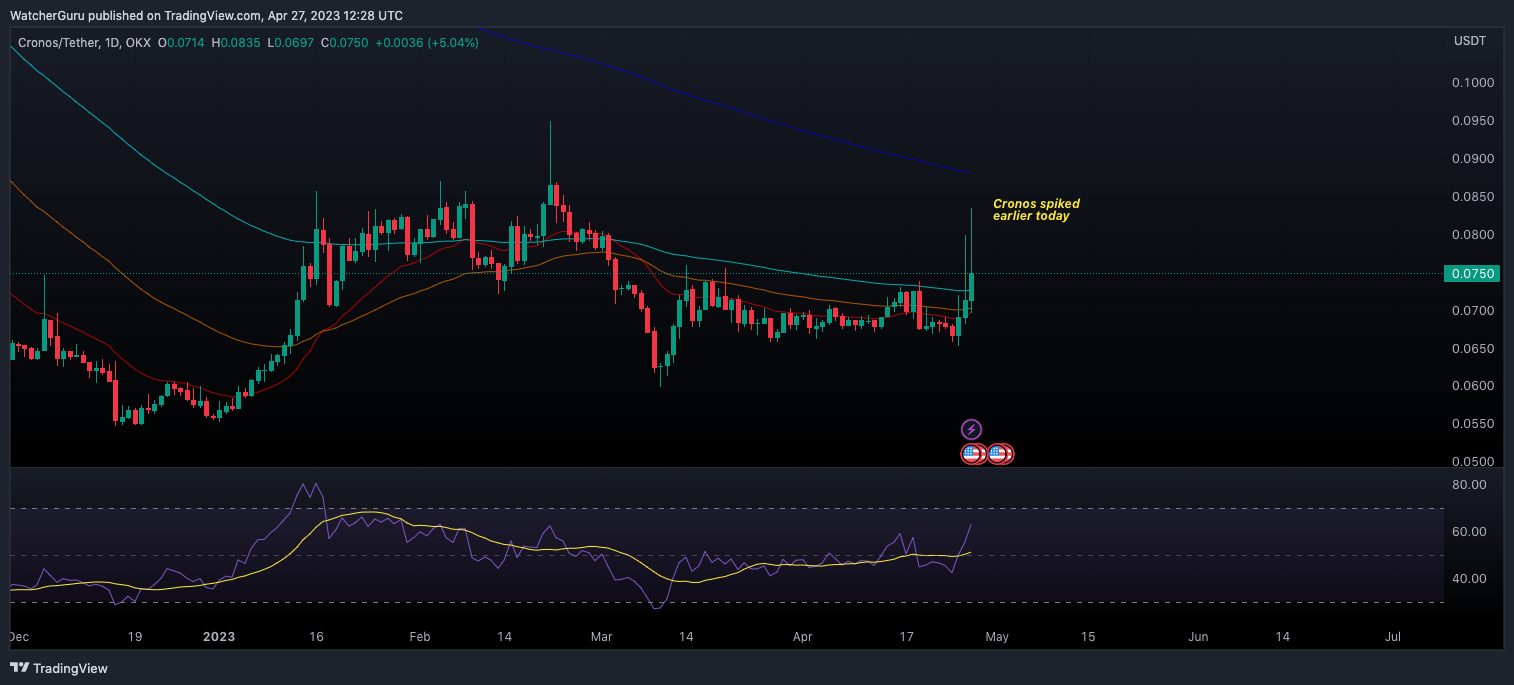 Also Read: Crypto.com Signs 8-Year Agreement to Curb Carbon Emissions
Partnerships are one of the ways through which Crypto.com is driving mass adoption. The company has also been expanding geographically with the intention of catering to more users. Additionally, it has also been listing out community-centric tokens to cater to the growing demand.
Last month, Crypto.com attained an "MVP Preparatory License" from Dubai's Virtual Assets Regulatory Authority. The MVP phase during the preparatory stage opened the doors for approved applicants to fulfill all pre-conditions required to undertake MVP market operations. This means, once Crypto.com is licensed to be operational, it will be able to "extend" its approved suite of virtual assets activities.
Also Read – Dubai: Crypto.com Obtains Preparatory License From VARA