Crypto.com has been called out for allegedly deploying internal teams to trade crypto assets for profit. Citing five unnamed sources with "direct knowledge of the matter," Financial Times reported that the Singapore-based exchange "operates proprietary trading and market-making teams."
Also Read: Singapore: Crypto.com Secures 'Major Payment Institution' Licence
One source with information about the teams said that the exchange's executives gave other, external trading houses "absolutely dramatic sworn statements that Crypto.com was in no way involved in trading." Another source reportedly said that employees were asked to "say there is no internal market maker type operation."
According to Financial Times, the proprietary trading desk "trades both on the company's own exchange and other venues." The trading team only intends to make money and not facilitate the exchange, a source alleged. In fact, people also said that the market-making desk at the exchange attempted to "boost liquidity on the venue."
Also Read: Crypto.com Unveils Collaboration with Samsung
We have an internal market maker, that's not controversial: Crypto.com
In defense, a Crypto.com representative asserted that having an internal market maker is "not controversial practice." The spokesperson clarified,
"We have an internal market maker that operates on the Crypto.com exchange and that internal market maker is treated exactly the same as third-party market makers that identically facilitate tight spreads and efficient markets on our platform."
Furthermore, the company revealed that it reaped most of its revenue from its app for retail traders. There, the exchange is the customer's counterparty for transactions. In fact, it runs the counterparty "as a broker model." The company clarified, "As such, the Crypto.com trading team ensures that Crypto.com is risk neutral by hedging these positions on a number of venues, including the Crypto.com exchange." Drawing parallels with how other industry players operate, and what Crypto.com prioritizes, the spokesperson said,
"All companies operating in the trading industry compare volumes to their competitors," Crypto.com said, adding that their priority was to "continuously improve order book liquidity and lowering spreads as it results in a more efficient market for all participants."
On the price front, the exchange's native token CRO has been rising. From its local low of $0.051 registered last week, CRO is up by around 5% already. At press time, it was seen exchanging hands around $0.0537.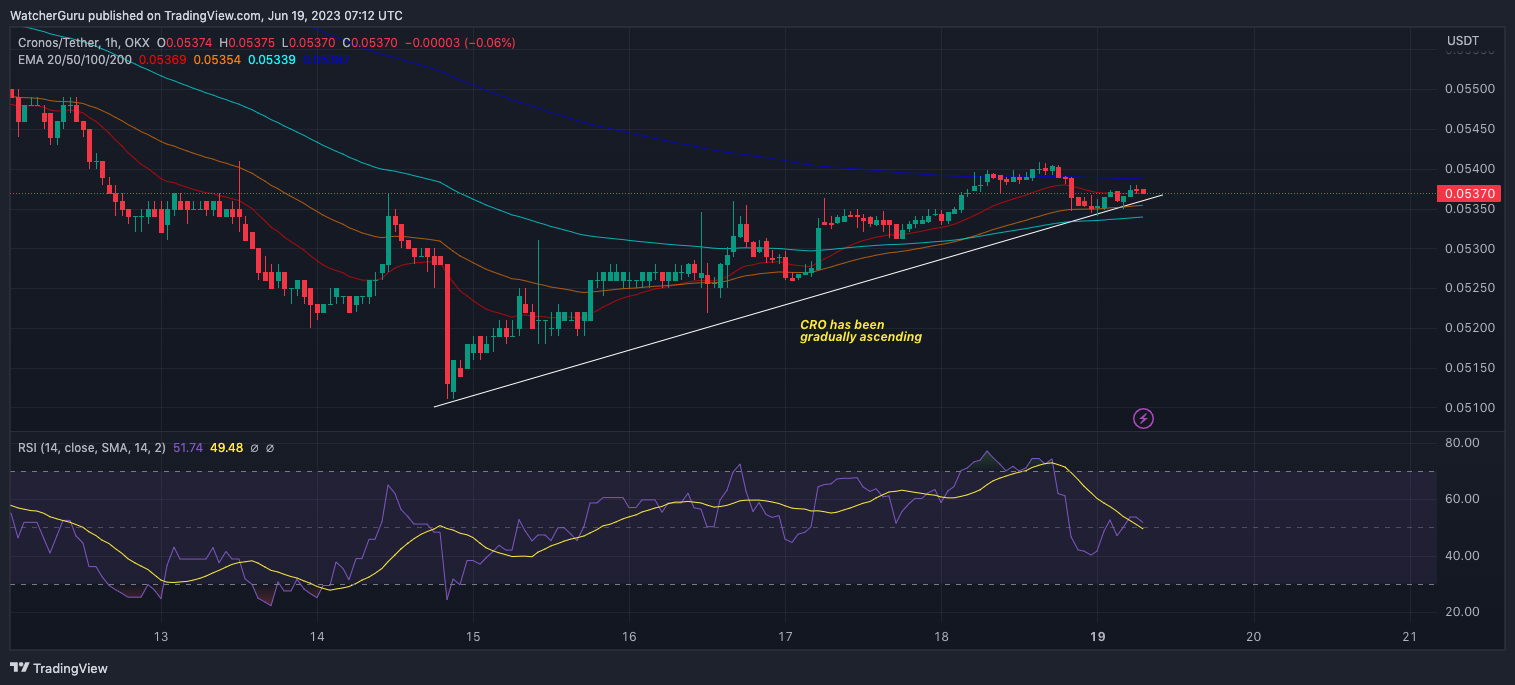 Also Read: Crypto.com Rolls Out ChatGPT Inspired AI User Companion 'Amy