In the last few years, crypto has gone from obscure internet money to mainstream finance. There is no denying the skyrocketing popularity that the industry has enjoyed since the 2021 bull run. However, mass adoption is not led by the U.S. or Europe, as many may believe. It is the emerging economies of the world that are spearheading the change.
According to Daniel Fogg of IOV Labs, the increase in crypto adoption among emerging economies is because of the solutions to people's everyday problems. Fogg recently spoke at the Bitcoin Builders Conference in Miami. He spoke about the pragmatism of Bitcoin, its widespread adoption, and how emerging economies are shaping the future of the cryptocurrency industry.
Fogg menitoned that the macroeconomic challenges in emerging economies are one of the biggest reasons for growing crypto adoption. According to him, many users in emerging economies will have their first meaningful encounter with digital banking using crypto.
Moreover, Fogg highlighted that the future of crypto will be like it is "in Turkey, Colombia, Nigeria, Argentina." Fogg believed two significant use cases are driving the industry's adoption. One focuses on decentralized finance (DeFi) solutions for investors looking for exceptional returns and non-traditional investment alternatives. Another use case involves people buying stablecoins that are fixed to the U.S. dollar. This helps with savings and payments for users in countries that are experiencing currency issues like inflation and devaluation.
Crypto users in emerging economies heavily outnumber Western countries
According to a report by Triple A, India alone is responsible for 103 million cryptocurrency users. The U.S. on the other hand has only 44 million. However, one should note that the U.S. has a much smaller population. Therefore, percentage-wise, it is still higher than in India.
The U.S. is the only Western country in the top 17 biggest crypto-holding countries. France comes in at number 18.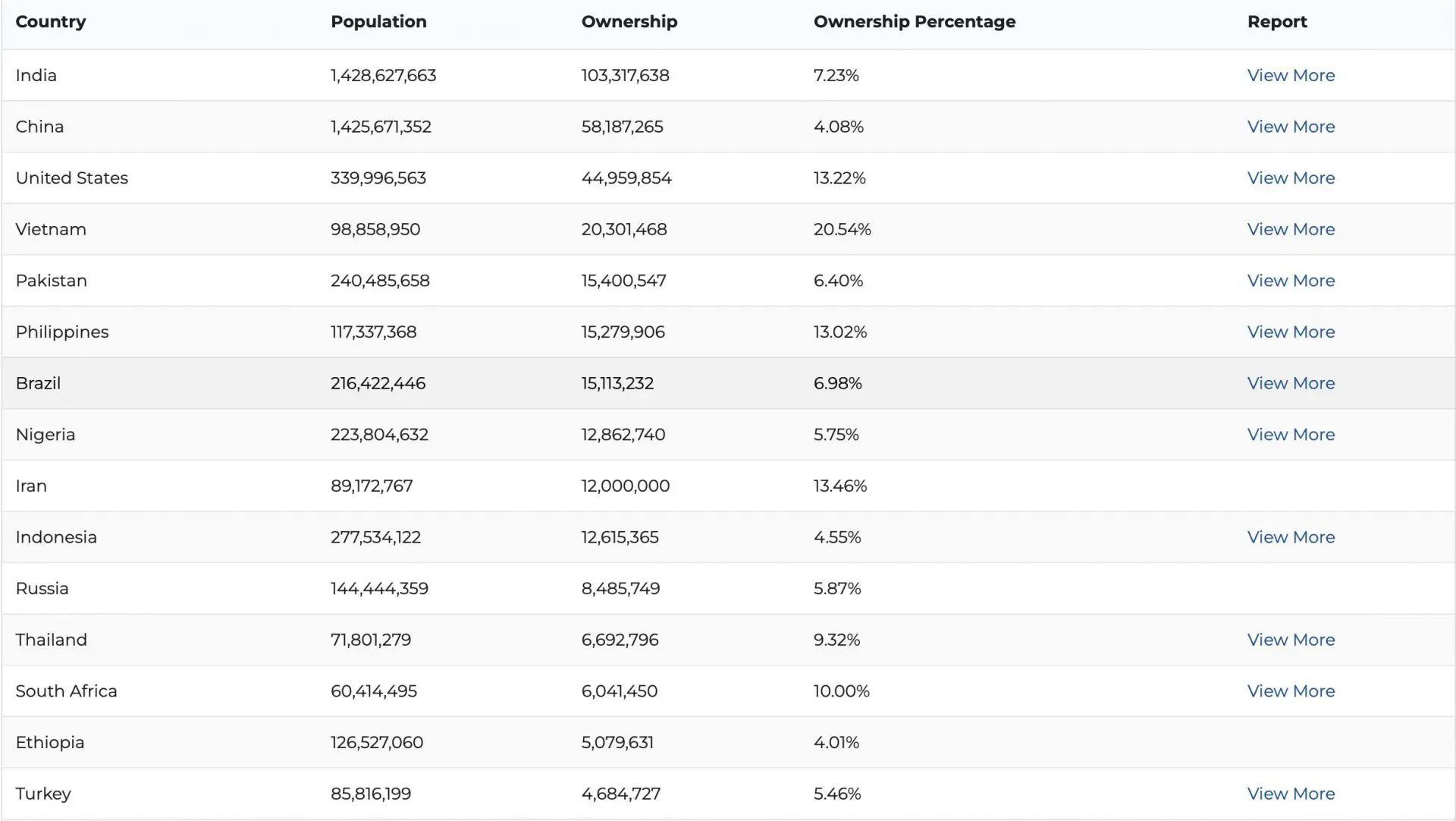 Going by the statistics, it is likely that the emerging economies of the world will dictate how the cryptocurrency industry unfolds in the future as they are the biggest users. Nonetheless, the development is all the better for digital assets as a whole. More users and use cases will propel the industry to new heights and also help drive prices higher.