The crypto sector has experienced rapid growth and widespread excitement in recent times. However, it also encountered a challenging quarter as fundraising for crypto companies hit a three-year low in Q3, as reported by blockchain intelligence firm Messari.
The report discloses that the total funds raised by crypto companies in Q3 2023 amounted to slightly below $2.1 billion, marking the lowest point in both fundraising value and the number of deals since Q4 2020. This significant decline underscores the impact of what some refer to as the "crypto winter" on fundraising activities in the industry.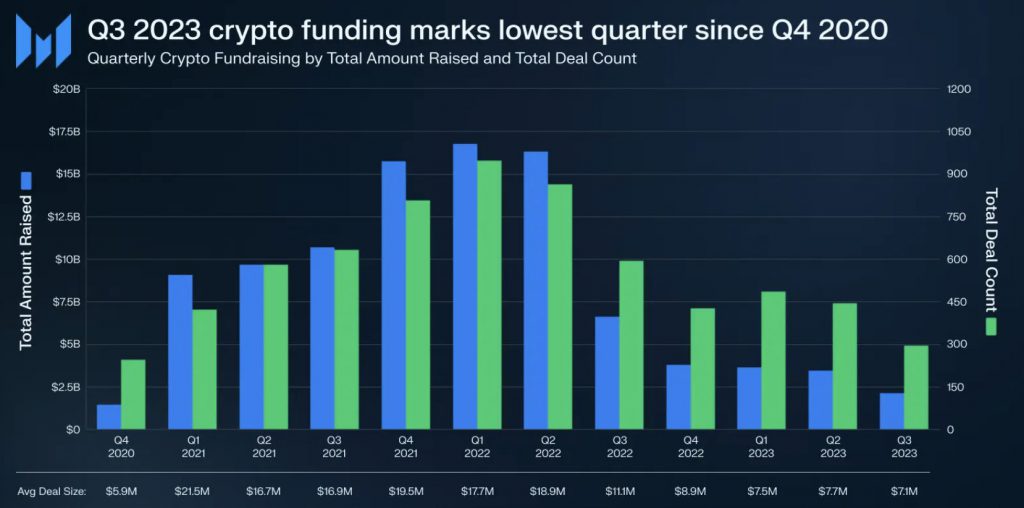 In sharp contrast to the pinnacle observed in Q1 2022, when crypto firms raised nearly $17.5 billion through over 900 deals, fundraising trends have taken a considerable downturn over the course of the year. The challenging conditions within the crypto industry culminated in the sudden and highly publicized collapse of the FTX exchange in November, further dampening investor confidence.
Also Read: Top 2 Cryptocurrencies To Watch in October 2023
A Year of Decreasing Returns
The report further emphasized on the decreasing returns in the crypto fundraising arena. This was particularly true when compared to the surges experienced at the outset of 2022. Despite showing initial resilience in Q1 and Q2 of 2023, with nearly $7.5 billion raised through roughly 200 deals in each quarter, Q3 represented a turning point. Both the total fundraising amount and the number of deals experienced a significant 36% decline during this quarter.
In addition to this, the number of mergers and acquisitions involving crypto companies declined. It dipped from 32 in the second quarter to 26 in the third quarter. This represented a 19% decrease, as reported by advisory firm Architect Partners. The year-over-year decline was even more pronounced. This was because the number of transactions decreased by 48% compared to the third quarter of 2022. During this time, there were 50 deals.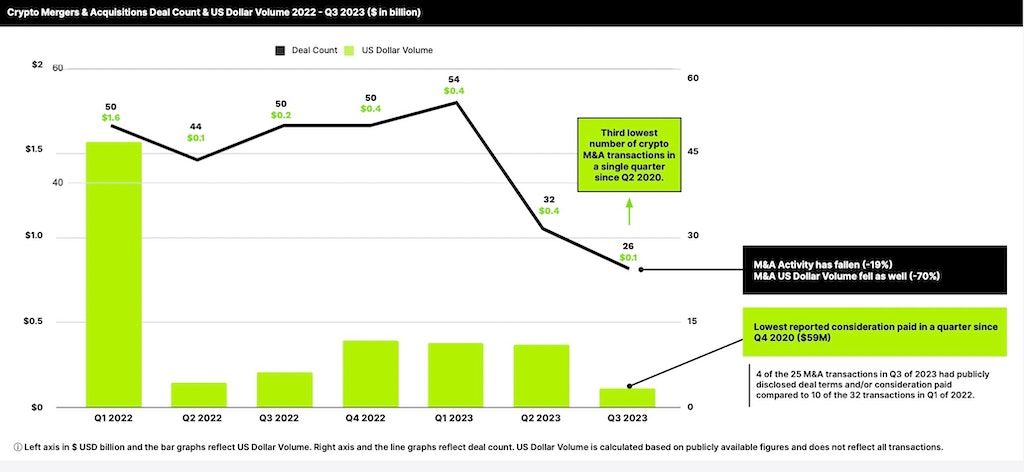 Additionally, 26 deals that occurred from July to September have brought the year-to-date total to 112. It is significantly lagging behind the pace set in 2022 when there were 144 deals in the first three quarters.
So Where are All the Funds Going?
Messari's report also highlighted a shift in the focus of investors. Investors are increasingly concentrating on fresh investments in early-stage projects and infrastructure, as opposed to projects with user-facing applications. This shift implies a more cautious and discerning approach as investors navigate the evolving crypto landscape.
In summary, the crypto fundraising landscape underwent a substantial decline in Q3 2023. This was the lowest figure recorded in both fundraising value and deal count in three years. The challenges confronting the crypto industry, including regulatory uncertainties and notable incidents such as the FTX collapse, have undoubtedly contributed to this downturn. As investors pivot towards early-stage projects and infrastructure investments, the industry's ability to adapt to these evolving dynamics and the potential for a new era of growth remains to be seen.
Also Read: Crypto Firm Ripple Becomes 'Fully Licensed' in Singapore