In recent years, the crypto industry has experienced remarkable expansion. The market, initially associated with illicit activities, has transformed into a widely recognized and accepted space, largely driven by Bitcoin. This growth is evident in the global increase in crypto ownership. Despite facing stringent regulations, the U.S. has seen a surge in crypto adoption.
Based on a recent report by Triple-A, a crypto payment gateway, India emerged as the country with the highest number of crypto owners, reaching 100 million. China closely followed with 58 million users, while the United States held a crypto ownership count of 45 million. Additionally, Vietnam had a significant number of crypto users, totaling 20 million.

These figures came as a surprise for several reasons. India has faced prolonged uncertainty regarding the crypto market. China, on the contrary, has implemented a comprehensive ban on the industry. The United States has been notorious for its strict regulations and laws surrounding cryptocurrencies. Therefore, these three nations topping this list was unforeseen.
420 million people use crypto worldwide
According to the report, the global average rate of cryptocurrency ownership stands at 4.2%, indicating that more than 420 million people worldwide are actively using crypto assets. The data, last updated on May 16 and retrieved on June 21, emphasizes the widespread global adoption of cryptocurrencies.
Based on the map seen below, Asia has the highest concentration of crypto users, with a significant portion of 260 million individuals. North America follows with an average of 54 million users, while Africa has 38 million, South America has 33 million, Europe has 31 million, and Oceania has 1.5 million users.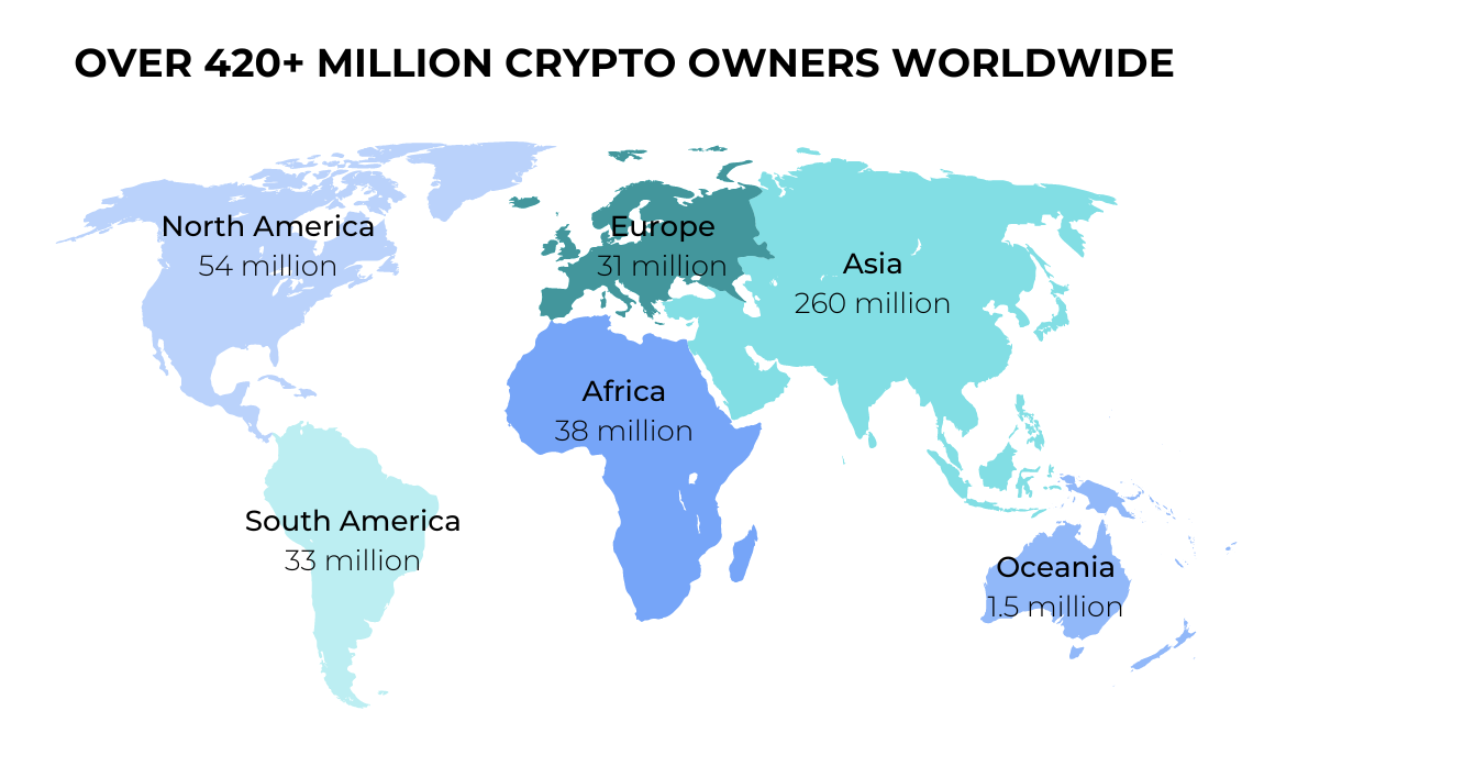 When it comes to demographic breakdown, the study indicates that males make up 63% of cryptocurrency users, whereas females account for 37%. Among these users, a notable 72% are below the age of 34, and an impressive 71% possess a Bachelor's degree or higher education. In regards to the average yearly income of cryptocurrency owners, is approximately stands at $25,000.