After digital assets garnered billions of dollars in value and a rapidly developing ecosystem, former Goldman Sachs Chairman and CEO Lloyd Blankfein said his perspective of crypto has altered.
CNBC's Andrew Ross Sorkin questioned Blankfein about the emerging asset class (crypto) on Monday, noting that the former banker has expressed doubt in the past.
"Look, my view of it is evolving," Blankfein said. "I can't predict the future, but I think it's a big thing to be able to predict the present, like, 'What is happening?' And I look at the crypto, and it is happening."
So what's "happening" with crypto?
According to Blankfein, by "happening," he means that the crypto ecosystem has grown over the last year. Traditional financial firms, such as Goldman Sachs, have begun to give customers options to purchase, sell, and store digital currencies, while a parallel world of decentralized finance protocols has arisen, allowing holders to lend out their coins and earn interest. 
For weeks, crypto has been falling in value as riskier assets have been battered by increasing interest rates. After hitting a record of $3.1 trillion in November, the overall market capitalization of cryptocurrencies dipped below $2 trillion last week.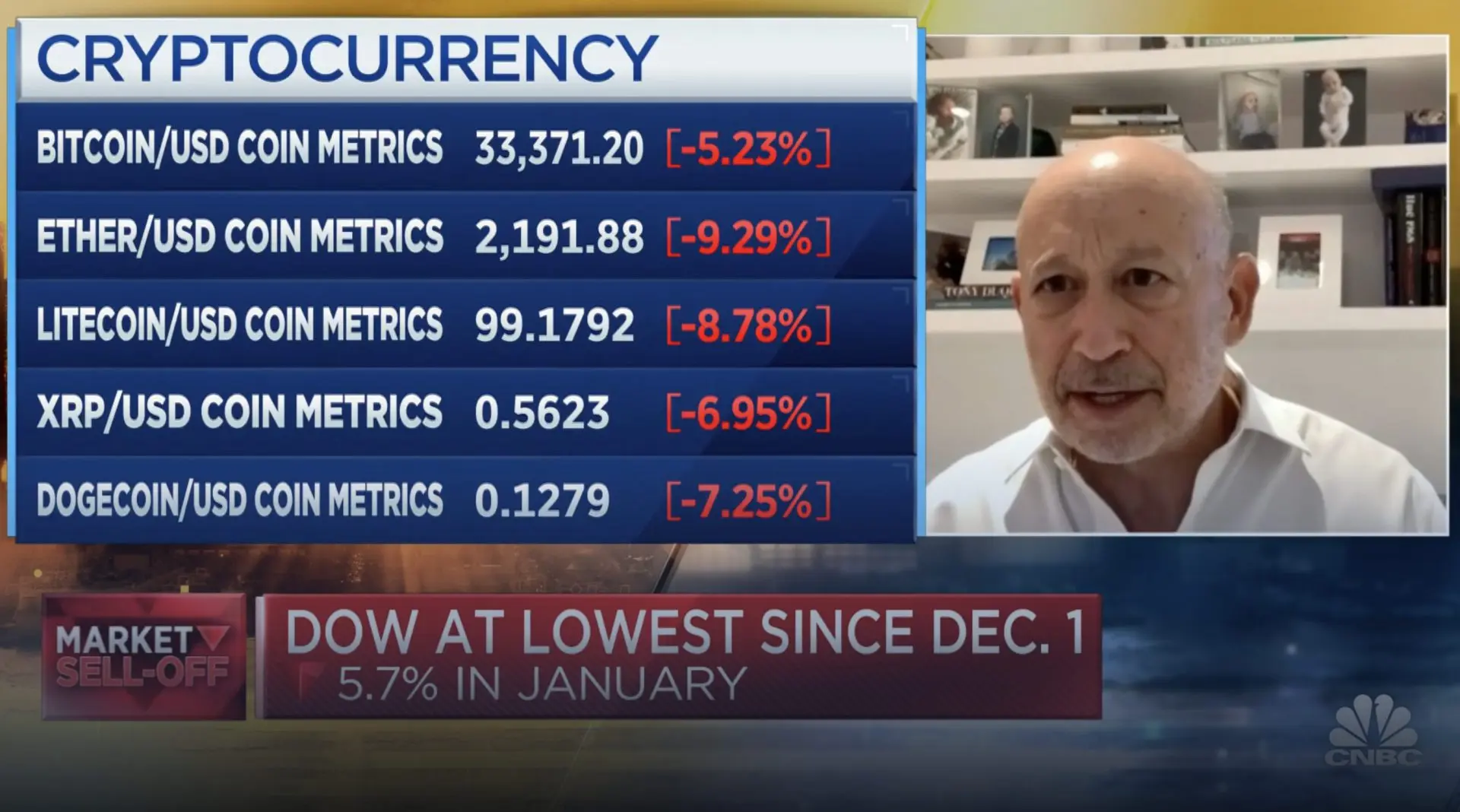 "It's lost a lot of value, but at a point where it's trillions of dollars of value contributing to it and whole ecosystems are growing around it," Blankfein said. "Of course, we have the benefits of instantaneous transfer and reduction of credit risk and all the benefits of blockchain."
Blankfein has previously chastised bitcoin as a store of value, claiming that regulators should be "hyperventilating" over its ascent.
Blankfein noted how the market's bearishness has been fueled by inflation concern in recent weeks in a wide-ranging discussion. He also said that banks had an "unbelievably low multiple" and that some of the finest investments are made in down markets.
Is this validation for the markets?
There is no doubt that crypto has taken an incredible space in the realm of finance. 2021 saw the incredible bull run for cryptos in general, before the bloodbath that took place in the last couple of weeks. An ex-Goldman executive giving his word for crypto definitely puts the ball back in the court. Moreover, we have seen other financial institutions making their way into the crypto-verse, admitting that crypto is here to stay.
We are yet to see the market stabilize and bring some confidence back into itself. The current market is at a fix, with FUD creating a dark cloud over the industry. It's time for users to hodl tight and sit through the storm.