The BTC Volatility Index's reading has been hovering around its lowest point since 2021. This index measures the implied volatility of the largest crypto asset. Simplistically, it gauges the view on volatility perceived by Bitcoin traders for the next 30 days. The current state of this metric points out that traders expect the current impassive state of affairs to prolong.

Amid the lackluster conditions, centralized exchanges have recorded the second-lowest volume since 2021. According to a recent research report by CCData,
"The combined spot and derivatives trading volume fell 12% to $2.36 trillion. This was the second-lowest combined volume on centralized exchanges since December 2020, only eclipsed only by December 2022."
As far as the breakdown is concerned, spot trading volumes on CEXes dropped by 10.5% to $515 billion, the second-lowest volume recorded since March 2019. Meanwhile, derivatives volumes shrunk by 12.7% to $1.85 trillion, recording the second-lowest volume since December 2020.
CME Bitcoin Options Volume Rises 24%
The aggregate derivatives trading volume on the CME fell by 17% to $40.1 billion in July. The futures volume figure on the exchange was in tandem with the broader market trend. BTC and ETH futures volume tumbled to $31.3 billion and $7.24 billion respectively. Bitcoin's overall Estimated Leverage Ratio, however, has been on the rise since the end of April. This means, traders have been undertaking high-leverage trades lately.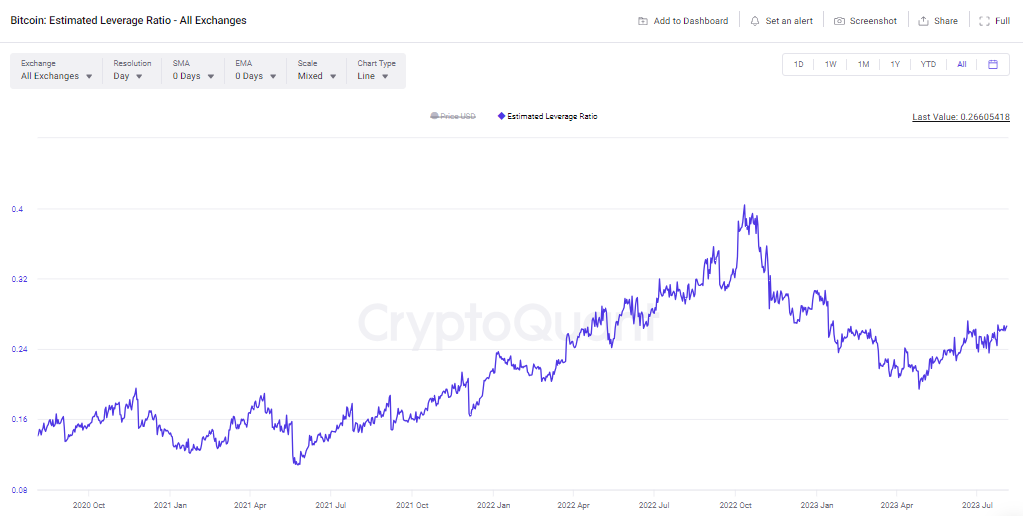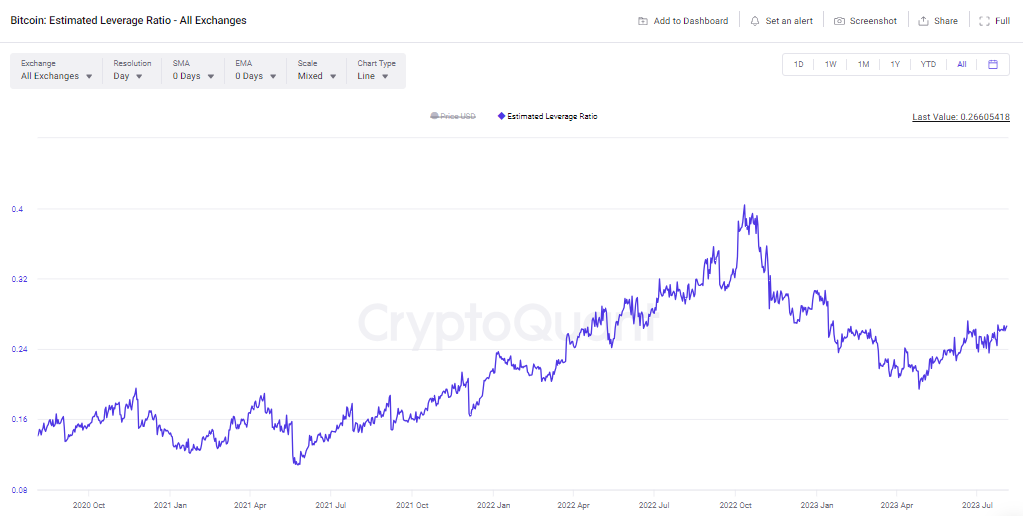 Even though the futures volume fell on CME, the options data painted a different picture. This niche's volume on the exchange rose 24% to $940 million, recording the first hike in four months. The BTC options traded on the exchange rose 16.6%, while ETH options saw trading volumes rise 60%. As uncertainty continues to persist in the market, this might mean that institutions are hedging their positions with options. When viewed from the other perspective, it also points towards the "increased" institutional interest in the market.