The stock market and the crypto market have started moving in opposite directions. Yesterday was quite a rough day for stocks. Owing to the revelation of the $100 billion deposit loss and a possible government seizure, the price of FRC stock rolled down the cliff. In just a day, it dropped by more than 49.37% and closed at $8.10 yesterday. As a result, it's down by more than 90% on the YTD timeframe.
Also Read: Coinbase Sees 'Smart Money' Worth $8.6 Million Flow Into its Ecosystem
In hindsight, both the Nasdaq and S&P 500 registered a streak of red candles and closed in red after noting losses of around 1.5% each. Crypto, on the other hand, has been trading in green. Over the past 24 hours, the global crypto market cap has risen by 2.6%. As shown below, Bitcoin and Ethereum are up by around 4% each from their April 25 lows.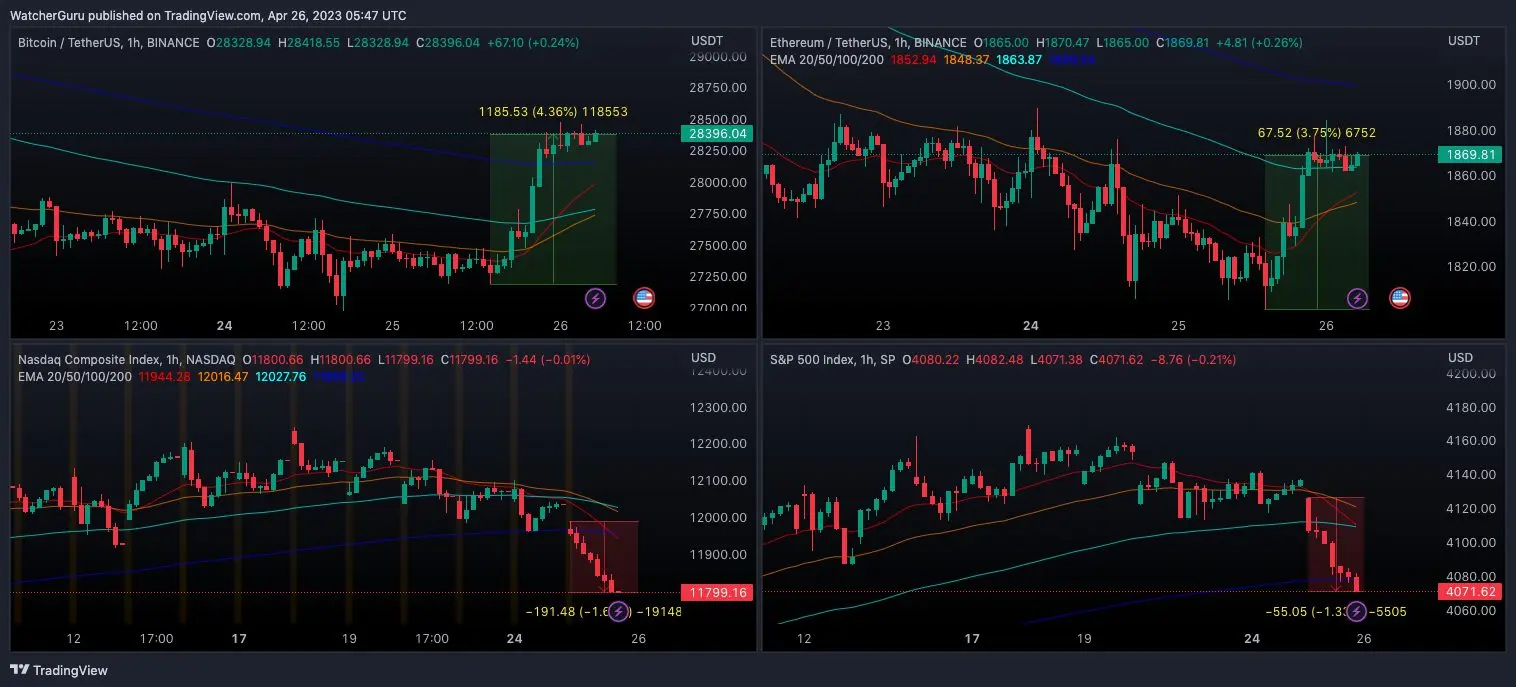 Also Read: Is Crypto Activity Migrating Outside The U.S.?
Bitcoin and Ethereum's immediate jumping after the S&P closed hints at a "potential correlation break," according to Santiment. Elaborating on the same, its recent tweet noted,
"Just minutes after US stock markets winded down their rough day, crypto has had signs of life. With BTC pushing for $28.5k & ETH closing in on $1,900, these surges without reliance on the S&P500 are ideal for the market's independent sustainability."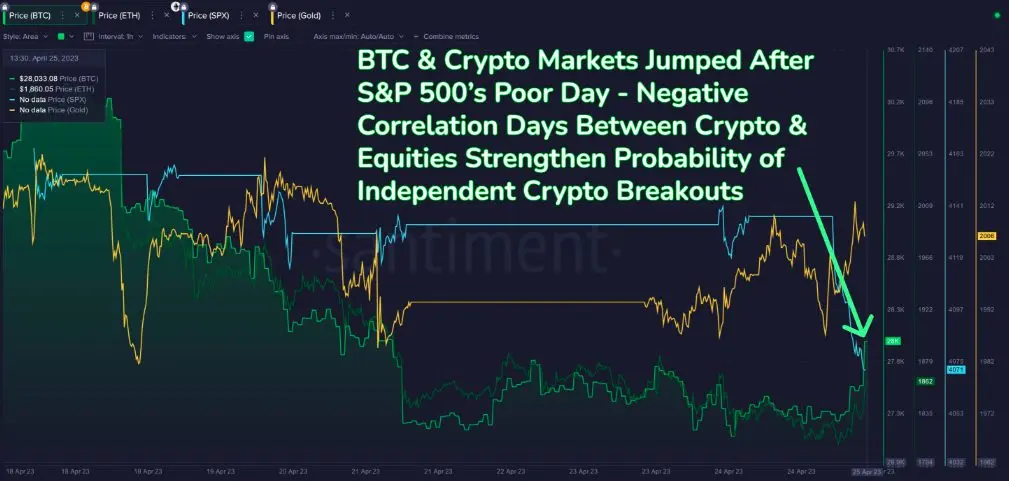 Also Read: BRICS Currency May Trigger De-dollarization: Ex-White House Economist
Will the stock and crypto market continue repelling?
Well, the macroeconomic crisis has stemmed from the banking sector. According to stalwarts from the industry like Arthur Hayes, people who are in the traditional financial system, should be prepared to take an 'L'. However, that can be avoided, if they get crypto or gold or some asset that's outside of the traditional banking sphere.
For crypto to be another financial system altogether, people will need to "really understand" what the space trying to replace or improve upon. According to Hayes, a lot of people are unaware of how asset markets actually function.
So, what does this mean? Will the markets continue to head in different directions? Well, over the short-term, maybe yes, but over the mid-term likely not. At this stage, there's no surety about the viability factor of the correlation break. The markets continue to be interlinked and dependent on investor sentiment. Perhaps, a belated reaction from crypto will be noted this time too, just like what happened during the first leg of the banking crisis.
Also Read: Societe Generale Launches Ethereum-Based Euro Stablecoin