Cryptocurrency donations are beginning to become a new trend. According to a report by The Giving Block, cryptocurrency philanthropy remained strong in 2022, despite the market collapse. For every dollar of Bitcoin's market value in 2022, cryptocurrency donors gave $172. In comparison to 2021, the statistic reflects a 41% rise.
As per the report, a total of $125 million worth of crypto have been donated via The Giving Block to date. The largest donation processed by the platform is a whopping $9.4 million. Meanwhile, the average size of a tax-optimized crypto donation is $6295. The average cryptocurrency donation was roughly 31 times bigger than the typical internet donation made by charitable organizations.
In 2022, 1052 non-profits joined The Giving Block to fundraise crypto, the report stated. Moreover, the average crypto donation per non-profit is $26000. The most donated crypto asset in 2022 was USDC, whereas in 2021 it was Ethereum (ETH), and Bitcoin (BTC) in the previous years.
Despite the sharp fall in the cryptocurrency market starting in mid-November 2021, benefactors to the industry donated millions of dollars. It included humanitarian aid to Ukraine in February and March 2022. In June, donors were very charitable, especially to groups that assist and advocate for the LGBTQIA+ community. 33% of the donations were made in Q4 2022, the customary year-end charity season for the nonprofit sector. Given that the FTX controversy surfaced in November and added to the market's already turbulent year, this consistent pattern of donating is extraordinary.

Similar to stocks, donors do not have to pay capital gains tax on donated cryptocurrencies. If someone has appreciated cryptocurrency in the U.S., giving cryptocurrency can frequently be more tax-efficient than giving cash.
Cryptocurrency donations poised for further growth
According to The Giving Block, the trend of crypto donations has matured to a point where it can withstand market volatility. The firm believed that crypto charity is ready for further growth when the bull market picks up. This is because of the steadiness in donations throughout a bear market. The Crypto Philanthropy Adoption Index (CPAI) trend strongly suggests that we can expect cryptocurrencies to have an increased market share as a contribution method. Moreover, the user base for cryptocurrencies continues to expand.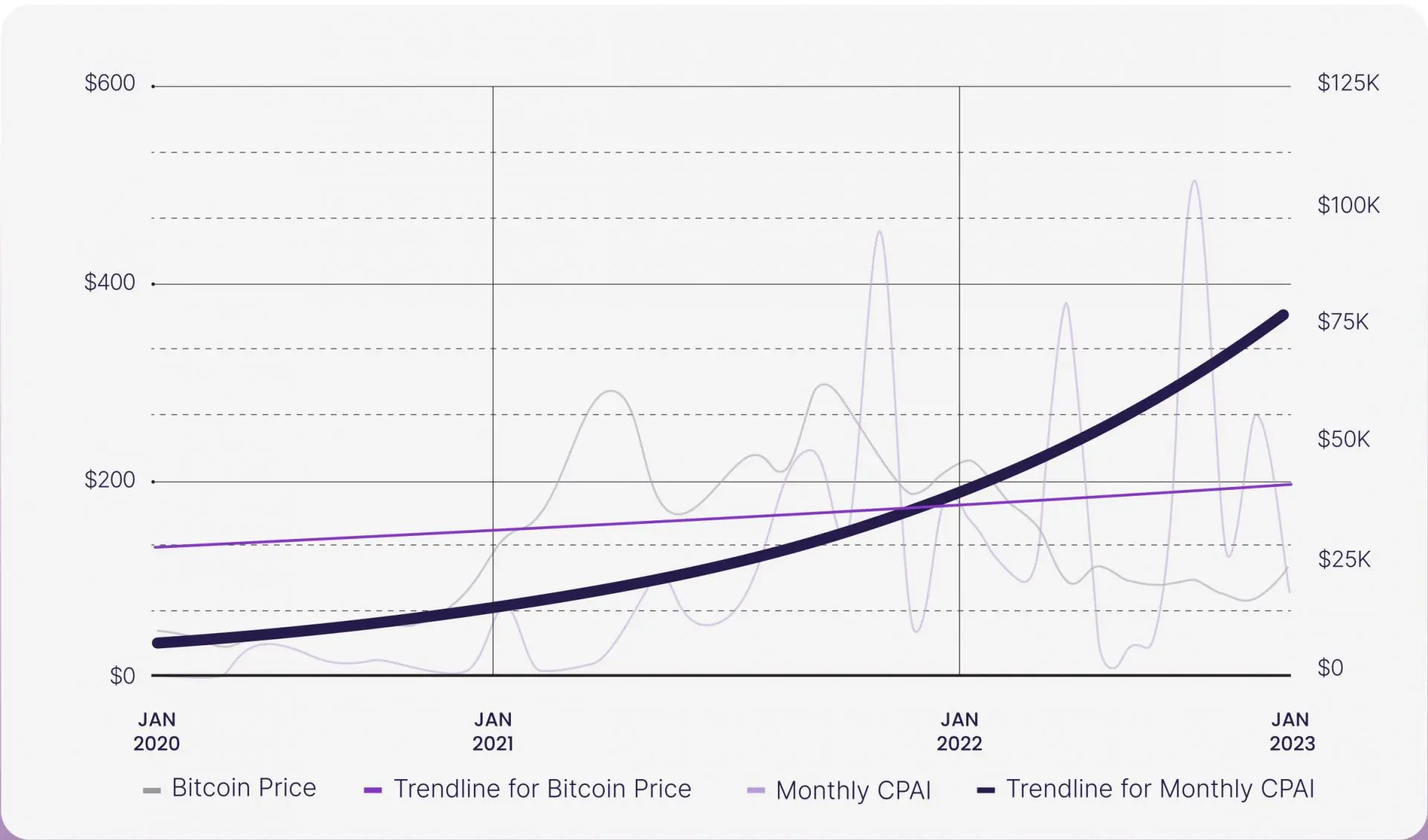 The report also found that crypto adoption has increased among the top charitable organizations. As more people have begun using crypto assets, more organizations have opened their doors to the emerging asset class.
The number of charities that accepted cryptocurrency donations increased from 12 in 2019 to 49 in 2022, according to the firm's research of Forbes' list of "America's Top Charities of 2022."