According to a recent report from The Wall Street Journal, McDonald's is temporarily closing its U.S. offices this week. Parallelly, the American multinational fast food chain is working on its company revamp plan and is preparing to lay off employees.
Also Read: Disney Shelves Metaverse Plans: 50 Employees Released

Citing a recent internal e-mail viewed, The Wall Street Journal reported that the burger giant instructed its U.S. employees and some international staff to "work from home from Monday through Wednesday so it can deliver staffing decisions virtually." Additionally, employees have been asked to cancel all in-person meetings with vendors and other outside parties at its headquarters. The message additionally noted,
"During the week of April 3, we will communicate key decisions related to roles and staffing levels across the organization."
Furthermore, workers who do not have a computer at their disposal this week, should provide personal contact information to their manager. The company added, 
"We want to ensure the comfort and confidentiality of our people during the notification period."
McDonald's eclipsed by Ethereum
McDonald's stock has produced a streak of back-to-back green candles over the past seven trading days. Now, McD's April 3rd, Monday open is awaited. Given the latest pessimistic developments, a reactionary pullback can be expected.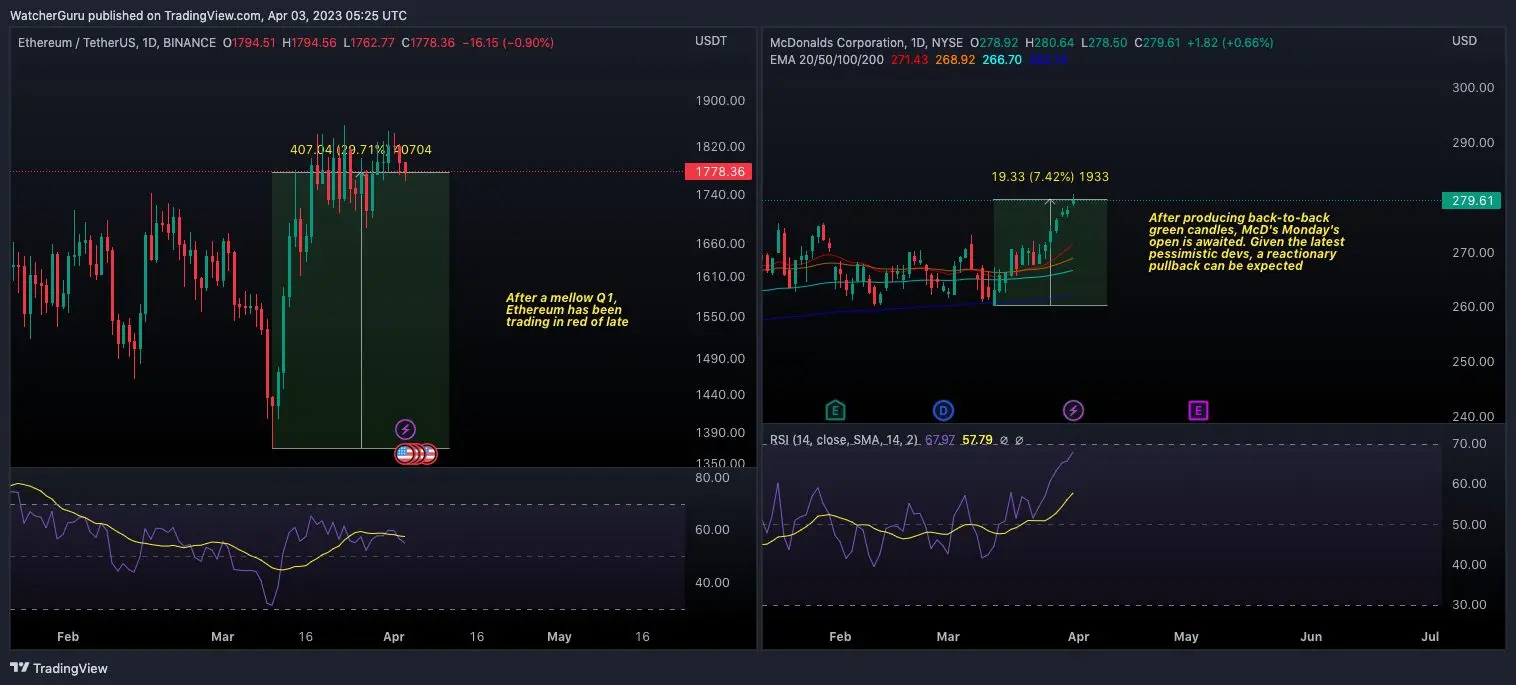 Also Read: Meta to Layoff Thousands of Employees This Week
On the market cap front, McDonald's has been eclipsed by Ethereum. After a mellow Q1,
Ethereum has been trading in red of late. Post noting a 0.9% decline on the daily, ETH was trading at $1778 at press time. In retrospect, it dropped down by two positions on the overall rankings list. Even so, there remains to be a notable gap between its valuation and McDonald's.
Alongside, it is interesting to note that Ethereum is currently up nearly 30% from its March low created, while McDonald's has risen by only around 7% from its local trough. As depicted below, Ethereum's market cap currently stands at the brink of $214 billion. McDonald's market cap, on the other hand, is not even $205 billion.

Also Read: $135 Million Flows Into Bitcoin, Solana, XRP, MATIC: Highest Since July 2022