The Bureau of Labor Statistics released U.S. inflation data for August on Tuesday. While the expected number revolved around 8.1%, the actual released number stood much higher—8.3%. The same has increased the odds of the Fed implementing a 75 bps interest rate hike. Per Ritika Chhabra, Economist and Quant Analyst at Prabhudas Lilladher,
"With inflation being 'stickier' than expected, it is highly likely that the Fed will go for another jumbo rate hike of 75 bps in its next FOMC meeting on 21st September."
Owing to the said pessimistic sentiment, most markets traded in red on Tuesday. Even at press time, they were struggling to recover. The crypto market lost an aggregate 6% value over the past 24-hours, with Bitcoin and Ethereum dropping by 8% and 6% respectively. Stocks of crypto associated companies like Coinbase and MicroStrategy had also taken a hit.
In fact, the bourses were also trading in red. Nasdaq was down by 5.1% at close time, while the S&P 500 had lost 4.3% of its value.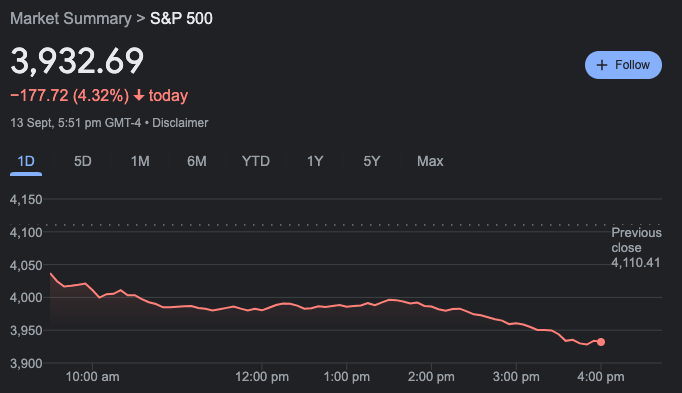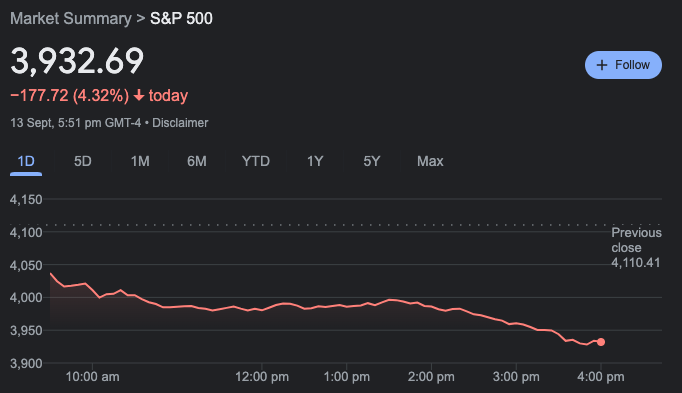 Billionaires' fortunes take a hit
The wealth of America's richest billionaires dropped by $93 billion on Tuesday. Attributing the same to the stock market sell-off, a recent Bloomberg report noted,
The billionaires' large daily losses reflect the broad selloff in the US stock market, as investors bet that consumer price index data that came in higher than expected will cause the Federal Reserve to raise interest rates more aggressively.
Notably, this is not the first time that billionaires' fortunes have shrunk. Last month, the same group of people lost $78 billion in a day right after Fed Chair Jerome Powell's speech.
Jeff Bezos's fortunes shrunk by $9.8 billion this time—the most out of the ones tracked by the Bloomberg Billionaires Index. Elon Musk's and Mark Zuckerberg were the next worst hit, with their respective net worths dropping by $8.4 billion, $5.6 billion.
Furthermore, as illustrated below, the wealth of Larry Page, Sergey Brin, and Steve Ballmer all dropped by more than $4 billion. Binance executive Changpeng Zhao also roughly lost the same amount [$3.9 billion].
Warren Buffett and Bill Gates were also a part of the top 10, and had lost around $3 billion each.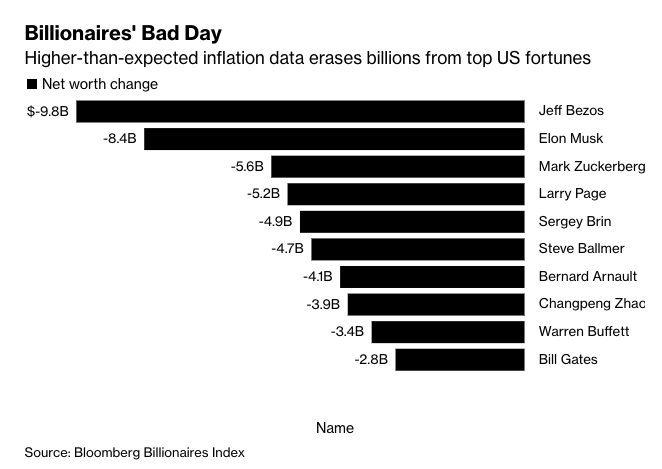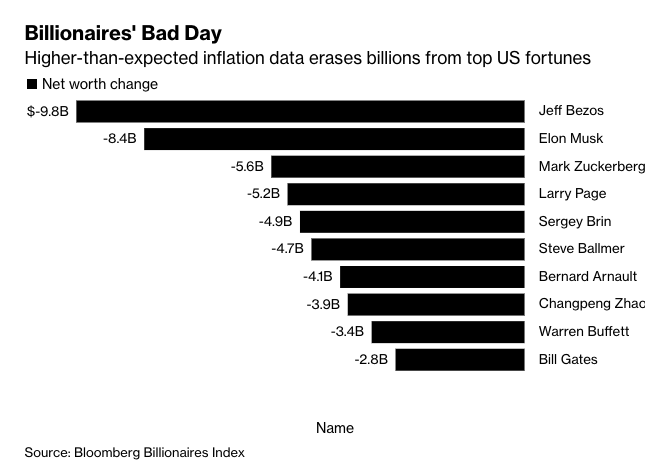 On the whole, the world's 500 richest people are worth about $1.2 trillion less than they were at the start of the year, Bloomberg revealed.
Zuckerberg, chief executive officer of Meta Platforms Inc., has lost $68.3 billion, or about 54% of his fortune, while Binance CEO Changpeng Zhao is down $61 billion, or about 64%.