Decentraland's MANA awaits a minor bump up after trading close to an important support zone. However, weak readings on the Awesome Oscillator and RSI meant that a big price swing was unlikely. Traders should maintain a reasonable take-profit and cash out once MANA tags its 200-SMA. At the time of writing, MANA traded at $2.91, down by 2.3% over the last 24 hours.
MANA 4-hour time frame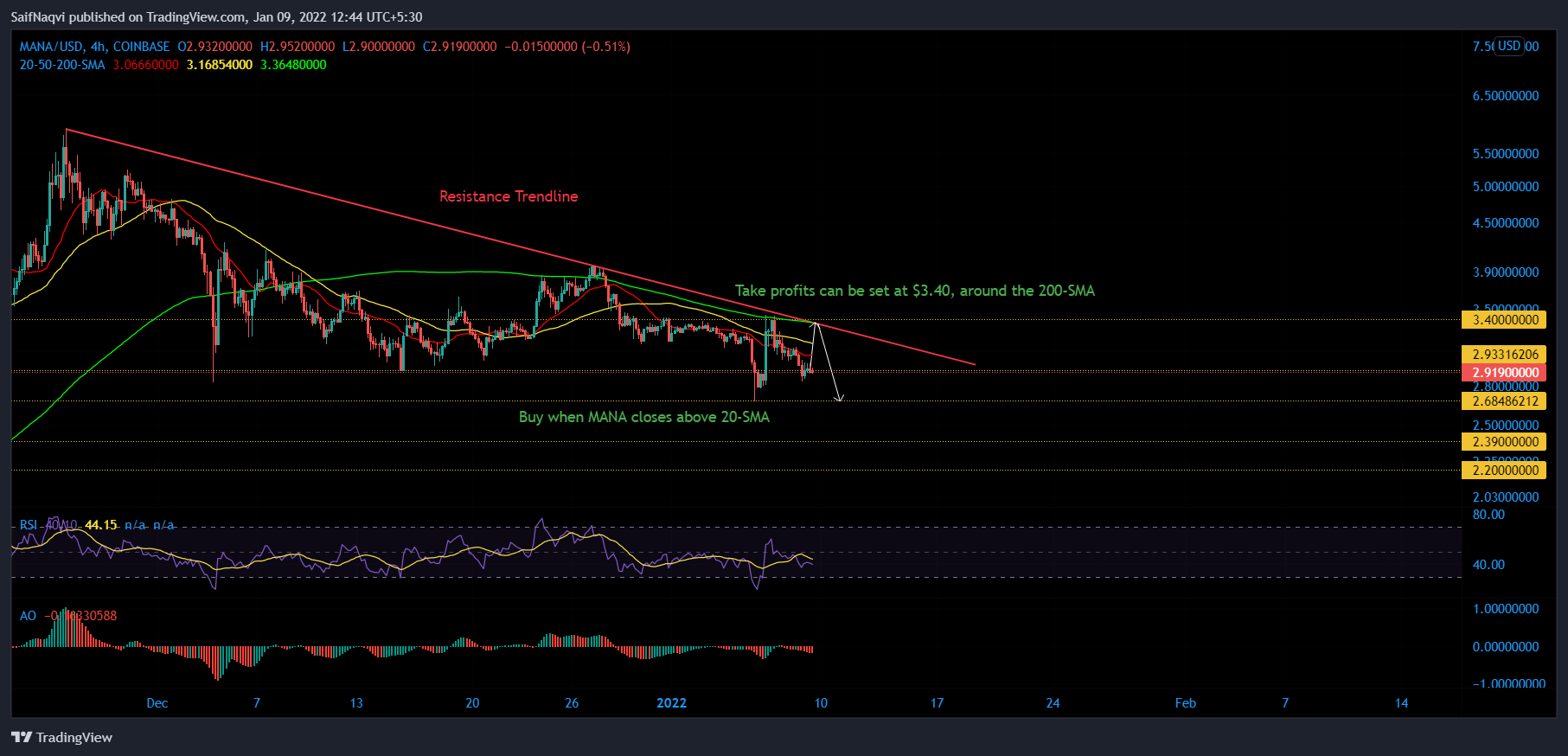 MANA's support zone between $2.93-$2.68 has held strong since early December despite multiple bearish attacks. Multiple rallies were observed on the back of this support region, although bulls have been unable to push beyond an upper sloping resistance trendline.
Since MANA traded close to its defensive region once again, a temporary price rally was just around the corner. A move above the 20-SMA (red) and $3.16-resistance can push MANA's value to $3.42. Adding onto these gains could be tricky and sellers can respond at the 200-SMA (green) and $3.16-resistance.
If bears drag MANA below $2.68 at any given point, investors should brace for some unpleasant losses. The next point of contact would be made at $2.39-support, which would account for an 11% decline in value.
Indicators
For the moment, MANA's indicators held bearish positions. The 4-hour RSI traded below 40 after registering a series of lower highs. Expect MANA to trade close to its support zone until the RSI's downtrend is overcome by bulls. Should the RSI slip below 35, MANA's support would be under severe pressure. In such a case, the oversold region would be called upon for a recovery.
Similarly, the Awesome Oscillator's red bars indicated that market momentum rested with sellers. In fact, the index has failed to rise above its half-line since late December, even when MANA has registered mini rallies.
Conclusion
Since MANA traded close to reliable support, its near-term outlook was optimistic. However, taking into account the nature of MANA's indicators and a weak broader market, a major price surge was off the table. Instead, bulls could see a short period of control after which sellers would take over once again. To capitalize on MANA's projection, traders can start to long once MANA closes above its 20-SMA. Take-profits can be set around $3.42. If timed correctly, investors can bag a 10%-12% profit from the trade.