A couple of days back, Nomad bridge became victim to a hack. The perpetrators made away with nearly all the funds, approximately worth $190.7 million, in their wallets. As reported on Wednesday, Nomad retrieved 4.75% of the lost funds in the form of Ethereum and other cryptos, including stablecoins like Tether and USD Coin.
Read More: Nomad retrieves $9 million in Ethereum, Tether, and USD Coin from hackers
Now, in what is the latest development, Ethereum founder Vitalik Buterin has likely received a part of the funds. Blockchain security and analysis firm PeckShield brought to light that an address that had gained from the bridge exploit had transferred 150k IAG tokens to the Ethereum executive.
Along with IAG, the said wallet had also secured 150k C3, 150k CQT, and 150k FRAX tokens from the hack. As reported previously, the Nomad hack saw hundreds of addresses receiving funds from the bridge, making it one of the most abrupt hacks in history.
Nomad retrieves more funds
Until a day back, the retrieved funds stood at $9 million. However, as of today, the number has risen to $22 million. The same accounts for approximately 11.6% of the cumulative drained figure. Peckshield further revealed that half the stolen funds have not yet been touched. Its tweet read,
"$95 million have no further movement yet."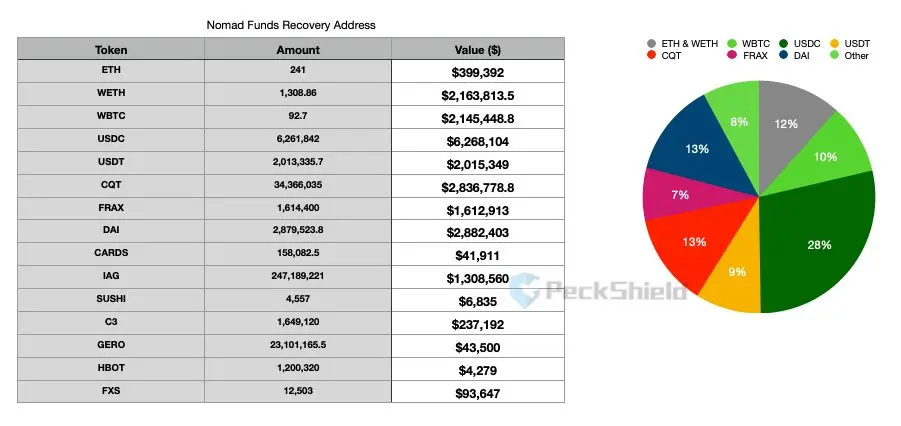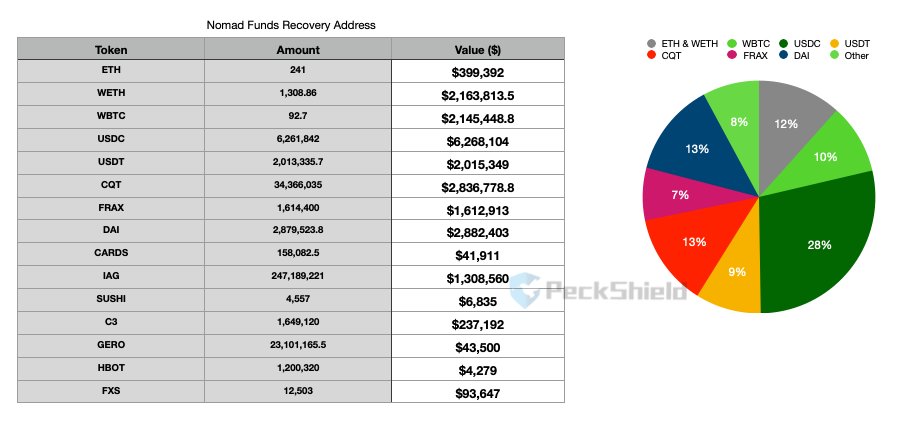 In fact, earlier during the day, Nomad had offered a bounty of up to 10% to the hackers to return the funds to its crypto wallet. Nomad said it won't take legal action against any perpetrators who return at least 90% of the assets they took, for it will consider them to be "white hat" hackers. As such, white hats are more or less like ethical hackers in the cybersecurity world. They basically cooperate with organizations to alert them to issues in their software.
Ethereum's founder dumps another batch of alts
As reported yesterday, Vitalik dumped 25 trillion SHIT tokens worth $33k on Uniswap. Resultantly, the price of the token slumped by 60%.
Read More: Vitalik Buterin Gets 25 Trillion 'SHIT' Drop, Slumps 60% Post-Dump
The Ethereum founder dumped another batch of crypto on Friday. Via a tweet, PeckShield revealed that Buterin sold 200k MOONEY tokens on Uniswap. Post the executive's said action, the token's price dropped by around 45%.