Towards the end of last week, Do Kwon was arrested in Podgorica, Montenegro. He and a companion were set to board a private flight to Dubai. According to authorities, they were using forged Costa Rican passports. Alongside, they were carrying falsified travel documents.
Prior to the arrest, regulatory and enforcement authorities from around the world were on the lookout for Kwon. In fact, International Criminal Police Organization [Interpol] had also issued a Red Notice against the Terra founder in September last year.
A recent report from DefiLlama's news arm—DL News—revealed that Kwon registered a company in Serbia just three weeks after the Interpol notice. Official records from the Serbian Business Registry reportedly reveal that Kwon started a company called "Codokoj22 d.o.o. Beograd" on Oct. 12, 2022. The report clarified that it is "not possible" to search the Serbian Business Registry by the names of the individuals. Nevertheless,
Registry officials confirmed to DL News on Friday that two South Koreans named Do Kwon and Han Chang-joon were listed with a company number.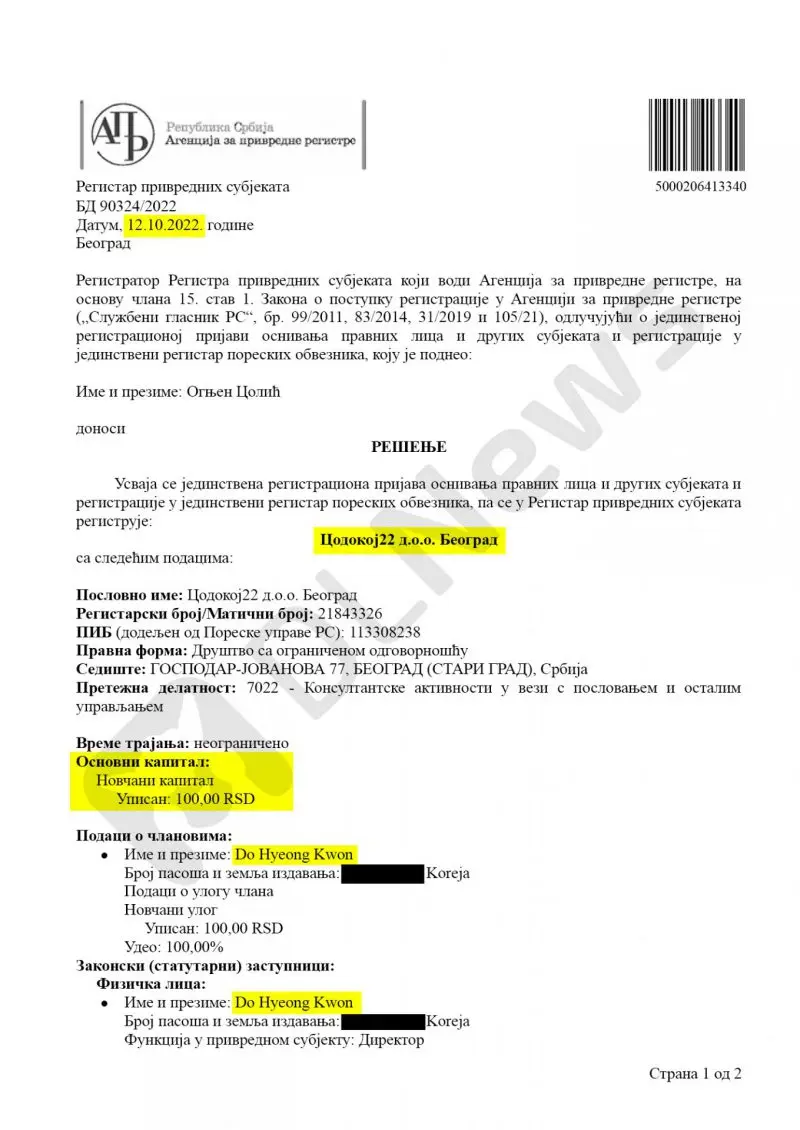 Also Read: South Korea Targets Terra Co-Founder After Do-Kwon's Arrest
Do Kwon's company was registered for under $1
Do Kwon's company is registered as a "consultancy service" provider. Kwon is the sole owner of the entity. However, Han Chang-joon, the former CEO of Chai Corporation, is listed as a Co-Director.
Do Kwon and Han Chang-joon used their Korean passports while registering a company with the Serbian Business Registry. The company is reportedly still active. According to DL News,
"The company was established with 100 Serbian dinars in capital, which is less than a euro [€0.85 and $0.92]."
The official document also went on to reveal that Do Kwon contracted Gecic Law, a Serbian law firm to represent him. Partner at the firm and Lawyer, Ognjen Colic submitted the request for registration on behalf of Kwon and Han. Colic reportedly said that he wasn't aware that his client was arrested and charged with document forgery in Montenegro. He addded,
"I cannot comment on my client due to confidentiality agreements, but I can say that this client went through all the regular security checks that we conduct for every client, including the Interpol website and he is not on there – you can check it yourself now."