There is a clear division within the cryptocurrency community, with some continuing to show their support for Bitcoin [BTC], while others have turned their attention to newer assets. The Shiba Inu [SHIB] community has gained traction for its dedication to the meme coin. This community is highly active and has become one of the most prominent groups within the crypto space. However, recently, some members of the SHIB Army have begun to question the actions of the network's lead developer.
Details regarding the roadmap, founders, and contributors of the Shiba Inu network are under wraps. However, the network's lead developer, Shytoshi Kusama, provides regular updates to the community on the network's progress. Despite this, some members of the Shib Army have criticized Kusama for focusing on other matters instead of keeping the community informed about important developments.
While the lack of a clear roadmap can be detrimental to a network, a member of the Shiba Inu ecosystem recently came out in support of Kusama. Lucie, the SHIB team moderator called out the SHIB Army for forcing Kusama to talk. She went on to compare the lead developer to Ethereum's Vitalkim Buterin and Polygon's Sandeep Nailwal.
Lucie further reminded the Shiba Inu community that the team has been transparent about the partnerships that have been taking place and added,
"Since then, me & the admins have been reporting on telegram and discord about partnership items being discussed behind the doors. Possible Shib branded Cold wallet, Bone was listed on Houbi & Crypto.com. We set up a Shibarium spaces where we discussed everything happening in the Ecosystem. Not to mention the little updates on discord about Shiboshis rewards or upcoming surprise…"
What is Shytoshi Kusama trying to imply through his latest Twitter bio?
The anonymous developer of Shiba Inu, recently updated their Twitter bio to read: "It is easier to attack a castle when they have no moat."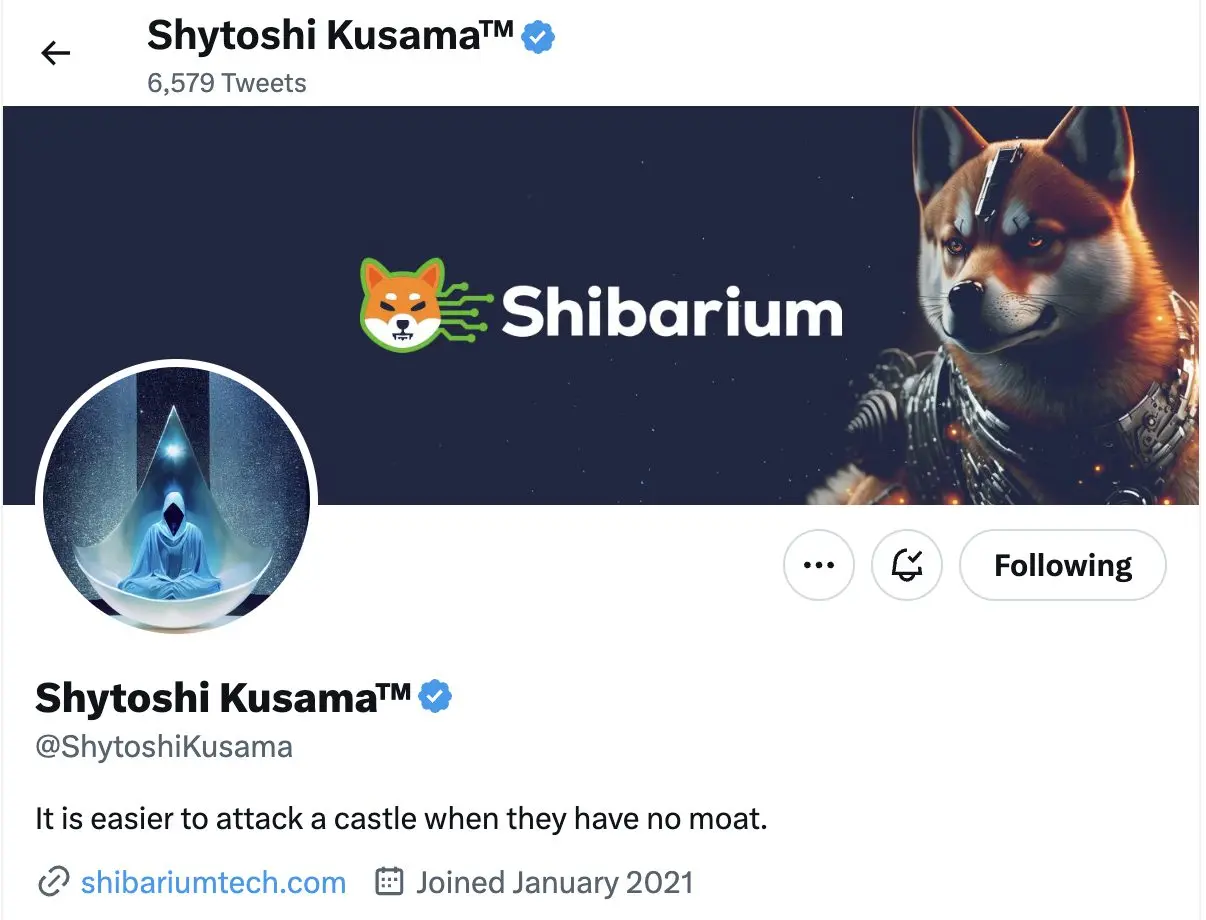 It seems like Kusama's Twitter bio has left the community puzzled, which is not a new occurrence since the developer is known for posting similar types of content. Many individuals took to Twitter to try and decipher the meaning behind Kusama's latest bio update. One user wrote,
"The latest riddle of @ShytoshiKusama The castle that Shytoshi is referring to is #ShibaInu and the moat is Shibarium. Once Shibarium launches it will serve as a layer of protection from fuders. Forget about the moon, Shiba will go passed the solar system."
On the other hand, some members of the Shiba Inu community expressed their dissatisfaction with Kusama's communication style, which they felt was overly cryptic and focused on teasing "riddles" without delivering tangible results. These members called for more transparency and concrete updates instead of what they saw as empty promises.