Dogecoin has garnered significant attention in the crypto market and has also influenced the creation of various other animal-themed coins. Despite its initial conception as a lighthearted joke, these meme coins have unexpectedly gained widespread interest in recent times.
Early adopters and investors in Dogecoin witnessed substantial returns during its early stages, resulting in notable financial successes for some. Billy Markus, aka Shibetoshi Nakamoto, the co-founder of Dogecoin, recently shared his thoughts on how much he earned on Twitter in comparison to the money he earned for creating Dogecoin.
Also read: PayPal Enters Stablecoin Realm With PYUSD
Dogecoin co-founder states that the SEC would have lost
Markus stated that he has made 5x more on Twitter than he made from creating DOGE. He also replied to a comment by a Twitter user who mentioned if Markus created DOGE now, he would get into trouble with the SEC.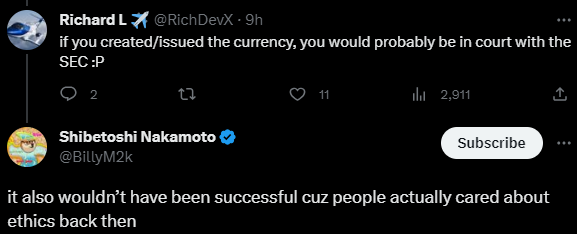 Also read: Cathie Wood Predicts SEC's Approval of Multiple Bitcoin ETFs in One Go
The Dogecoin co-founder stated that in the event the SEC had filed a lawsuit against him and Jackson Palmer for creating Dogecoin during its initial launch in 2013, he believes the SEC's success would have been unlikely. Markus attributes this belief to the prevailing emphasis on ethics at that time. He also perceives that people genuinely cared about ethical considerations.