Similar to Shiba Inu's pursuit of reaching the $0.01 mark, Dogecoin has been striving to attain the $1 threshold. However, these ambitions have frequently encountered obstacles. Yet, it appears that the OG meme coin is entering a more bullish phase. Dogecoin's current performance shows positive aspects, outperforming Bitcoin [BTC], Cardano [ADA], and Ethereum [ETH] in selected metrics. Data from IntoTheBlock reveals a notable 10.32% surge in daily active addresses for Dogecoin.
However, can this momentum alone drive Dogecoin to reach $1? Not quite. According to machine learning algorithms, it is expected that the meme coin will deviate from its bullish trend and experience a major decline as October comes to a close.
Also Read: Why Dogecoin, Shiba Inu & Pepe Are Crashing in 2023? Explained
Dogecoin: October's bearish blues squash DOGE's $1 dream
According to Changelly's price prediction, Dogecoin is expected to end October on a predominantly bearish trajectory. Currently, DOGE is being traded at $0.058266, marking a daily decline of 1.6%. Additionally, it's worth mentioning that over the past month, the meme coin has witnessed a notable decrease of 6.5%.
Dogecoin is projected to reach a lower level of $0.054196 on Oct. 30, which reflects a dip of 7.53% from its current price. Furthermore, on Oct. 31, DOGE is expected to decline by 9.32% to $0.053143. It is anticipated that the asset will remain within the $0.05 range and will not be able to reach $0.06.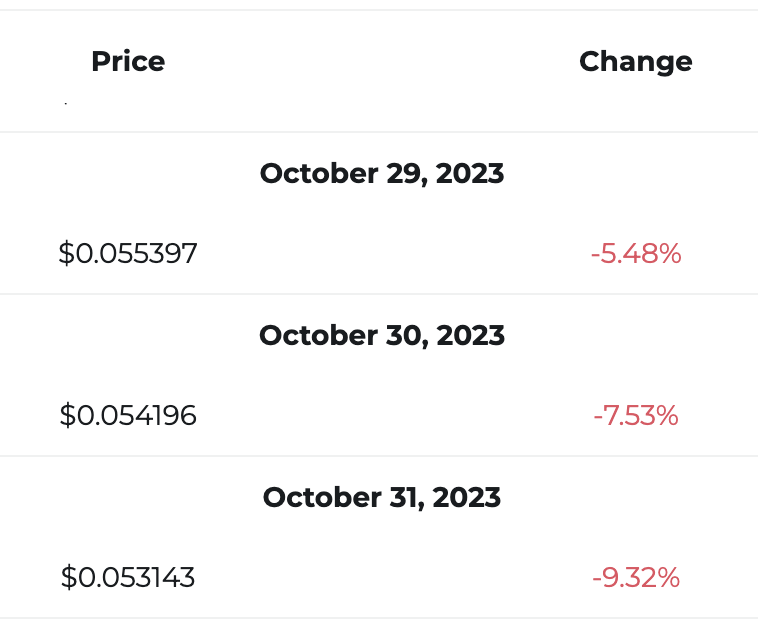 However, crypto analyst Ali Martinez has provided a dose of optimism for the Dogecoin community through his recent price prediction, which indicates favorable signals on the meme coin's price chart.
Notably, Martinez has pointed out that Dogecoin is currently "approaching the apex" of a "multi-year descending triangle formation." Consequently, if the meme coin manages to achieve a weekly close above the $0.0835 threshold, it could potentially "initiate the start of a new DOGE bull run, possibly reaching $1," as highlighted by the crypto expert.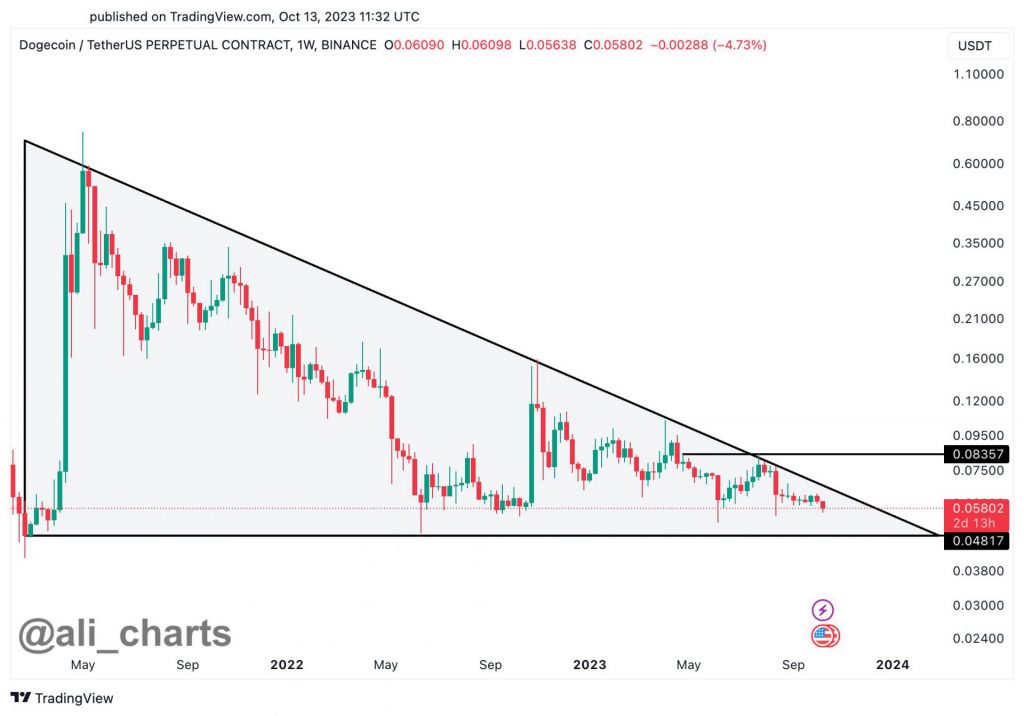 Also Read: Dogecoin: 59% of DOGE Holders Are in Loss
Furthermore, on the flip side, Martinez advises the community to closely monitor the support level at $0.0482, as falling below this point could open the door to a new yearly low.