January 2021 marked one of the most exciting times for a beloved crypto. Bitcoin toppled its 2017 high of $20,000 but it was not the topic of discussion. Dogecoin's monthly return of 688% took the industry by surprise; suddenly, it was the only asset the general community cared about. Over the next few weeks, DOGE managed to build momentum reaching an all-time high of $0.74 cents. The bullish market helped, Elon Musk was the next big 'crypto influencer' and the 'memecoin' had everyone's attention.
Now, 730 days later, the industry is at the opposite end of the spectrum, and well Dogecoin is possibly one destructive cycle away from falling under $0.01. Unbelievable? Let us explain.
There is no escaping the Dogecoin 'Void'
We will break down this analysis into two parts. Firstly, let us understand the price action for Dogecoin from a technical and trend perspective. At press time, Dogecoin rallied by roughly 10% in 2023. Pretty solid in the short term, but the long-term structure oozes instability and fear. As illustrated in the chart below, Dogecoin's correction has continued since May 2021. With consistent lower highs observed, it is evident the asset remains in a bearish cycle. That has been the case for the entire market but for Dogecoin, its proximity to $0.05 is worrisome.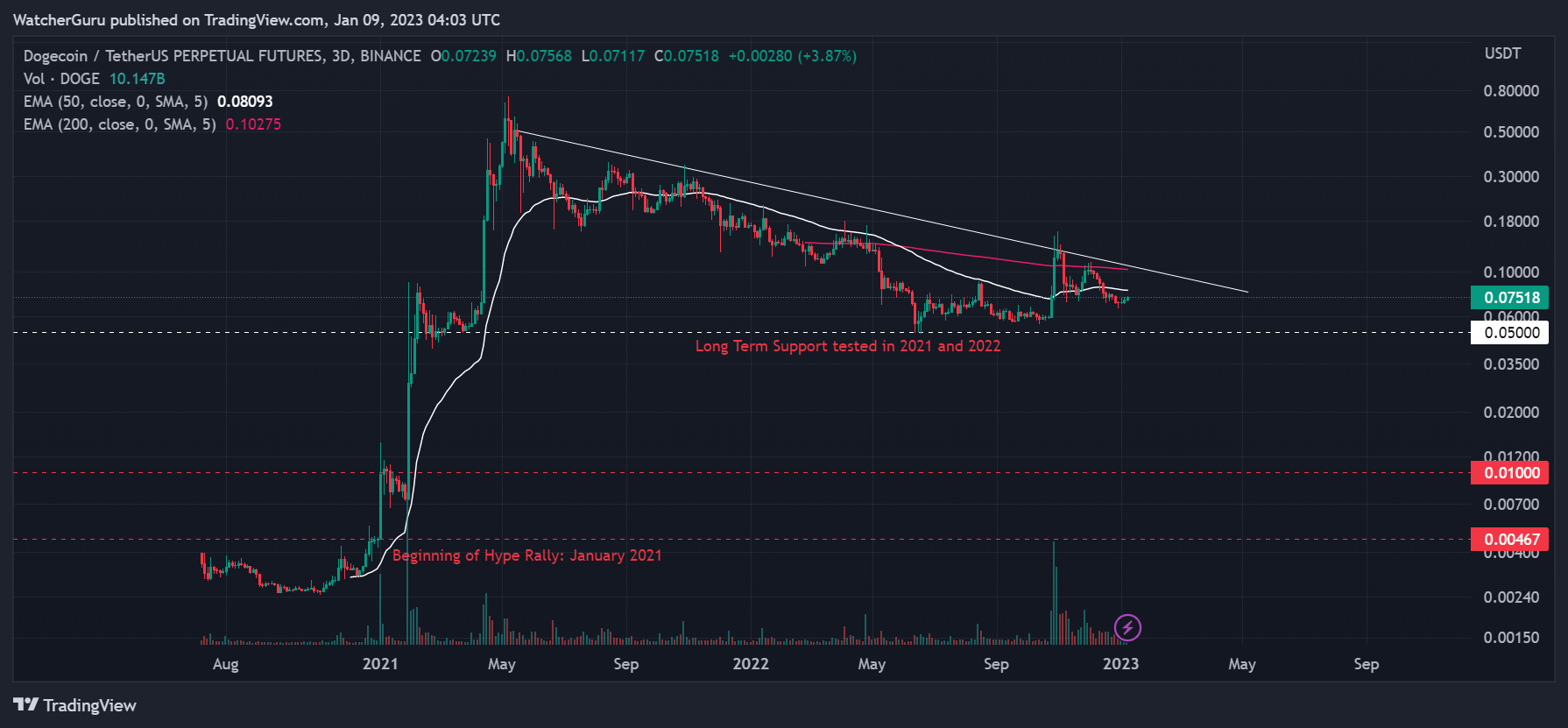 The $0.05 support has been tested a couple of times during the downtrend. A cluster re-test took place during the bull run in 2021. Then last year, it was tested again in June 2022. Dogecoin never fared too far away from this particular range and currently remains close to it. Now, with overall recession concerns in 2023, a drop below $0.05 will possibly open the bearish floodgates.
But why $0.01?
Coupled with the fact that Dogecoin registered minimal distributed trading volumes in January 2021's rally, the lack of fundamentals will be futile. Dogecoin has only relied on hype and there is a reason why it did not rally late into 2021; When the likes of Bitcoin, Ethereum, Cardano, etc reached their ATHs. The memecoins' ascend was also co-incidental with WallStreetBets' Gamestop play. The same group of traders supposedly influenced Dogecoin's rally and since May 2021, they have kept their distance.
Yet, will a bullish rally allow Dogecoin to emulate its ATH over the next few years? Possibly. The asset is still popular as it was the most-held asset in India in 2022. So when Bitcoin rallies and liquidity flows back into the industry, every Altcoin would follow. However, right now, the possibility of Dogecoin dropping below 1 cent is far more likely than any other situation, for the 'beloved asset'.