Pepe Coin remains an active topic of discussion. Early investors' investments have already inflated, with many becoming millionaires. Market participants who missed the chance of riding on the wave are currently looking for the perfect opportunity to step into the market. At press time, Dogecoin millionaire Glauber Contessoto shared his opinion on the situation. He recently took to Twitter to reveal the best time to buy Pepe Coin. Elaborating on the same, Contessoto tweeted,
"when it's 80-90% down from All Time High (1.5 Billion Market Cap)"
Glauber Contessoto earned the Dogecoin millionaire tag in 2021. At that time, he invested around $250,000 in DOGE, and within a couple of months, his investment ballooned. Dogecoin was priced at around 4.5 cents when Contessoto bought the meme coin. Consequentially, when Dogecoin peaked at 73 cents, the value of his holdings reportedly crossed $2 million.
People's convictions with respect to Dogecoin remained untethered. A few believed that it will "be huge very soon." In fact, even the Dogecoin millionaire shares the same school of thought. He affirmed on Twitter that he "never left DOGE" and continues to hold "every single coin."
Also Read: Is Selling Shiba Inu for Pepe Coin a Better Strategy Right Now?
Pepe Coin consolidates
On Tuesday, May 16, Pepe was the third largest meme coin, after Dogecoin and Shiba Inu. Its market cap was hovering around $660 million at press time. As a result, it comfortably managed to eclipse other prominent coins like Bone ShibaSwap, Dogelon Mars, and Baby Doge Coin.
On the price front, Pepe Coin was one of the largest weekly losers. It had shed almost 10% of its value, while Dogecoin and Shiba Inu shed only 0.3%-1% of their respective values.

In the short timeframe, Pepe is currently trading within a horizontal band between $0.000001990 and $0.0000016066. This comes on the heels of Friday and Saturday's spike of 70%.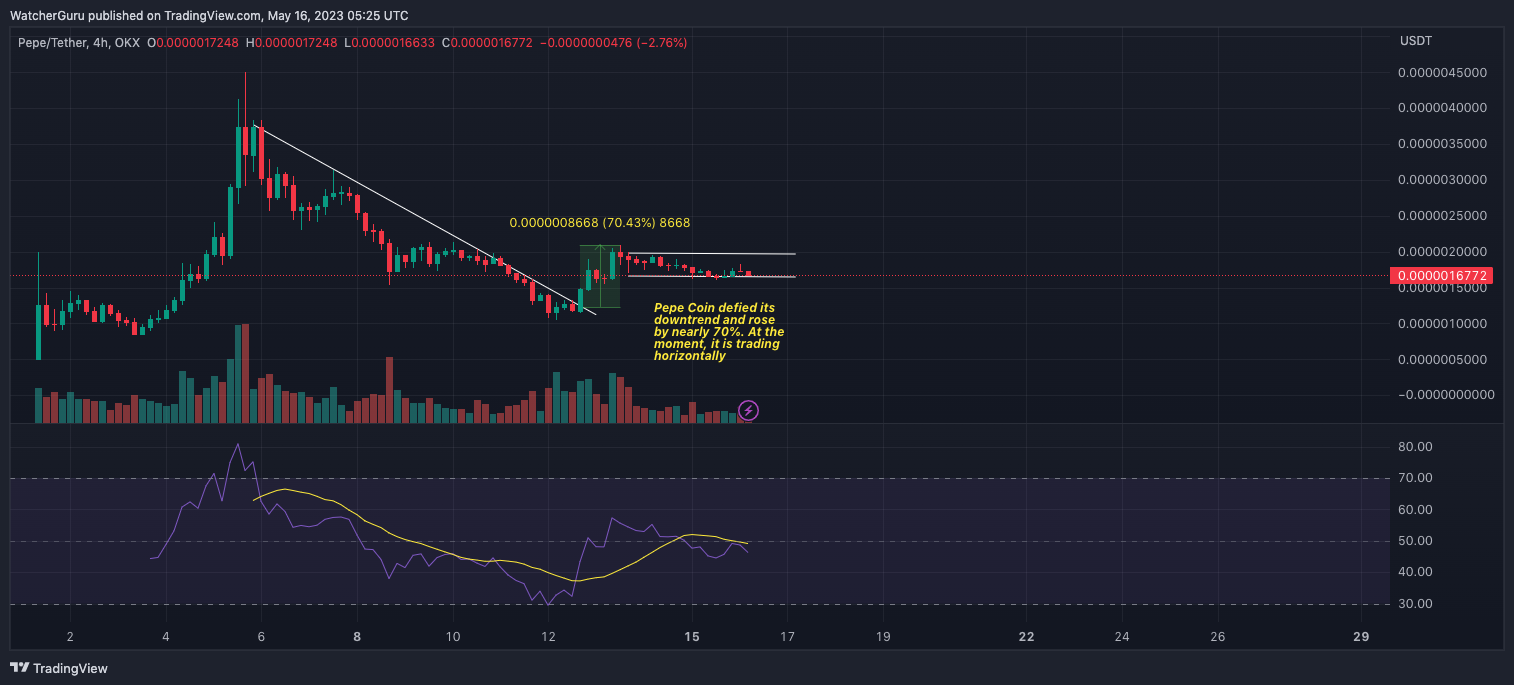 Also Read: Will the Pepe Coin Frenzy Instigate a Bitcoin Downfall?