Dogecoin (DOGE) and the rest of the crypto market have plummeted amid the SEC's lawsuit against Binance. DOGE has fallen 6.9% in the last 24 hours and 8.8% in the previous seven days. DOGE is currently down to March levels from earlier this year.
Dogecoin (DOGE) has struggled to reach $0.10, touching $0.096 twice, on Feb. 1 and April 4. Although it briefly touched the $0.1 mark, it did not close at that level. The April highs were reached because Twitter owner Elon Musk changed the logo of the social media site to that of the Doge mascot. However, the gimic did not last long as the logo was soon changed to the iconic blue bird. Moreover, the move was not enough to push DOGE over $0.10.
Dogecoin price prediction for June 2023
DOGE is currently facing resistance at $0.07475, with support at $0.6385. The asset has been on a downward trajectory since its April highs.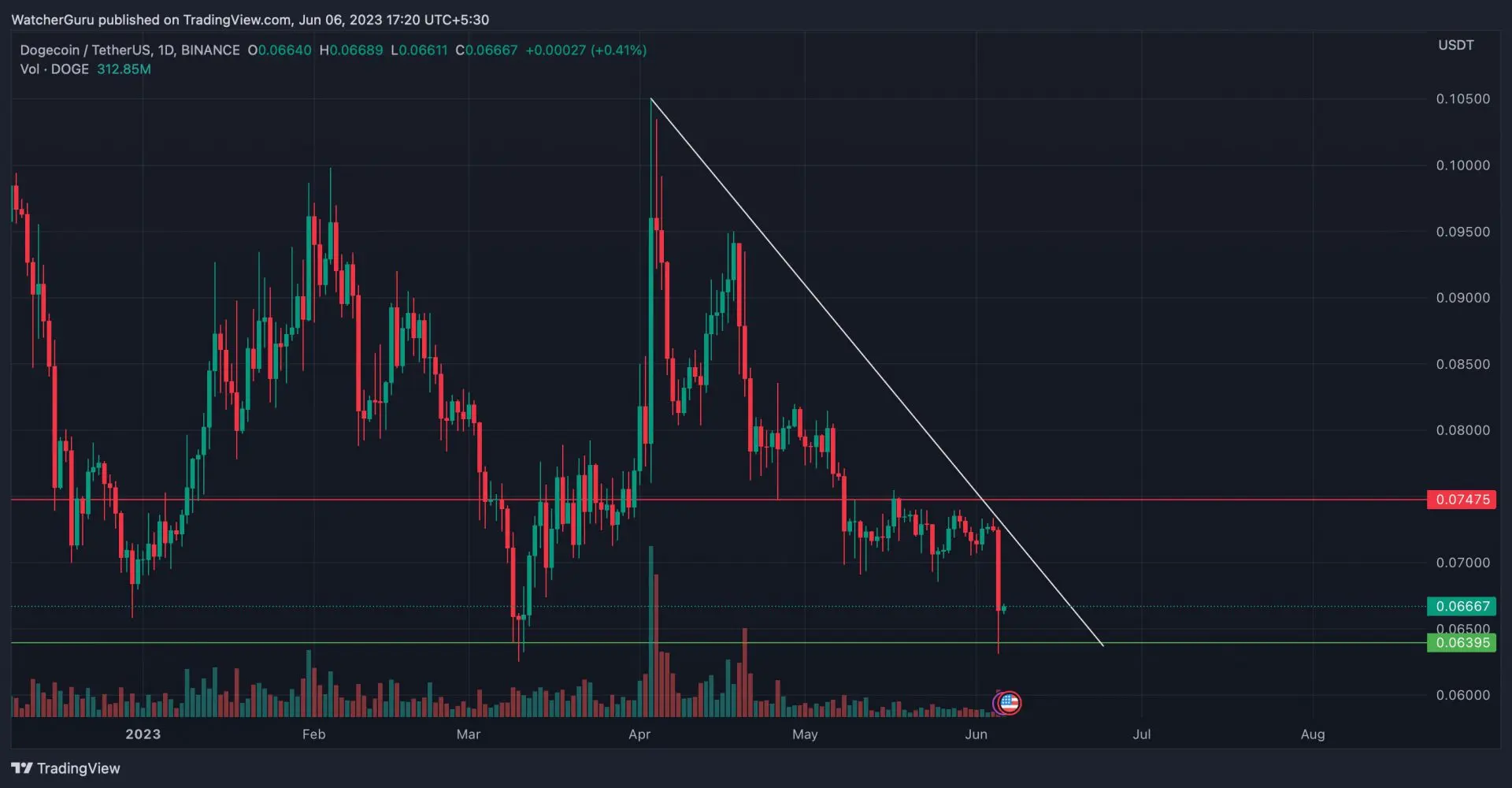 With the markets looking weary, it is possible that DOGE will slide further down. Moreover, a memecoin rally, like in April, does not seem likely at the moment. If DOGE can manage to close above $0.07, there may a chance of a rebound. However, the larger crypto market would also need to recover for that to happen. In fact, DOGE might break current support levels, and form new support at around $0.057.
Investors no longer seem interested in theatrical stunts. Therefore, the hype is slowly dying out. Therefore, it is unlikely that Dogecoin (DOGE) will rise as it did at the beginning of 2021.
Investors in DOGE are now faced with the decision of whether the meme currency will pass the $1 threshold or not. DOGE going "to the moon" has been discussed extensively, but the memecoin still has a long way to go before it reaches its mark. At press time, Dogecoin (DOGE) was trading at $0.066788, down by 0.1% in the last hour.