Dogecoin's price has been consolidating above a crucial support area over the past few days. Neutral readings on the RSI and Awesome Oscillator indicate that DOGE's symmetrical triangle could witness a breakout in either direction. Hence observers should keep an eye on some important price levels to take a long or short call. At the time of writing, DOGE traded at $0.172, down by a marginal 0.03% over the last 24 hours.
Dogecoin 4-hour Chart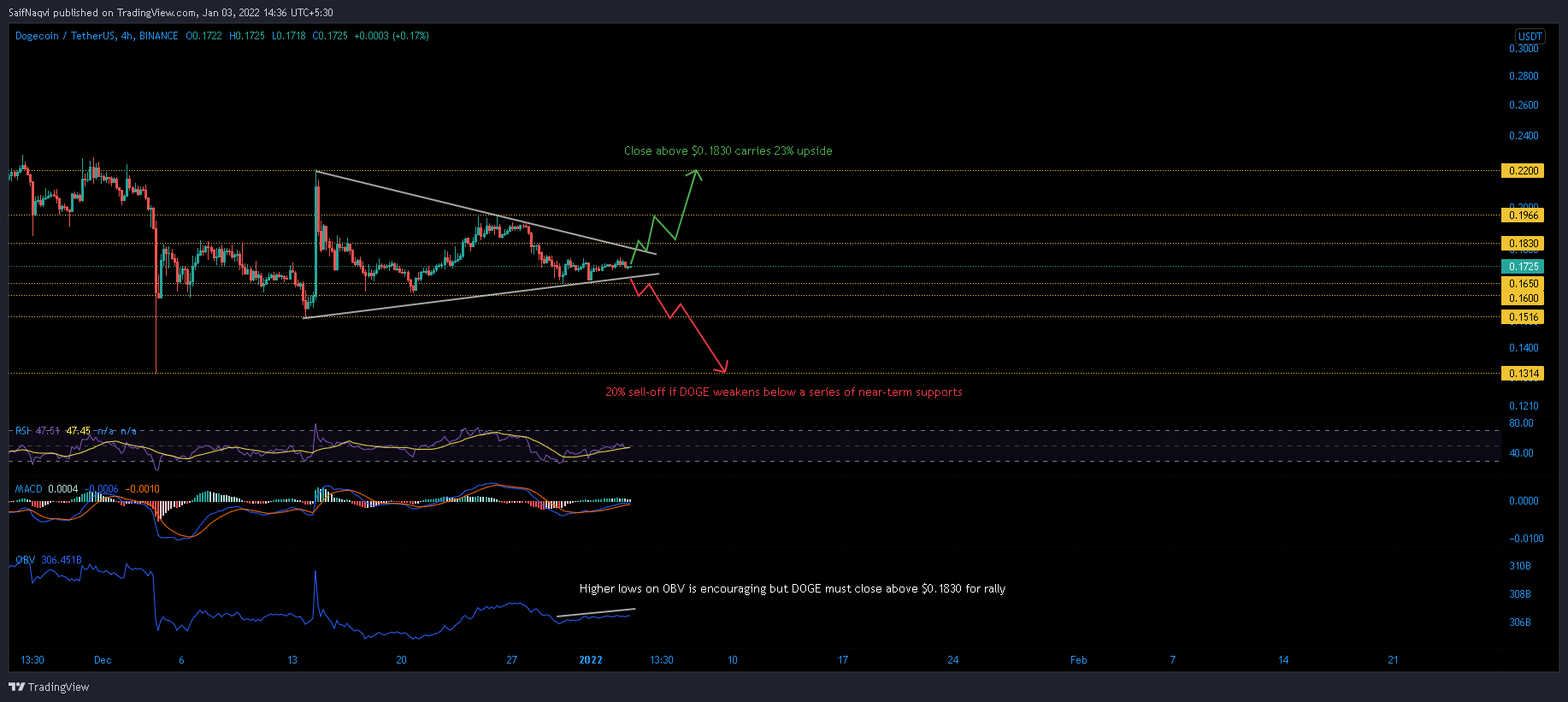 Dogecoin has seen two rallies since mid-December. A 44% increase on 14 December was followed by a 23% hike between 20-26 December. Two lower highs at $0.22 and $0.196 and higher lows at $0.1516, $0.16 and $0.166 gave rise to a symmetrical triangle on the lesser timeframe.
To kickstart an uptrend, DOGE would need to close above its 200-SMA (green) and $0.1830, which would carve a path to 14 December's high at $0.22. The projected run-up would account for a 22% increase in value.
Meanwhile, bears would have to move past a series of close-knitted support lines to force a downwards breakout. Once $0.166 is breached, DOGE would need to slip below $0.16 and $0.156 to trigger another 13% market decline.
Indicators
A few of DOGE's indicators have been recovering over the past few days but were yet to enter bullish territories. The RSI was currently attempting to rise above 50 but selling pressure has restricted its development over the past 24 hours.
The situation for similar on the MACD as well. The index was on the cusp of a bearish crossover as it closed in on its half-line.
The only saving grace came via the On Balance Volume's higher highs. The finding suggested that buy volumes have outpaced sell volumes recently. However, as mentioned earlier, DOGE would need to close above $0.1830 to make the most out of these buy orders.
Conclusion
DOGE sat on the precipice of a symmetrical triangle breakout after entering its final consolidation phase. Neutral readings on the RSI and MACD suggested that a breakout in either direction was possible. Investors much watch out for the abovementioned levels to time their entries. To sum it up, short if DOGE closes below $0.16 and long if DOGE rises above $0.1830.