Dogecoin (DOGE) had turned bullish over the last couple of days. The original memecoin is still up by 3.9% in the weekly charts and by 4.1% in the 14-day chart. However, today, DOGE registered a correction of 2.2% in the previous few hours. In fact, the market in general is seeing a correction in the hourly charts and daily charts.
Also Read: Dogecoin 'Shorts' Helped DOGE Rally 21%
Dogecoin (DOGE) is currently facing resistance at $0.07037, with support at $0.06652. If DOGE is able to break past current resistance levels, it could face fresh resistance at around $0.0729, with $0.0703 being the new support level.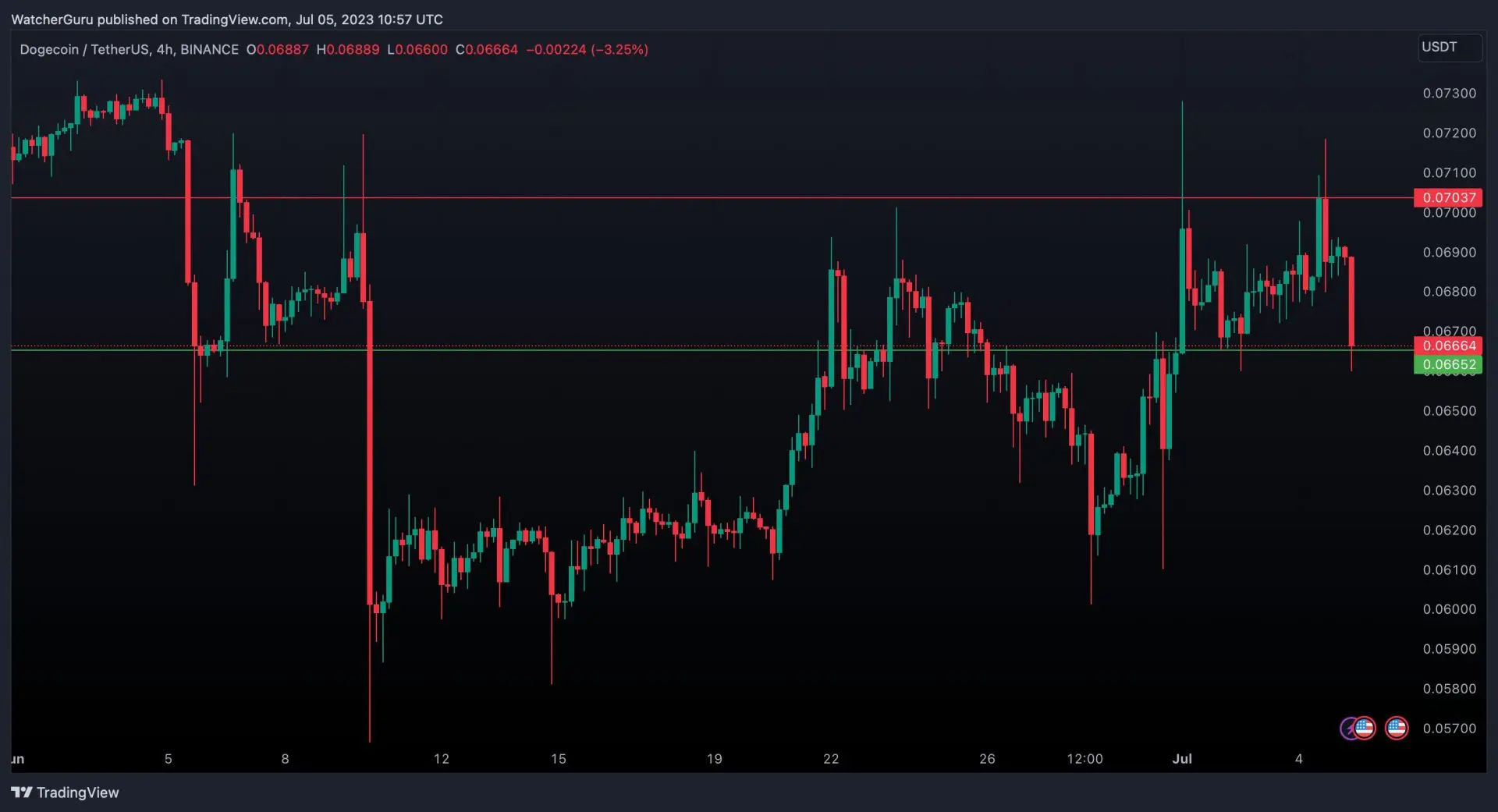 Now, the crypto markets are currently following Bitcoin (BTC), the original cryptocurrency. The renewed positive sentiment around BTC is attributed to BlackRock's Spot BTC ETF (exchange-traded fund) filing. All other projects are simply capitalizing on the "BlackRock hype." The same applies to memecoins.
Also Read: Dogecoin: Can DOGE reach $0.08 this week?
The memecoin rally, which took place in late April, has now died out. However, the rejuvenated sentiment in the crypto market could benefit Dogecoin (DOGE) as well. Given the recent correction, it is possible that DOGE could slide down to around $0.064, a level previously overcome on June 30. However, if the positive sentiment is able to pull through, Dogecoin (DOGE) may rally toward $0.07300.
Will other memecoins follow Dogecoin?
Crypto Tony suggested on Twitter that a meme coin rally might be approaching. The trader claims that memecoins would climb once more if Dogecoin (DOGE) can post a daily close of over $0.07. This will be "show time for the bulls," according to the analyst.
However, Crypto Tony did not consider the correction that DOGE faced today. However, he was right about the fact that memecoins will follow DOGE. This is often the case with memecoins. Other memecoins are also glowing red in the hourly and daily charts. However, the recent correction is also being led by Bitcoin (BTC). At press time, DOGE was trading at $0.067036, down by 1.7% in the last 24 hours.