Dogecoin had been trading within a descending channel since the end of April. Throughout May, it kept oscillating within the setup. Nevertheless, in June, it attempted to break above. Even though a handful of candles were registered outside the channel, DOGE couldn't sustain there for long and re-entered the bearish set-up.
After spending around ten days in it, DOGE successfully flipped the upper trendline as support. Evidently, that set up the stage for the 21% pump that followed. In effect, the meme asset went on to breach $0.07280, a level previously seen exactly a month back.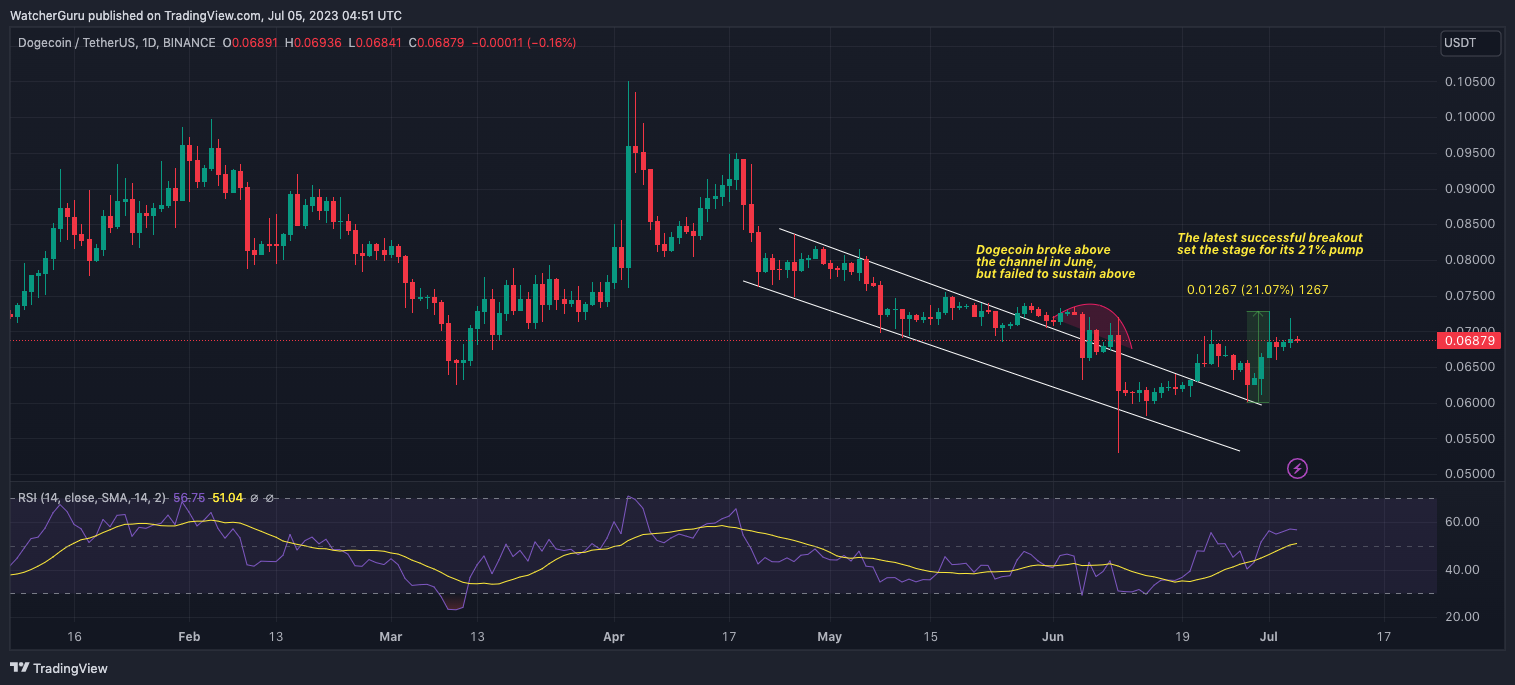 Also Read: Shiba Inu: Can the Moon Guide SHIB to $0.00001?
What instigated Dogecoin's pump?
Usually, bullish traders help an asset's price ascent. However, in Dogecoin's case this time, the opposite has happened. A recent analysis by Santiment pointed out that the DOGE market has been witnessing "aggressive shorting." In fact, the largest bearish bet of 2023 was placed six days ago, "likely contributing to the pump." The squeezing out of these traders from the market ended up giving more room for DOGE to make northward strides.
The crowd, however, seems to be unaffected by the latest price action. The low percentage of discussions and interest level have not rubbed well on Dogecoin's social dominance. This points out how the community "ignored" the pump.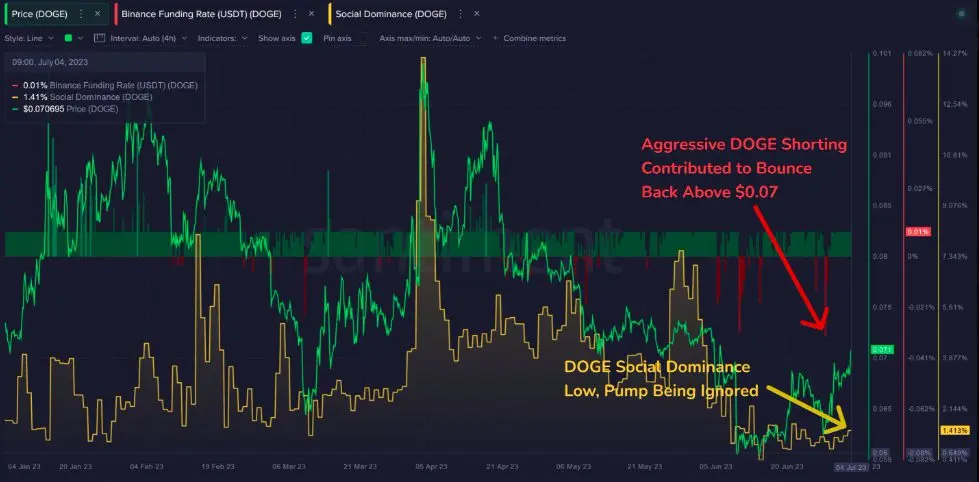 Also Read: Bitcoin: Investors Buy 1.01 Million BTC in 602 Days
DOGE-BTC relationship

Dogecoin's correlation with Bitcoin has been fluctuating of late. In early May, the number stood as low as 0.3. However, this kept improving, and by June 16, the correlation peaked at 0.88. During the period, both assets depreciated in value. While BTC shrunk by nearly 14%, DOGE dropped by 24%.
From the peak, the correlation started deteriorating again. By June 30, it was down to 0.14. This time, both assets pumped. BTC rose by 24%, while DOGE appreciated by nearly 10%. Thus, irrespective of the correlation figure, Dogecoin has been following the same directional bias as Bitcoin.
Now, the correlation of the two assets more than doubled in July, but still remains below 0.5. Looking at the recent price behavior, it can be contended that the path will continue to be paved by Bitcoin, but Dogecoin will continue to wag its tail and follow. That said, the magnitude of the price fluctuations, however, will not essentially weigh the same.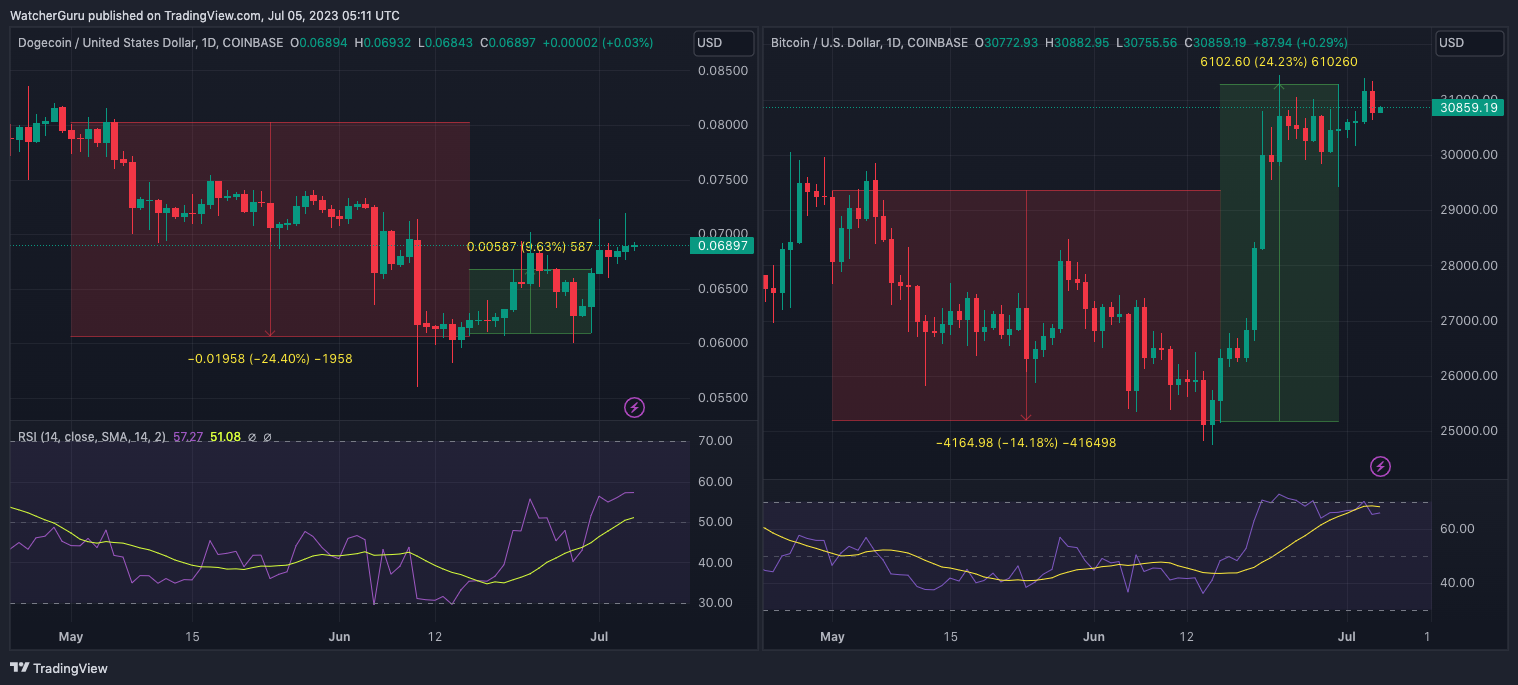 Also Read: Ethereum OI Rises to $6 Billion: $2200 Next Target for ETH?