Over the the past 602 days, Bitcoin investors have bought more than a million coins. As a result of their action, the long term holder supply is on the verge of hitting an all time high. As pointed out by Glassnode, the aggregate supply held by such participants currently stands around 14.47 million. That figure is merely 20,000 BTC less than the peak of 14.49 million.
Also Read: Ethereum OI Rises to $6 Billion: $2200 Next Target for ETH?
At this juncture, it is interesting to note that today marked the 600th day since Bitcoin attained its all time high on the price front. To rewind a bit, the asset rose all the way up to $69,000 on Nov. 10, 2021.
Currently trading at the brink of $31,000, Bitcoin is down more by around 55% from its high. Amid all the chaos that ensued within the ecosystem over the past 20 months, accumulators have been adding BTC to their bags, bringing to light that haven't essentially lost hope.
Also Read: Spot Bitcoin ETF Approval by SEC 'Fairly High': Bernstein
Another '600' day record, two '1200' day records
In fact, the asset has also witnessed one of its sharpest declines when it comes to exchange inflows. Whenever this metric rises, it means market participants are parting ways with their assets. Contrarily, a drop indicated that they are hesitant to sell. A recent CryptoQuant analysis pointed out,
"Bitcoin currently reflects an 80% decline over 612 days (and counting) in the number of addresses logging inflows (inferred selling) is a record."
In fact, the figure beats the previous highest drop in addresses associated with inflows [78.5%]. Notably, that was registered between the 2017 parabolic top to 2018 bear period.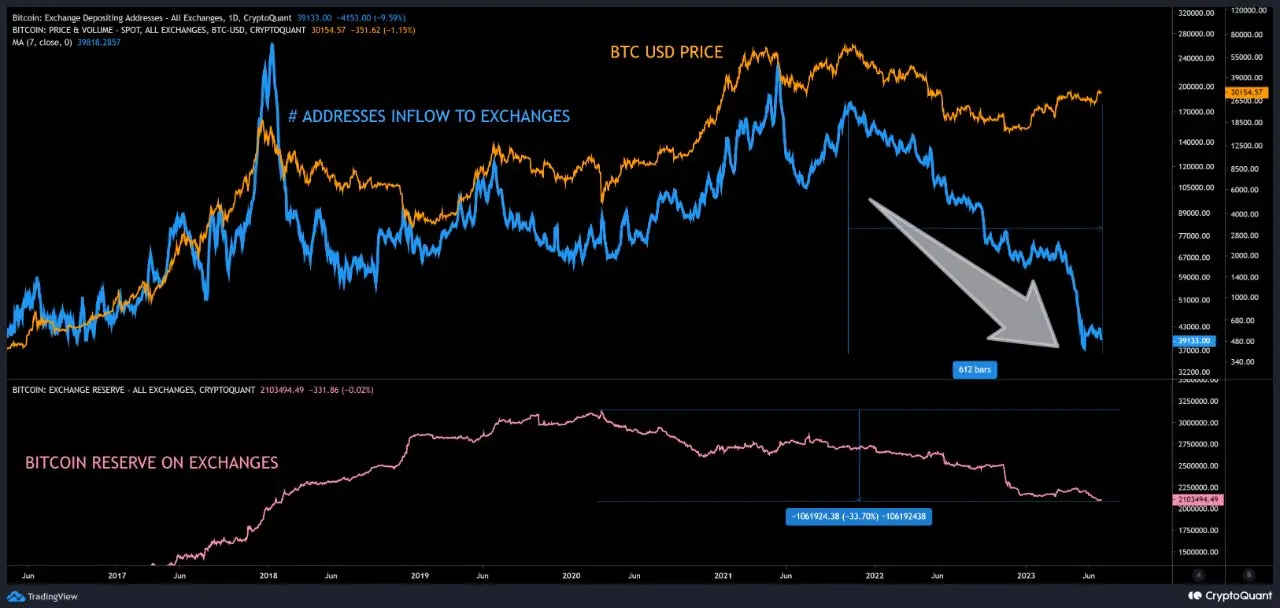 Bringing to light a couple of other long term supply, duration, and depth records scripted by Bitcoin, the thread noted,
Well, the aforementioned trends bring to light the positive evolution of the Bitcoin market. Furthermore, investors not selling their tokens during times of distress showed how they have gradually matured, and come to terms with the broader conditions.
Also Read: U.S. Citizens' Bitcoin Rights Will Be 'Inviolable': Robert Kennedy Jr