Dogecoin [DOGE] broke the internet yesterday after Tesla affirmed the use of the meme coin on select merchandise. This announcement had a direct impact on the social activity as well as the price of DOGE. While the coin persisted its hot streak on to the next day, the price of DOGE took a hit.
OG meme coin, DOGE grew to popularity for being different. The dog-inspired coin managed to amass the attention of one of the world's most influential people, Elon Musk. Soon after Musk began endorsing Dogecoin as his favorite crypto, the coin bagged increased traction. GenZ seemed to be significantly inclined towards DOGE.
Musk spruced things up to further prove his love for Dogecoin. Nearly a month ago, the DOGE army was elated after Musk dropped hints about onboarding the meme coin into Tesla. Yesterday, Tesla finally set up Dogecoin as a payment method for the firm's products.
Following this news, the coin became the talk of the crypto town. Not only did DOGE witness a spike in its price, but the social engagement of the meme coin noted record-breaking volume.
As per the online crypto analytics platform, LunarCrush, Dogecoin topped the charts as its market activity peaked. LunarCrush tweeted,
The social engagement of the meme coin soared by 224.6% over the last 24-hours. The social volume of the asset was right behind as it rocketed by 46.29%.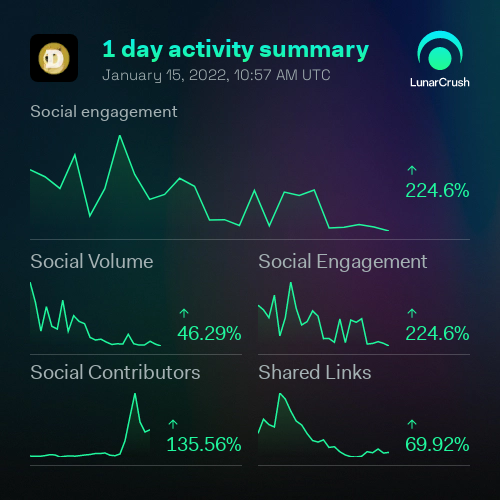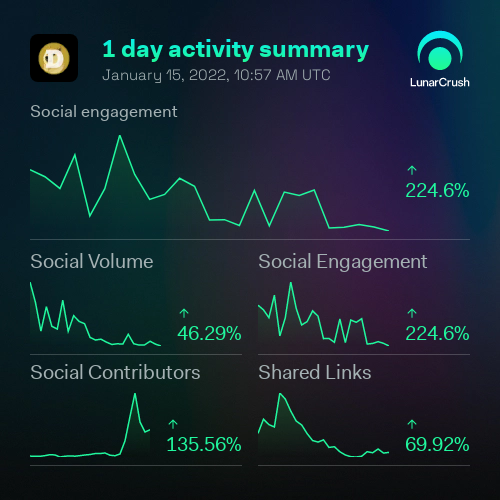 Dogecoin's slight setback
Following the news of Tesla accepting Dogecoin for payments, the price of the altcoin increased by over 20%. This bullish touch soon didn't last too long. It soon faded as the bears entered its market for a while.
During the time of writing, the entire market was painted green. Dogecoin was the only cryptocurrency that was still dwelling in the red zone. At press time, DOGE was trading for $0.1892, with a dainty drop of 1% over the last 24-hours. Since the magnitude of its daily drop wasn't too high, the chances of the meme coin diving into the bullish arena weren't bleak.
Over the years, DOGE failed to hit the $1 mark despite the constant endorsements from several celebrities. However, now, Tesla's latest move could aid in the coin's efforts of reaching $1. The creator of DOGE also commented on the inclusion of the asset into Telsa. He tweeted,