Even though fear continues to persist, the U.S. Dollar Index has been rising on its chart. On Wednesday, May 17, DXY claimed a new 6-week high of 102.96.
As shown below, the reading of this index had been on a downtrend in the February to April period. However, it briefly consolidated after that and started bouncing back since the second week of May. The current level at which the U.S. Dollar Index is trading is at par with levels last registered in March 2023.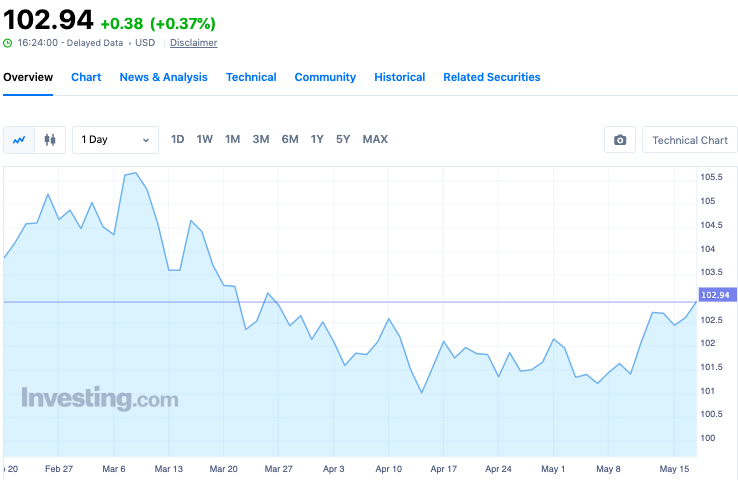 Also Read: Ethereum Yields Will Play Major Role in Next Bull Cycle: Bernstein
State of Gold
On one hand, the DXY is rising and creating new records. On the other, Gold has been dropping and creating new local lows. For the first time since May 1, Gold dropped below $2000 a day back.
In fact, at press time on Wednesday, May 17, it was trading at $1990. On the weekly timeframe, Gold has ended up forming a triple top. Such a setup is usually bearish in nature and calls for a trend reversal. More so, because the common peak acts like a resistance and pushes the price of the asset down further.
In fact, such a trend is already in play. As shown below, Gold has already registered two successive red candles, after visiting the top on Monday.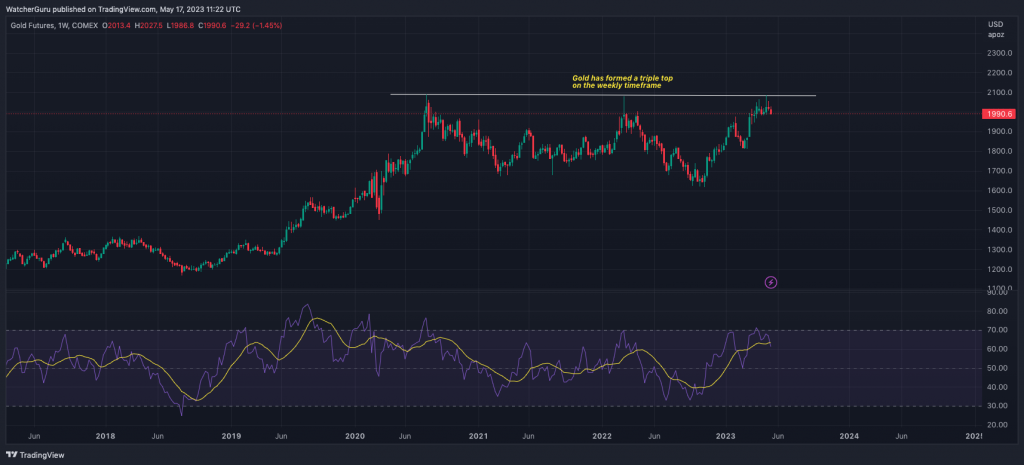 Also Read: SBI Japan Looking To Use Ripple To Bolster Its Web3 Business
Is Bitcoin in the same boat?
Well, the Bitcoin market is currently characterized by dropping interest. As shown below, the real trade volume continues to remain malnourished, supporting the narrative. At press time, this metric reflected a value of $3.51 billion, a number quite distant from its mid-March peak of $24 billion.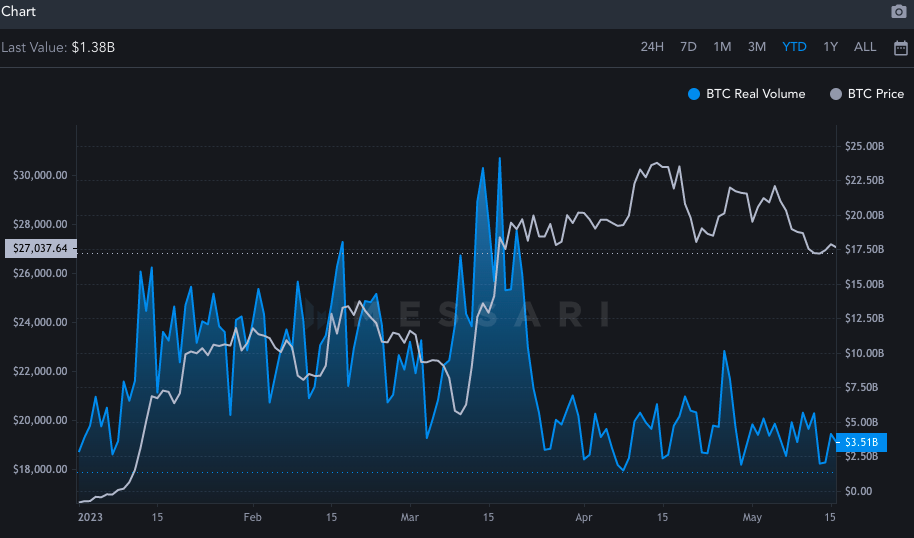 Additionally, it should be noted that 'top traders' are currently waiting on the sidelines and merely observing price movements instead of stepping into the market and executing orders and placing bets, making the landscape even drier.
Also, May has seldom been a good month for Bitcoin over the past few years. Post 2021's flash crash and last year's winter smash, Bitcoin is at risk of posting a third consecutive negative return. The number is already in the red, at -8.9%.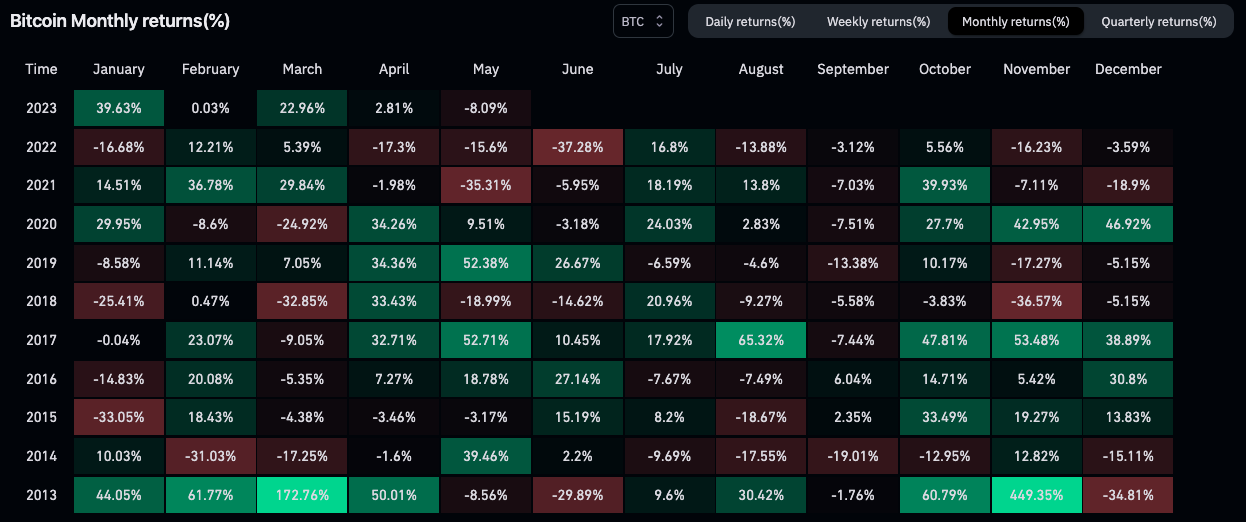 Also Read: Bank of Korea Partners with Samsung to Research CBDC for Offline Payments
However, hope ain't dead. DXY rising means investors' purchasing power is refining because they can buy more with the same limited amount of cash. So, with more money in the hands of investors, there are decent odds of them diverting funds towards other assets that could fetch them yields going forward, instead of just letting it stay as USD. In fact, owing to the latest FUD surrounding the apex currency, assets like Bitcoin and Gold could be contend-worthy bets for investors. So, if market participants indeed start moving funds, both Gold and Bitcoin could get a chance to redeem themselves.