Jack Dorsey's Block released its quarterly results on Thursday, May 4. The fintech company generated a gross profit of $1.71 billion in Q1 2023, up 32% year over year. The company's Cash App, on the other hand, reported a gross profit of $931 million, up 49% year over year, while Square generated a gross profit of $770 million, up 16% year over year.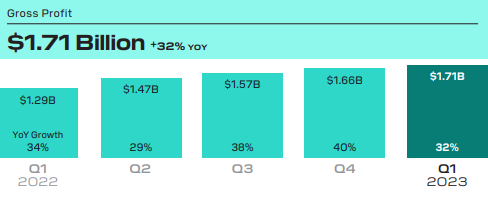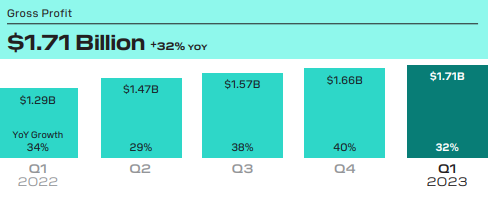 Also Read: MicroStrategy Posts Q1 Profit With Bitcoin: MSTR Up 120%
Bitcoin-related profit numbers
As far as Bitcoin-related profits are concerned, the letter to shareholders revealed,
"Bitcoin gross profit was $50 million in the first quarter of 2023. The total sale amount of Bitcoin sold to customers, which we recognize as bitcoin revenue, was $2.16 billion. Bitcoin gross profit was 2% of bitcoin revenue."
The latest $50 million marked a 43% incline from Q4 last year. From the year-over-year perspective, it was up 16%.
Owing to the rise in Bitcoin's price, the company did not book an impairment loss on its BTC holdings in Q1. It is worth recalling here that Block registered a charge of $9 million in Q4 last year on its Bitcoin holdings. In fact, for the full year 2022, it had to bear an impairment of $47 million.
As of the end of the quarter, the fair value of Dorsey's Bitcoin holdings was $229 million. However, its value on the balance sheet stood around $126 million. For context, the company's purchase price of its Bitcoin holdings was around $220 million. Specifically, the letter noted,
"As of March 31, 2023, the fair value of our investment in bitcoin was $229 million based
on observable market prices, which was $126 million greater than the carrying value of the investment after cumulative impairment charges."
In all, Dorsey's Block reported a Q1 revenue of $5 billion. It managed to beat estimates by around $390 million. Block shares closed 1.87% higher on Thursday. During the after-market hours, it registered another 2.35% incline and was priced at $61.85.
Also Read: Coinbase Q1 2023 Revenue Rises to $773 Million: COIN Up 9%