After the events leading to Terra's collapse in May, several enterprises have faced notable consequences stemming from its closure. During 2022, bankruptcy declarations were flying from cryptocurrency lending platforms like Celsius Network, Voyager, and Three Arrows Capital (3AC), highlighting the difficulties faced by cryptocurrency firms striving to maintain their operations.
Reports suggest that the founders of 3AC chose to remain out of the public eye. Speculation circulated about them potentially using $50 million for a yacht acquisition, a topic of discussion considering their substantial debt. More recently, the 3AC founders are actively involved in the development of a new cryptocurrency exchange named "GTX."
Also read: Voyager-Coinbase Token Shift Spurs Fear of Mass Sell-off
Now, in one of the most recent updates, the founders of 3AC are facing penalties from the Dubai regulator.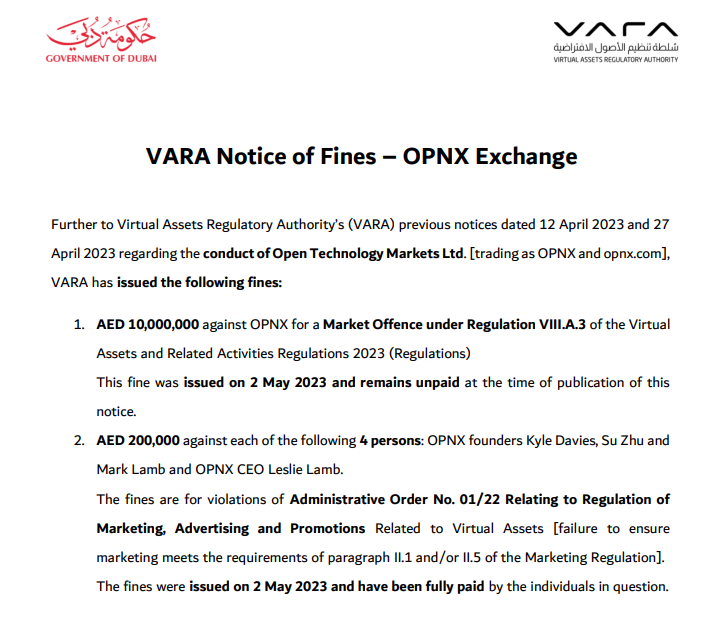 Dubai regulators fine 3AC founders
According to the document by Dubai's VARA, the founders of 3AC, including Su Zhu and Kyle Davies, are facing a fine linked to the OPNX exchange. VARA states that 3AC founders have yet to pay the fine of 10 million dirhams, or $2.7 million.
In addition to the exchange-related matters, VARA disclosed its imposition of a fine amounting to 200,000 AED (approximately $54,000) on OPNX executives, which includes Davies, Zhu, Mark Lamb, and CEO Leslie Lamb. This financial penalty was applied due to violations of Dubai's marketing, advertising, and promotion regulations. The regulatory authority noted that the individuals mentioned have already settled the fines.
The regulator also mentions that it will impose consequential actions against OPNX, which may include penalties or further actions.