Social media platform, Twitter has played a vital role in the crypto-verse. Tesla's CEO Elon Musk further elevated his presence in the social media platform by acquiring a massive stake in it. As per a recent filling rolled out by the Securities and Exchange Commission [SEC], Musk garnered a 9.2 percent passive stake in the company.
The percentage of stake acquired by Musk reportedly gives him a total of 73,486,938 shares of Twitter. The Tesla CEO is said to have spent a whopping $2.89 billion on his latest acquisition.
With a following of 80.1 million, Elon Musk is easily one of the most followed individuals on Twitter.
What would Elon Musk's Twitter acquisition mean for the Dogecoin community?
Elon Musk has time and again publicly displayed affection for the OG crypto meme Dogecoin [DOGE]. From random endorsements to onboarding DOGE into Tesla Musk has proved his inclination towards DOGE. Now, following his stake at Twitter, it was speculated that he would most likely make Dogecoin-centric developments.
Twitter enabled the crypto tipping jar option and the community was ecstatic. Ethereum [ETH] recently joined the list after Bitcoin. Following this, the Dogecoin community bombarded Twitter with petitions and hashtags to include DOGE on the list.
The co-founder of Dogecoin, Billy Markus jumped on to the trend as well. In the meantime, a petition was rolled out. The petition titled "Add Dogecoin Wallet Support to Tipping Feature on Twitter" has amassed over 8,000 signatures.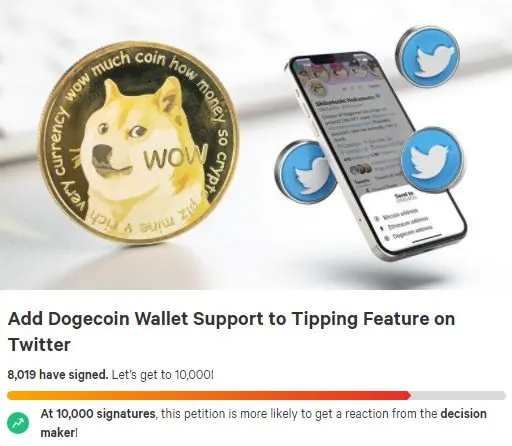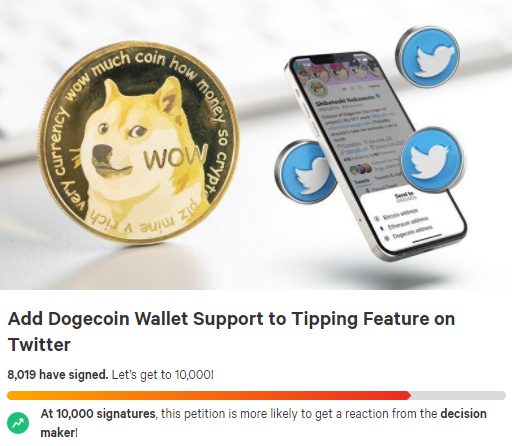 Now, Elon Musk being one of the largest shareholders at Twitter is expected to pave the way for a Dogecoin Tipping Jar. While this is a long shot, the community was over the moon.
Additionally, at press time Dogecoin was surprisingly up by 6 percent further pushing its price to $0.1488. Twitter also got a boost following this news as its shares surged by more than 25 percent.