(Scene 1 – April 30, 2019) Was this the day that Shiba Inu was destined to be coined?
Tesla CEO Elon Musk sends out a tweet that read, "Ethereum". Just an hour after the tweet was out, Ethereum founder Vitalik Buterin replies, "You should come to our Devcon in October :)." In just a few minutes, Musk replies to Buterin, "What should be developed on Ethereum?".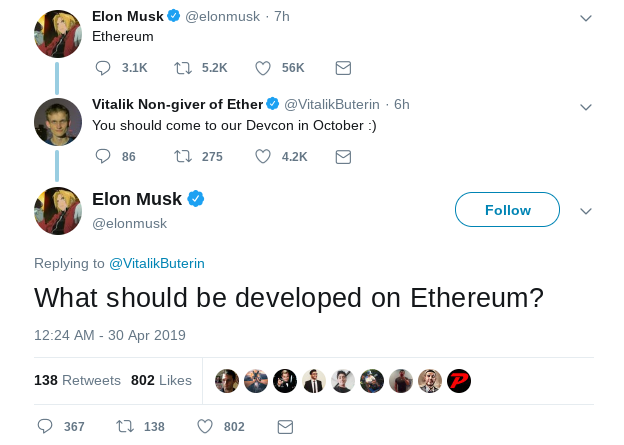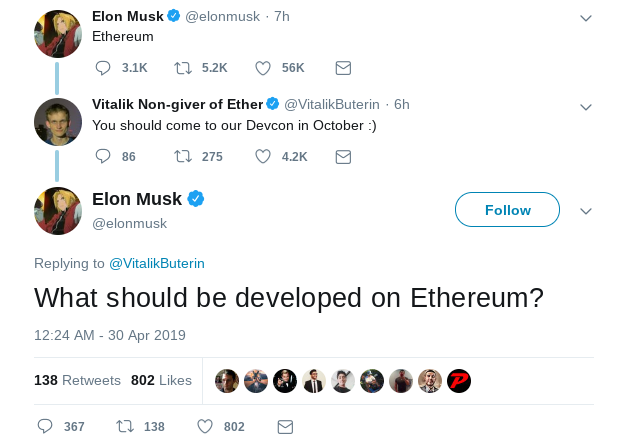 The point to be noted is that Vitalik Buterin has deleted his replies under Elon Musk's "Ethereum" tweet. Below is the screenshot of their entire conversation. The chat between the two also made headlines back then, you can read it here. (Again, the tweet reply is deleted).
(Summary) – So Vitalik Buterin invited Elon Musk to Devcon in October 2019 to discuss something between the two. As per the tweets, they plan to develop it on top of Ethereum.
Read More: Here's the First-Ever Tweet that Asked Robinhood to List Shiba Inu & It Started with Elon Musk
(Scene 2 – August 3, 2020) – Shiba Inu Ryoshi Blog
The first-ever Shiba Inu Medium blog gets published by founder Ryoshi titled, "ALL HAIL THE SHIBA! (an experiment in decentralization)."
The blog then goes ahead to state that Ryoshi met a friend in Devcon, Osaka last year. That friend in question "has some influence" in the crypto space and and "he agreed to help". The blog claims that the "vision" was liked by both parties, therefore leading to the birth of the Shiba Inu token.

"First thing is I had a 'fren' that I met at Devcon last year in Osaka who has some influence in the space. We talk sometimes about Crypto philosophy and I told him the vision and he agreed to help. So he made a token contract and put half of it on Uniswap with 10ETH pair (He is successful business man so 10ETH is nothing for him). And threw away the liquidity keys so the ETH or the tokens can never be withdrawn. He then transferred the rest to me to do my part," Ryoshi wrote.
(Summary) – In an overview, the blog states that two influential figures met and decided to start Shiba Inu as per their "vision". However, it is now hard to pinpoint their roles. Could Ryoshi be Vitalik Buterin or could it be Elon Musk? That's a tough nut to crack.
(Scene 3 – May 29, 2021)
Ryoshi, in his fourth Medium blog "I AM RYOSHI," confirmed that he owns 0 SHIB tokens. He wrote, "Even as the Shiba Token "mooned" I got many messages like "ryo, you must be a billionaire now, haha". But the reality is still to this day I own 0 SHIB. Why? Well if I did, then I can't be who I am and for now I know that I have a role to play."

In the same blog, Ryoshi also talks about how only CEOs and other top guys control everything but not the common man. "Usually when we see some "project" there is some CEO important guy and some tech guy and some roadmap. And hence someone plebs can b*tch at and in their minds make "accountable" for the success or failings in their life and results of token purchases."

Surprisingly, doesn't the language sound similar to Elon Musk?
(Summary) – It is confirmed that Ryoshi holds 0 SHIB tokens and will not purchase anymore anytime either.
(Scene 4 – October 24, 2021)
A Shiba Inu community member tagged Musk asking, "Hey Elon Musk, how much SHIB you are holding?". Musk then replied, "None".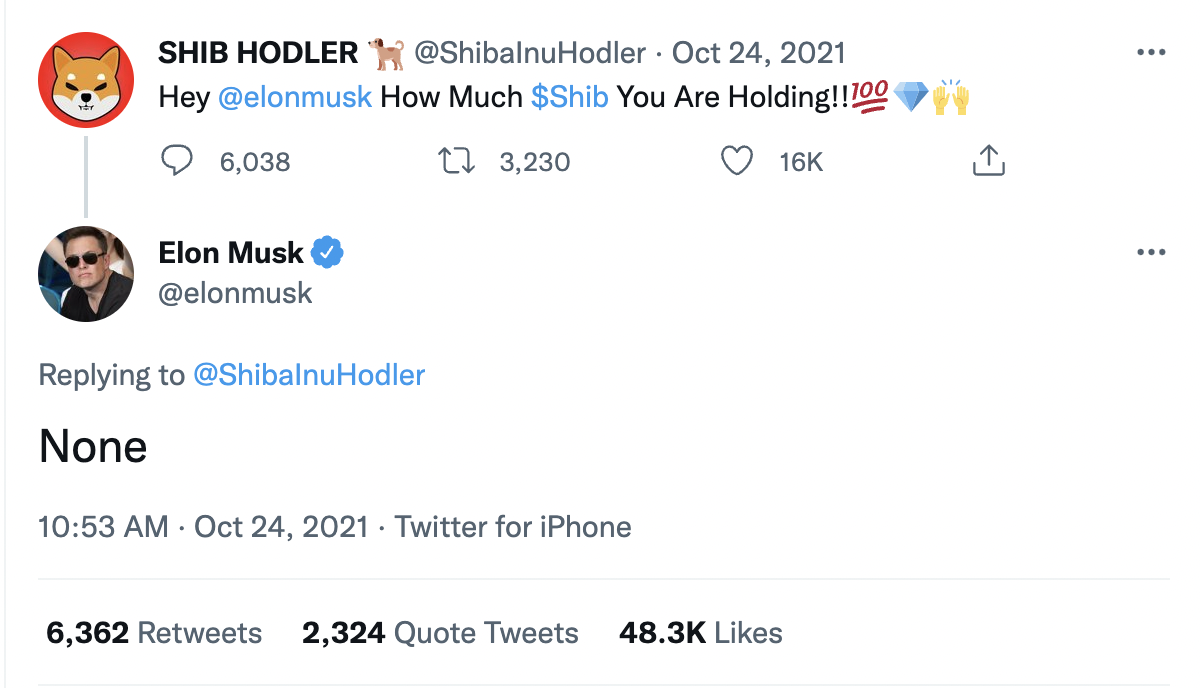 (Summary) – Connect the above dots and it's for you to decide!