Leaving aside the ongoing relief rally, Ethereum has consistently been peeling off value. When compared to its local $3.5k peak registered in April, the alt is currently trading at a 68% discount. When zoomed out even further and weighed up against last November's peak, the alt leader is down by almost 77%.
The fractured price landscape has not only stirred in negative sentiments among investors with direct exposure to the alt king but it has also negatively impacted ones with indirect exposure to it via other investment vehicles.
Take the case of Grayscale's Ethereum Fund. It has been trading at a discount for over a year now, but as illustrated below, the state of affairs got much worse since the beginning of this year. At press time, ETHE was trading at a 34% discount relative to its NAV.

Shrinking Institutional Appetite
Institutional players are the ones who usually seek such hybrid exposure investment vehicles. Of late, it seems like their appetite has been shrinking. In the August to December period last year, the volume metric for ETHE managed to surpass the $1 billion mark a host of times. However, at this point, the ETH based product is finding it challenging to even reach half of that.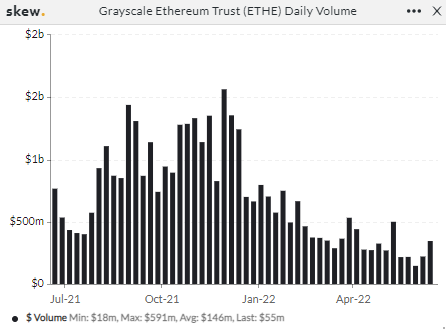 Alongside, per CoinShares' latest report, Ethereum noted a substantial outflow of $69.9 million last week, while Bitcoin noted positive flows of $28.2 million. The said discrepancy clearly highlights that institutions are staying away from exposing themselves to Ethereum at this stage. CoinShares highlighted,
"Ethereum continues to suffer from outflows totaling US$70m last week having suffered 11 straight weeks of outflows, bringing year-to-date outflows to US$459m."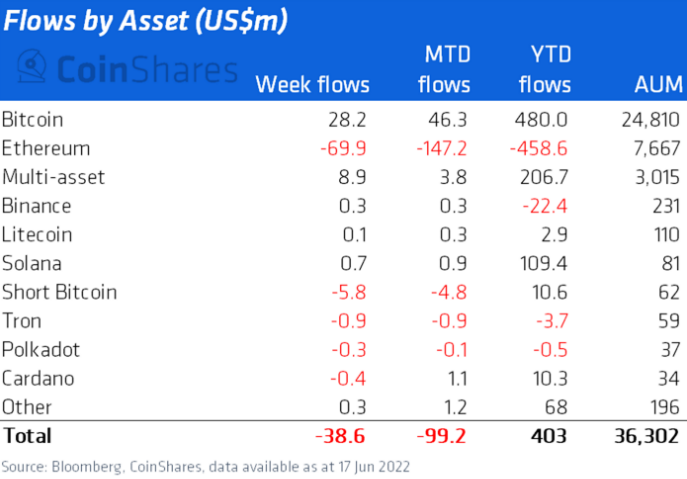 Right from increased volatility to the indecisiveness associated with the success of The Merge, could be regarded as contributing factors. Perhaps, only when volatility fizzles out and the landscape becomes even more stable, institutions would be triggered to re-enter the market via direct/indirect exposure to the alt king.