Ethereum's EIP-155 upgrade went live last year. The improvement proposal significantly changed Ethereum's monetary policy and introduced the whole burning mechanism.
Post the upgrade, even though burning was implemented, ETH's price did not react to it immediately. More so because the issuance was higher than that of the burning rate. However, on a couple of occasions when the burning rate has accelerated, ETH has noted minor relief upticks simultaneously. At the moment, however, things are a bit haywire.
Ethereum burning rate at an ATL
Before stepping into the burning rate, it is essential to note that Ethereum gas prices have dropped to around 17.5 gwei. As illustrated in the chart below, this is the lowest network congestion and gas price since May 2020. A low gas fee usually means fewer people are using the network and vice versa. Elaborating on the current state, Glassnode's latest weekly report noted,
"This signals that despite recent positive price action, there has not been an influx of new usage, and overall, the Ethereum is at a multi-year low in relative activity."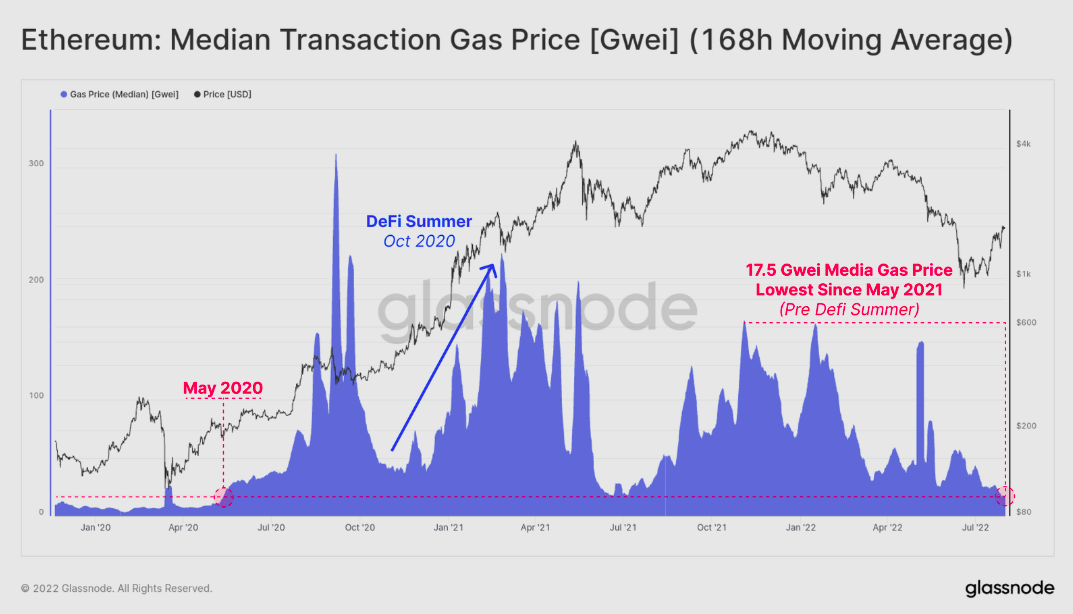 Here it is essential to note that with every transaction on the network, a small amount of ETH [the base fee] is removed out of circulation via burning. The burn rate has hit, with the network usage remaining low.
As depicted in the chart below, the ETH burn rate via EIP1559 currently stands at an all-time low, implying that ETH is the least deflationary ever since last year's upgrade went live. Glassnode revealed,
"Total ETH burned is now just 11% of the total issuance."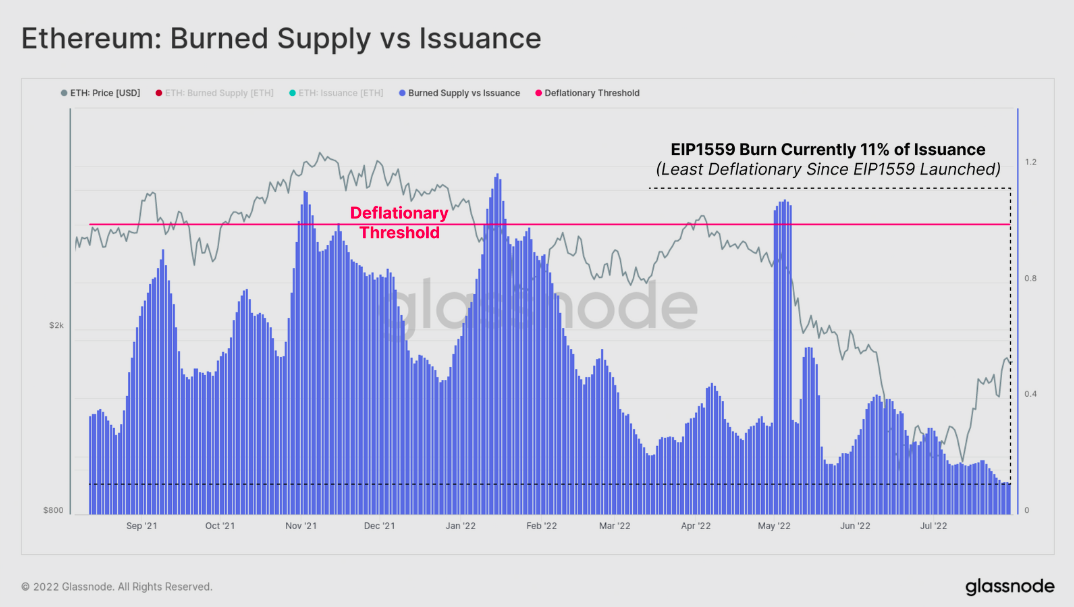 The situation continues to remain lackluster. According to Watch The Burn's latest data, only 1301 ETH tokens have been burned over the past day, relative to the 12,352 tokens brought into circulation. The net reduction, as a result, stood at merely 9.53% at press time.

Price implication
Well, the current state of affairs w.r.t. burning and issuance points to the fact that the circulating supply is on the rise, making the landscape unfavorable for the price to incline. Market participants have also been selling their tokens, adding fuel to the fire. Per data from ITB, over the past 6 hours alone, the sell-side tokens have exceeded the buy-side by 20.84k ETH.
The price has been reacting to the same. Ethereum has lost the most value over the past 24 hours relative to its top-10 peers. After depreciating by almost 7% on the daily window, ETH was trading at $1575 at press time. And, if the network activity doesn't improve, the burn rate remains stagnated, and the sell-pressure intensifies, then the price dip will likely continue.
Read More: Ethereum: How supply-demand will change ETH's value post the Merge