The initial few months of any year have historically been good for Ethereum. In February, the largest altcoin has had only one rough instance since 2017. Barring a couple of exceptions in January, March, and April, ETH investors have fetched positive returns on their investments in these months as well.
March 2017 has been the best month so far for Ethereum. Its price soared by more than 214%. In all other March cases, the returns have been limited to less than 35%. As far as this year is concerned, ETH rallied by more than 32% in January. Per the thumb rule, it cooled down and consolidated in February and registered a mere 1.2% upward deviation. So, with bulls well-rested now, some kind of action can be expected this month from Ethereum.

Also read: Ethereum's 'Sepolia Shapella' Upgrade Successfully Executed
March will also decide Ethereum's quarterly returns. At the moment, Q1 2023's returns stand in the green at 38%, putting ETH in a much better position when compared to 2022, 2020, 2019, and 2018.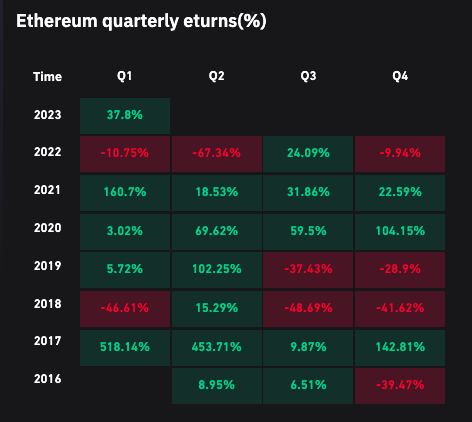 Also Read: 'JustinSun' Stakes 200K Ethereum Tokens via Lido: LDO up 225%
Is Ethereum aligned for a bullish March?
The buying and selling interest has been quite scanty of late. As shown below, the aggregate exchange netflow bars have been fairly short, justifying the said narrative. Nevertheless, red seems to be more dominant on the chart, indicating that reserves have been depleting. This likely means that participants are slightly more biased towards buying than selling for now.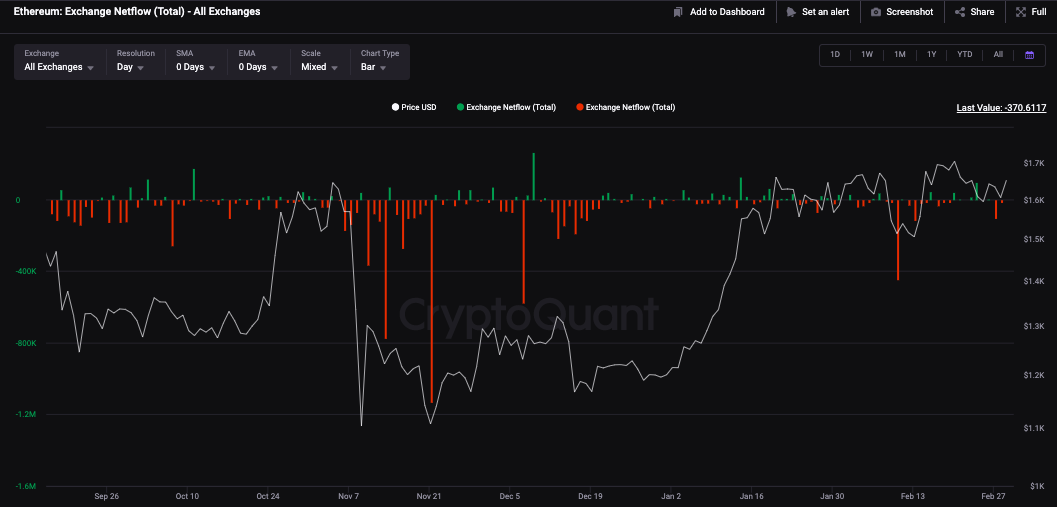 Also Read: 'Mysterious' Ethereum Wallet Now Worth $400M+
From the on-chain perspective, there is no major hurdle for Ethereum. As shown below, all resistance zones are fairly minor. Contrarily, Ethereum has fairly strong support around its current price. At an average price of $1622, 2.63 million addresses have bought more than 10.4 million ETH tokens.
No major sell spree has transpired lately, and with the price currently trading above the said level, these participants can be considered to be long-term investors who have conviction. Thus, using the zone as support [$1600-$1648], Ethereum can gradually climb up the price ladder in March.
That said, if the broader market conditions take a U-turn, bears defeat bulls, or Bitcoin extends its correction, then the above thesis would get invalidated. At press time, Ethereum was priced at $1650, up by 1.3% over the past 24 hours.

Also Read: 'Golden Key' NFT Sold to Billionaire for 1000 ETH