Ethereum's (ETH) move to a Proof-of-Stake method of consensus is one of the most anticipated moves for the network. Dubbed "the merge," the move is expected to occur sometime in mid-September. However, the merge will also render the miners who have validated the popular network useless.
There are speculations on what these Ethereum (ETH) miners could do. Let's take a look at some scenarios.
Scenario 1: Once ETH moves to a POS system, miners could also quit the mining industry. Many individual miners exited the space during the 2022 market crash, and tokens were not profitable to mine, as energy costs soared while crypto prices plummeted. Most miners have expensive equipment, which would be useless once Ethereum moves to a POS consensus method.
However, this is unlikely as it would not be wise to give up on a revenue-making venture. Miners have often enjoyed big profits, and giving up the practice seems farfetched.
Scenario 2: The other possibility is for the miners to become validators on the POS network. However, this will render their mining rigs useless. Miners would likely have to sell their gear at discounted prices due to the high availability of GPUs (Graphics Processing Units). Thus, this also seems like an unlikely scenario.
Nonetheless, there is a third scenario, which seems most likely.
Will Ethereum miners switch to mining ETC or another coin?
The third scenario seems to be the most likely. With so much investment already put into the activity, it would seem unlikely that the miners would sell their equipment. Much rather, they would mine a different token.
While some miners wish to hard fork Ethereum to continue mining it, others may repurpose their equipment to mine Ethereum Classic or other proof-of-work cryptocurrencies.
According to the data from Messari, the ETC hash rate hit an all-time high on Thursday. This is likely due to an increase in miners in the system.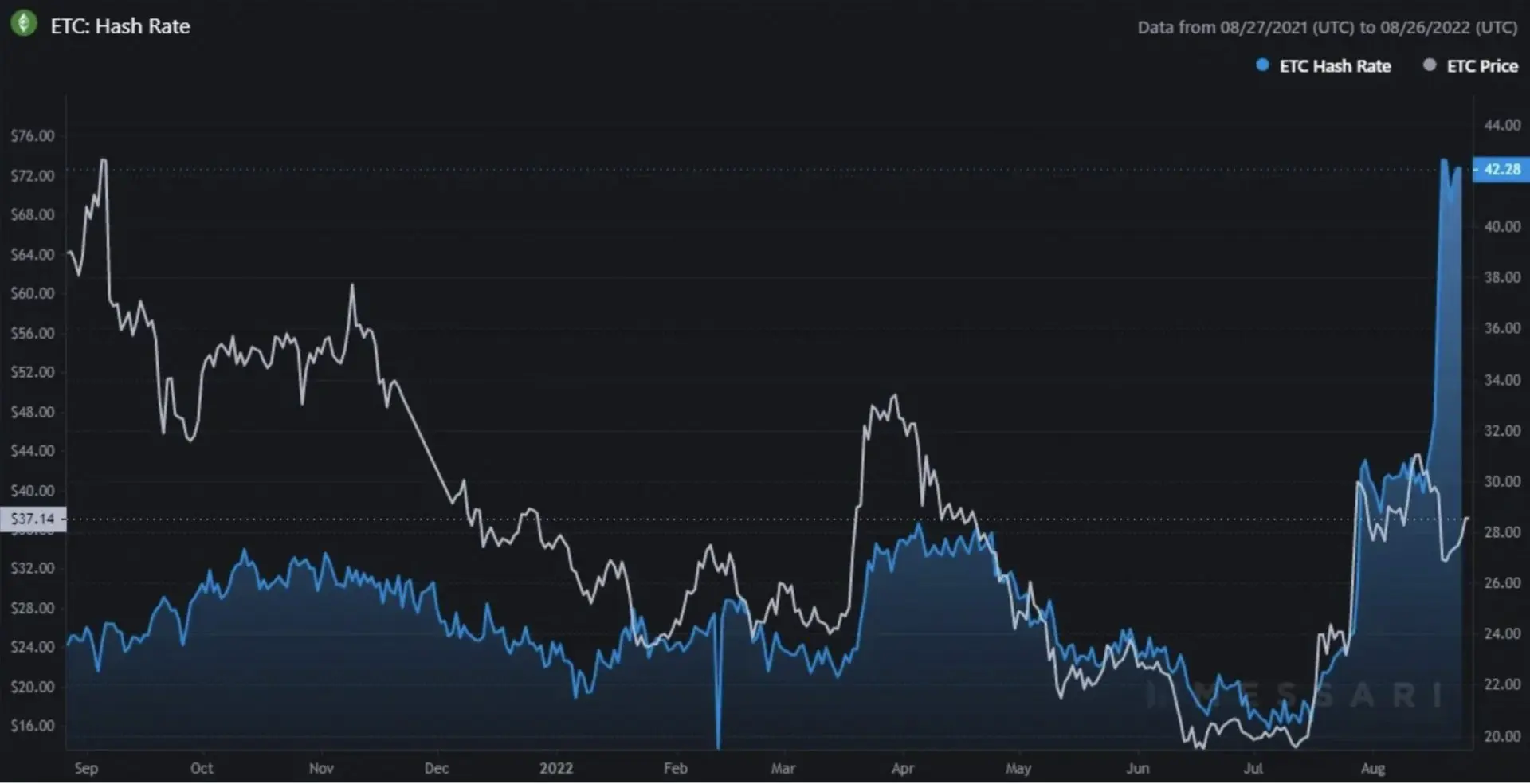 Furthermore, switching to ETC will reduce the network's vulnerability to 51% attack. ETC has been a victim of such attacks in the past, but having a large number of miners validating the network would give it security.
Meowsbits, a code developer to Ethereum Classic, recently presented a thorough risk analysis of 51% assaults on ETC. The developer notes,
"As the second largest cryptocurrency application of this hash power, it stands to reason that ETC should expect its hash rate to be augmented by at least some of those abandoned miners."
Additionally, miners could even choose to switch to another POW coin. According to a poll by cryptovium, $FLUX was the top contender for ETH miners.
At press time, ETC was trading at $36.63, down by 1.2% in the last 24 hours. On the other hand, ETH was trading at $1,658.69, down by 2.7% in the previous 24 hours.