Ethereum (ETH) had one of its most historic moments with its move to a Proof-of-Stake (PoS) consensus model. Climate change activists hail the move as it will reduce ETH's energy consumption by nearly 99%. However, there is a downside to the shift.
According to Coby Morgan, a former FBI analyst, there are censorship risks associated with Ethereum moving to a PoS system. Morgan is currently a lead investigator at Merkle Science, crypto compliance and forensics firm. While speaking to CoinTelegraph, Morgan said that the high costs associated with becoming a validator could result in big firms consolidating all the nodes. To become a validator on the PoS Ethereum network, a staker needs to put in 32 ETH (~$47,000 at press time).
Morgan stated that these giant firms will bend to the wills of global governments. This may lead to sanctioned addresses being kicked out.
Morgan stated,
"Either you will comply and you will siphon off that sort of interaction […] or you run the risk of being fined, being scrutinized, or potentially being sanctioned yourself."
Furthermore, Ethereum's co-founder Vitalik Buterin said that the decision to omit or filter sanctioned transactions is one way that censorship may manifest itself. However, he explained that the censorship would only be temporary. Hence, as long as some validators do not adhere to the sanctions, these transactions would eventually be picked up in later blocks.
Nonetheless, that is a big "if." What happens if all validators adhere to sanctions? Buterin did not specify.
Will firms control the Ethereum network?
Now, Morgan's fears might already be taking shape. According to a recent report by Nansen, 64% of all staked ETH is owned by just 5 companies. Lido Finance leads the bunch with 31%.
However, the category of an "unlabelled" entity does give hope that individual stakers are still at large. This should ideally make the network less vulnerable to censorship. However, Lido's giant share does raise some concerns.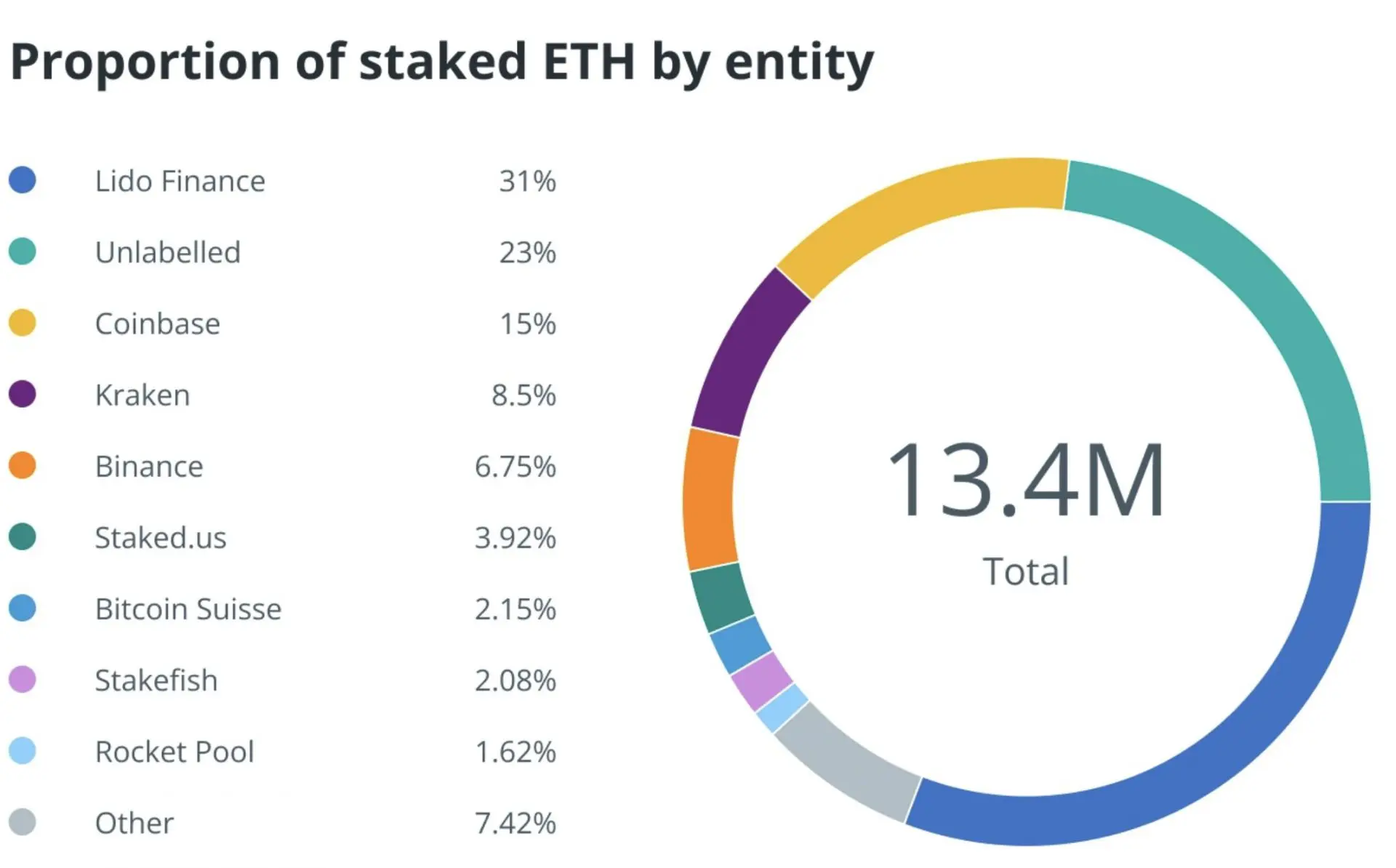 At press time, Ethereum (ETH) was trading at $1,473.17, down by 7.1% in the last 24 hours.